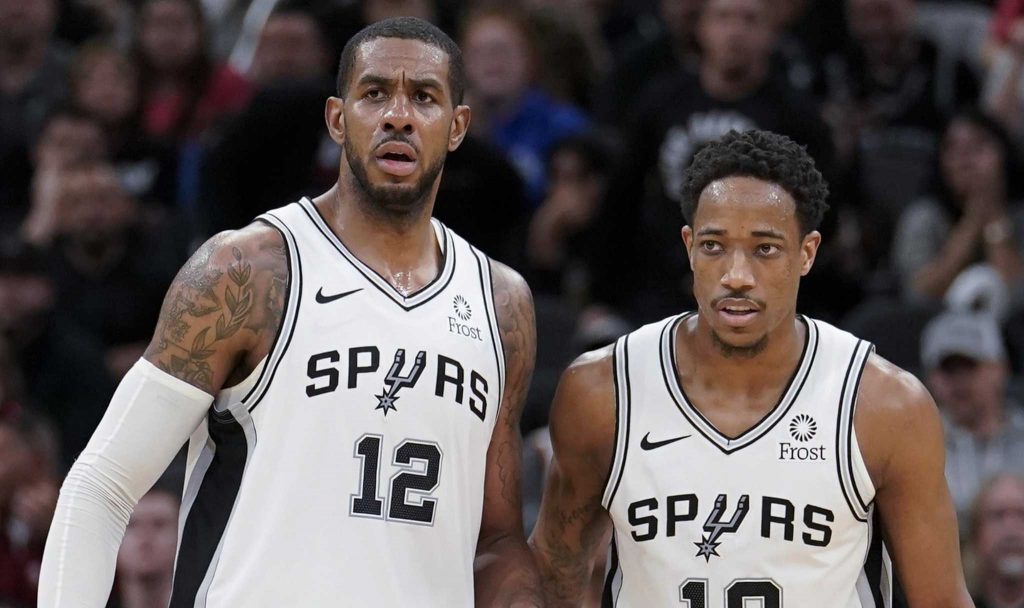 2019-2020 Record: 32-39
Key Returning Players:
Key Free Agents:
Outlook
If you heard one thing about last year's Spurs, it was probably about their 22 year playoff streak ending. 22 years! For the first time in what feels like forever, especially to a young guy like me (I'm not bragging, I swear), not only are the Spurs not contenders but—dare I say it?—they don't even seem particularly good. The 2019-2020 San Antonio Spurs went 32-39, finished 11th in the Western Conference, and their best players in DeMar DeRozan and LaMarcus Aldridge are arguably on the decline, despite both managing to put up very good numbers. They do have the 11th overall pick in the draft, as well as some league-ready young talent which I'll get to, but aside from that, things are looking a little gloomy in San Antonio. Luckily for us, this is fantasy basketball, where a gloomy record can mean opportunity for young guys to put up numbers.
NFBKC IS LIVE FOR THE 2020-21 NBA SEASON
The NFBKC is now LIVE for the 2020-21 season. All contests are available on Registration with Draft Champions leagues ready to begin 30 minutes after they sell out with 2-hour and 4-hour options available. Here's a look at what we're offering hoops players this season:
Sign up and join the action TODAY.  
Guard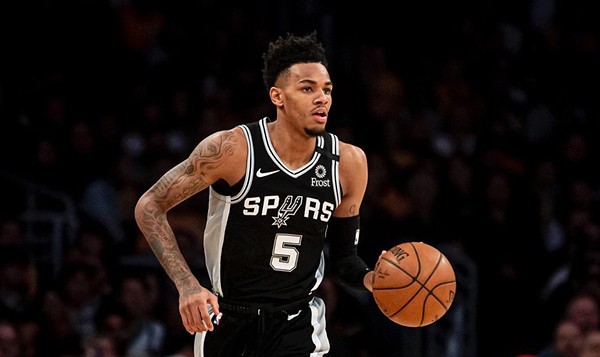 Dejounte Murray is the guy you want to own here. As a 23-year-old, the lanky guard put up 10.9 points, 5.8 boards, 4.1 assists, and 2 stocks in just 25.6 MPG. When you think Murray, you think size—a 7-foot wingspan at the PG position is no joke. There's something to be said for overvaluing players based on largely unfounded player comparisons. Every lengthy, skinny wing is the next Kevin Durant. Every skilled Euro big is Dirk incarnate. And any undersized guard with range is Curry lite. So there's some skepticism to be had with Murray, who's received a lot of noise, due to his physique and perceived high BBIQ. It also doesn't hurt that he plays for the Spurs, an organization long heralded for their ability to coach smart and efficient "system players."
But I digress. Despite my reservations with respect to conventional basketball evaluation, for fantasy purposes, Murray is legit. He'll give you a little bit of everything besides threes—the out-of-position boards are especially nice. Previously, his value was capped because of a logjam at the guard position, but with the San Antonio backcourt likely to thin out significantly, Murray is a great bet to leap up the rankings. His numbers didn't shoot up when Pop shortened the rotation in the Bubble, but then again, LMA was out with a shoulder injury. Murray's a solid mid-rounder, probably even an early one. If you're someone who likes to stockpile bigs early in an effort to punt 3s, Murray falling to you in the middle rounds is a godsend.
Patty Mills, Derrick White, and Lonnie Walker IV are all guys who are expected to receive decent minutes in the once-crowded Spurs backcourt. Marco Belinelli, a key contributor in past title runs, may leave in free agency or retire. Bryn Forbes is also a UFA. If the team chooses to move on from both guards and fully embrace the youth movement, there could be a wealth of minutes opening up.
On the other hand, if they stay, Belinelli will be a streamer at best and Forbes will retain some value as a 3-pt specialist. Both Forbes and Mills averaged more than 2 threes a game last year. In terms of rosterability, Derrick White has fared best after Murray, putting up respectable top-150 value in each of the last two seasons. Like Murray, White gives you a bit of everything. He's better in the threes department, but Murray has him beat pretty much every else. Still, Coach Pop will give minutes to whoever he perceives as working the hardest, so neither is likely to run away with the lion's share of minutes.
Lonnie Walker IV is intriguing, but the guys ahead of him on the depth chart are proven commodities. He started all 8 games in the Bubble and didn't have much to show for it. Someone to keep a close eye on as the situation plays out.
Forward
Now, it's possible that DeMar DeRozan will decline his $27.7 million player option for 2020-2021, making him a free agent. That's not expected to happen, though, so chances are he'll be playing out a contract year alongside fellow veteran LaMarcus Aldridge. DeRozan was amazing last year, shooting at an otherworldy 53% clip to go with 22.1/5.5/5.6. I did a little digging and the career high FG% can be almost entirely attributed to a more accurate jump shot, specifically in the 10-to-16 feet range. It's not that DeRozan stopped taking long twos or made a point of attacking the basket more frequently, he just shot better. Unless he made some secret adjustments to his shot mechanic, I'm inclined to write off the jump in efficiency as an anomaly.
Sadly, as is always the case with DeRozan, the peripherals are paltry. A steal per game is decent, but that's about it. And it doesn't seem like adding a 3-pt shot to his game is a priority at this point. He'll continue to be a late early-round type guy, so draft accordingly.
After DeRozan, Rudy Gay will shore up the wing. Unfortunately, Gay is unrosterable at this point in his career, not even worth drafting as tradebait, unless you want to be met with, nooo, not this guy! If you don't know what I'm getting at, enjoy:
Really though, Gay is a points streamer. Nothing more, nothing less.
Going into his sophomore season, Keldon Johnson could be a difference-maker in fantasy hoops. In eight bubble games, Johnson averaged 14.1/5.0/1.1 on stellar percentages. He also chipped in 1.4 threes and 1.1 steals a game. Clearly, Coach Pop is looking at giving him minutes. I could see Johnson carving out a role as Gay takes a backseat, so he's worth watching, particularly seeing the deep drop off from DeRozan in the Spurs wing rotation.
Drew Eubanks and Luka Samanic also exist, probably.
Center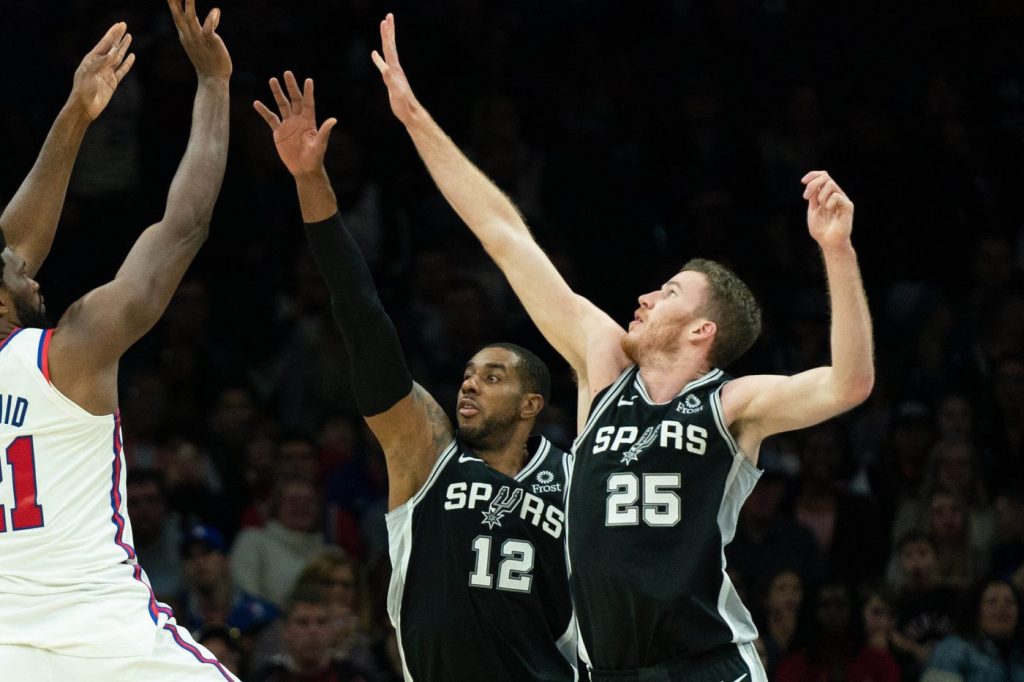 At this point, we know who LaMarcus Aldridge is. The veteran big man may have outperformed expectations last year, averaging a smooth 18.9/7.4/2.4, and very nearly joining the elusive 1/1/1 club (he came up 0.3 STLs short). Still, come February, most are looking to move on from LMA in anticipation of increased rest days. Yes, he's in a contract year, and maybe some will put more weight on that than others. I can't see Aldridge being any better than he was last year, a third-rounder masquerading as a second-rounder. Which is plenty good, but Aldridge is 34 years old going on 35, and the list of recent 35-year-old All-Stars starts and ends with LeBron James. I think he'll take a small step back in production, not to mention that, although the former Blazer has aged gracefully so far, he remains an injury risk, with multiple IL stints in each of his last three seasons.
Here we get into the exciting part, the guy with the breakout potential, the Austrian Albatross: Jakob Poeltl. Poeltl's an RFA, but I can't see the Spurs letting him walk. If you owned this guy last year, you know what he can do for you in the blocks, FG% and, to a lesser extent, rebounds categories. Last year in just under 18 minutes per game, Poeltl put up 1.4 blocks, a smidge behind the likes of Javale McGee and DeAndre Ayton. That's 2.9 blocks per 36—unleash Poeltl, dammit! It's always frustrating to know how much damage a guy could do with more playing time, especially when that guy is splitting minutes with Trey Lyles. Likewise, Poeltl's 5.7 rebounds per game might sound underwhelming, but that's good for 22nd league-wide at a per 36 rate. Unfortunately, Lyles isn't going anywhere and Pop is still at the helm, so it's difficult to envision anything much higher than 20 MPG for Poeltl yet again.
Sorry if I got your hopes up. Just remember, in the Bubble when Aldridge and Lyles were out, Poeltl started and averaged 8.3/8.1/1.8 with 2.3 stocks. That's some serious damage. And his subpar FT% doesn't hurt you too much either on just 0.6 attempts per game. If I can get him in the later rounds, I'm doing it. He's an elite blocks streamer and a pretty good stash in the likely event that the aging Aldridge goes down or Lyles misses time.