The New York Knicks. Where do we even start? The front office? The coaching? The players? I guess I'll start with this. I've been on this Knicks roller coaster ever since my dad took me to my first Knicks game at Madison Square Garden when I was about 7 or 8 years old. Since then, I've been met mostly with disappointment. I have been staying positive, though, and have been looking towards our future here in New York for however many years Knicks' fans have been saying that. But, I must say it, the future starts now. 
Last season, the Knicks ended that peculiar and condensed season with a 21-45 record. They ended that season on a 4-3 run, which seemed promising, off the back of some mostly competent coaching from Mike Miller after David Fizdale had overstayed his welcome. However, this season, the coaching staff, the front office, and roster has changed. Yes, James Dolan still owns the team, but sshh, you win some and you lose some.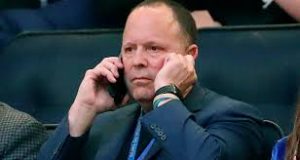 The Knicks find themselves led by super-agent turned basketball front office executive, Leon Rose, who has William Wesley, aka Worldwide Wes, by his side in ushering the Knicks into this new era. With one of his first actions as president of basketball operations, Leon brought in a new head coach for the team, former Chicago Bulls and Minnesota Timberwolves head man, Tom Thibodeau. Thibs is known for his defense and for "running his players into the ground," as some people put it. Especially the young guys, and the Knicks are a young team with some up and comers like RJ Barrett and Mitchell Robinson.
The philosophy looks to have changed from years past as well. The media days have started with Thibs saying that minutes will be earned and not given out. Now this could have many interpretations. Will he play the young guys? Will he start the vets like Elfrid Payton and Reggie Bullock over them? Who knows? But here is how I think the Knicks will come to us at the start of the new NBA season. 
Let's start with the additions. The Knicks had a free agency that flew under the radar, as they thankfully did not do anything stupid. Thank you Leon. They signed players like Alec Burks and Austin Rivers while also bringing back point guard Elfrid Payton. But they also had a very solid draft in which they selected Obi Toppin, the most NBA ready player in the draft and Immanuel Quickley, a sharpshooter out of Kentucky. Right now, the Knicks do not really have a nailed down starting lineup, so unlike my 76ers preview, I am going to take these Knicks position by position. Before I continue, I must caveat it by saying that the roster the Knicks have now will not be the roster they have on December 22nd. There are currently more players than the cap of 15. Also, the Knicks have some cap space right now so something could be brewing. Maybe they take on a contract for picks like they did with Ed Davis, where they flipped him for essentially three 2nd round picks. If not, they will not even hit the salary cap floor. 
At the guard position, we can see a little bit of a logjam with Frank Ntilikina, Elfrid Payton, Dennis Smith Jr., Immanuel Quickley, Austin Rivers, and even Theo Pinson on a two-way deal. I just named six guards and there are still a bit more where that came from. There is also Myles Powell, who I really like, undrafted out of Seton Hall, Jared Harper, and finally Jacob Evans. Now, that is a huge load of players. Guard is the new forward for the Knicks this season. One thing is for sure. Somebody is getting cut, most likely Jacob Evans while Powell will be sent to the G-League. Maybe Pinson or Harper will head on down. 
The starting nod at the 1 will probably be given to Elfrid Payton, who returned to New York after not getting his option from his previous contract picked up. Payton can be fantasy viable and has triple double potential. He produces assists at a very nice rate, is a good rebounding guard, and if he can get inside for some layups he'll get to 10-12 points a night since he is not the best shooter from the perimeter. Backing him up will probably be Frank Ntilikina. The French Prince could be a good flyer this year in deeper leagues. He is an excellent defender, which can translate into a steal per game and a good passer, even though his average of 3 assists last year does not really show it. However, he is not a reliable source of points. Last season he averaged 6.3 on nearly 40% shooting from the field. There is also Dennis Smith Jr., who will probably be getting some minutes at the 1 spot, but will be too inconsistent to make him someone that could be looked at for your teams. Unless of course he comes out this season with an improved jump shot and we see the flashes that he showed in Dallas. 
Now at the 2 guard position, God knows who we will see. Will we see RJ start there or at the 3? Will we see Alec Burks or Austin Rivers? I think we're going to see a combo of RJ starting at either the 2 or 3 paired with one of Burks or Rivers as they will be able to change. Those 3 can play at both positions. Let's talk about the star of the team for now, and the star of my heart. RJ Barrett.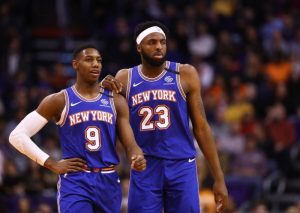 Last season, RJ averaged 14.3 points with 5 rebounds and a steal to go with 40.2% shooting from the field. The All-Rookie team snub has evidently bothered him and will help in pushing him to make a leap. If he could improve his near 61% from the line, we could see him increase his scoring average from 14.3 to around 16-17. His three point shot is not the best either at 32% last season, so RJ will not be the guy to rack in the 3s for your team even with a minor improvement. He still has a couple of improvements to make but he could be a nice player to give a chance to in the later rounds of a draft. 
Moving on down to the 3 where we will probably see the three I already mentioned above and perhaps Kevin Knox and Reggie Bullock here and there. Both will not be consistent enough on the court and have nailed on minutes, so stay away. However, Kevin Knox is a peculiar case. This may be make or break year for him. He has been in the league for two very lackluster seasons after being a lottery pick. Last season, he averaged 6 points and 1 assist on 36% shooting. Not the best, so this year something has to change for him. 
Now the 4 spot might sadly be the most predictable spot as to who starts. We have two contenders. The highest paid man on the team, Julius Randle, and the fresh new highly-touted #8 pick, Obi Toppin. The starting spot will probably go to Julius Randle for a couple of reasons. One, there is no way he will accept coming off the bench being the "star" player on the squad. Two, the Knicks front office will probably not want to pay a bench player about 18 million. And three, he will start and have ample playing time in order to improve his trade stock and allow Leon to ship him out before the deadline. Last season, he posted averages of 19.5 points and 9.7 rebounds with 3 assists a game on 46% shooting from the field. He was abysmal from 3 though, nearing 28%. I expect something similar from him this season, but I will not be drafting him again as I do expect him to be traded at some point. Obi Toppin, though, is NBA ready and will have minutes from the get go. I think he will come off the bench for the time being, at least until Randle gets traded. We can expect Obi to be a good scorer and haul in a good amount of boards. He should be great for field goal percentage too. He will also be a very good candidate for the Rookie of The Year Award next to guys like LaMelo Ball. 
The center position in New York is also a toss up between one of my favorites and a fantasy stud, Mitchell Robinson, and new free agency signing in Nerlens Noel. Personally, I'd have Mitch be the starter, but alas, I am not the Knicks coach. Thibs seems to really like Noel, as he's spoking glowingly about him in recent interviews, so the starting postion could be his. However, that does not mean Mitch loses his fantasy value, as he will get his minutes. Last season, he scored nearly 10 points a game, grabbed 7 rebounds, and swatted 2 shots per game. He also had a record breaking field goal percentage at 74.2 percent. I think we will see an improvement, albeit perhaps minor. Mitch will be a double-double threat every night and will be absolutely amazing for blocks and for field goal percentage as well. Noel will be a great mentor for Mitch but will also get a good amount of playing time as well. In this past season, we saw him average 7.4 points and almost 5 rebounds as a part of the OKC Thunder. He also had 1.5 blocks a game and shot nearly 70% from the field. He averaged 18.5 minutes a game and could see an uptick in New York, which would allow him to haul in more boards while creeping into double digit scoring. If I were to pick between them, I'd choose Mitch in both real life and fantasy. There is also Omari Spellman who might push for some minutes at center or even at power forward, but he may be on his way out via a trade or find himself playing minimal minutes. 
Overall, the New York Knicks are in a good spot for the future. They maintained their cap flexibility, they have assets in terms of draft picks, and have solid young players in RJ Barrett and Mitchell Robinson. Don't expect too much this season though. The best they can do is probably challenge for the 10th seed and that play-in tournament which I highly doubt. I see them around the 12th seed mark. On the bright side, I do believe RJ will see a hike in production and Mitchell Robinson will turn into a nightly double-double threat that will make him an even better version of himself. Here's to minimal pain this season for us Knicks fans!