Ahhhhh, the love and hate of auctions!  You love them the first 20 picks for all the bickering and bidding wars, then you hate them at the end when it takes forever, because the last moneybags owner keeps cycling the clock down until 2 seconds are left, then $2 cockblocking the remaining owners.  Make your bids quicker, people!  And if this paints a bad picture of auctions, then be sure to come and join us in an RCL League!  100% free to join fan leagues, SNAKE drafts, with prizes, an immortalized name in the Hall of Fame, and general awesomeness!
If you read that last paragraph, you're either thinking I'm jaded in auction leagues, or just continuing to whore myself out for more RCL leagues.  It's the latter!  Just take advantage of me selling off my sweet, sweet body, why don't ya?!  But I love the RCLs, and it ends up being hella fun the final few weeks and through the playoffs.
Any the who, auction leagues are dope as shit too!  I especially love the REL, which combines auction pricing with a dynasty aspect.  With a league of extraordinary fantasy foes, doing redrafts in the form of an auction is probably the purest test of fantasy acumen.  But it's also the purest test of stamina, as redraft auctions are longgggggg.  So more power to you if you're prepping for a redraft auction – hit that coffee, hit that Monster, hit that Red Bull…  and hit the floor apparently of a heart attack, but you get the picture!
This year is wildly different from the auction values I've put together in previous seasons.  There's no clear stud, no clear "pair at the top", but a concrete top 4 and a concrete #5 in Towns.  With that said, in a standard 9-category league, I'm deflating my top end values like never before.  I have Curry ranked #1 and Durant #4, but are they really $10 different?  Even $5?!  Hell, it's all so close at the top!  So I'll take the cheapest value of the top 4, might even just save for Towns, and go from there.  And one final reminder – these are guidelines based off my ranks, not explicit $ guesses.  I like Parsons more than most – it doesn't mean I'm expecting to have to quite spend $26 -but it reflects what I would pay in a draft with 11 other JBs.  Girls have dreams about what to do with 12 JBs!
Without any further ado (or RCL whoring), here's our 2016-17 Razzball Auction Values:
(Values are based on Yahoo standard line-ups (PG, SG, G, SF, PF, F, C, C, UTIL, UTIL, BN, BN, BN) and 12-team leagues with a $200 budget:)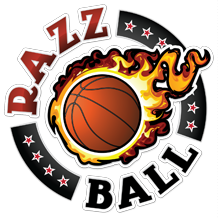 2016-2017 Fantasy Basketball Auction Rankings
| $ | PLAYER, TEAM, AGE | POS | NOTE |
| --- | --- | --- | --- |
| $66 | Stephen Curry, GS (28) | PG, SG | My frequently used soundbyte now – Durant is a phenomenal player, Curry is a transcendent player. Curry will also be taking the ball up the court more. 3s with the FG% and the rest of the package keep him #1. |
| | Slim's Projection: | | .495/.900/4.2/27.5/4.7/6.9/2.0/0.2/3.1 :32 |
| $64 | James Harden, HOU (26) | PG, SG, SF | D'Antoni?! Sign me up! TO will be out of control again, but so will the Pts/Ast as well as the flops for FT. |
| | Slim's Projection: | | .440/.865/3.0/29.5/6.0/7.3/1.7/0.6/4.4 :38 |
| $64 | Russell Westbrook, OKC (27) | PG | Yup, with the contract solidified since I did the original top-10 article, I'm now flipping Westy to my 3rd besty. Crazy USG, will need to punt-TO and either punt or fix FG%. |
| | Slim's Projection: | | .435/.820/1.4/28.5/8.1/9.7/2.1/0.2/4.4 :34 |
| $63 | Kevin Durant, GS (27) | SF, PF | These top 4 are so razor close that I have some major chafing going on. I still expect Durant to be amazing, it's just we have 4 amazing players. |
| | Slim's Projection: | | .520/.880/2.2/25.5/6.8/4.8/1.0/1.0/2.9 :32 |
| $60 | Karl-Anthony Towns, MIN (20) | C | Along with all the normal sexiness (Pts/FG%/Reb/Blk), he upped his Ast from 1.4 to 3.0 pre and post ASB in his rookie season. He's unreal. |
| | Slim's Projection: | | .540/.800/0.6/21.0/11.0/3.0/0.8/1.9/2.4 :36 |
| $57 | Anthony Davis, NO (23) | PF, C | If we knew Brow would play 75+ games I migggghhhht lean him over KAT, but we all know the risk. GET THE PELS NEW MEDICAL PEOPLE! |
| | Slim's Projection: | | .505/.780/0.7/23.5/10.1/1.8/1.3/2.4/1.9 :34 |
| $55 | Chris Paul, LAC (31) | PG | After a rough start due in part to some early injuries, finished the bulk of the year going 20.3/4.4/10.5/2.1/0.2 with 2.6 TO and 46.4% shooting with 1.8 treys from hi 17th game on. Another year fully entrenched as a first rounder. |
| | Slim's Projection: | | .465/.880/1.8/19.0/4.1/10.2/1.9/0.1/2.4 :32 |
| $54 | Giannis Antetokounmpo, MIL | PG, SG, SF | Over the last 26 games, Greek Freak went 18.8/8.4/7.5/1.5/1.9. Insanity! Shot 51.5% too. With Middleton gone, it adds more offensive onus on The Alphabet. I think it spells #8 value! |
| | Slim's Projection: |   | .495/.735/0.7/19.0/8.4/7.2/1.4/1.6/2.8 :36 |
| $52 | Hassan Whiteside, MIA (27) | C | Final 37 games, 3.9-5.4 FT good for 73.2%. On top of leading the league in blocks, if he hits his FT, he's easily gonna be a first rounder. And no, this rank isn't under the duress of an elbow to the noggin. |
| | Slim's Projection: | | .600/.730/0/19.5/14.0/0.5/0.7/3.5/1.9 :32 |
| $51 | Kawhi Leonard, SA (25) | SG, SF | The metrics love him, most people agree maybe a smidge too much, and he still gets a little docked for not playing 80 games. But the multicat, huge steals, and great FG% improvement with more 3s can't be overlooked. |
| | Slim's Projection: | | .500/.835/1.8/21.5/7.2/2.7/1.8/1.0/1.6 :34 |
| $50 | LeBron James, CLE (31) | SF, PF | I feel like his dominant playoff run is clouding some judgment, as the Cavs are gonna coast harder than Usian Bolt in Olympic qualifiers. No need to push Bron, and the Cavs end with 3 games in the H2H semis and 4 in the finals, with back-to-backs in both. Might only get 4-5 games the pivotal final two weeks. |
| | Slim's Projection: | | .525/.730/1.2/25.0/7.3/6.7/1.3/0.6/3.1 :36 |
| $49 | Kyle Lowry, TOR (30) | PG | Career highs in 3s, FT volume and minutes that have me believing he can be a rock. "Welcome to The Rock!" [in Sean Connery's voice] |
| | Slim's Projection: |   | .425/.810/2.5/20.5/4.5/6.6/1.6/0.2/2.8 :36 |
| $49 | John Wall, WAS (25) | PG | Slim hates me for having Lowry ahead, these two are pretty close to a coin flip. Not liking the bad FG% for a low-3s guy or the FT trending down last 3 seasons. |
| | Slim's Projection: |   | .425/.790/1.4/20.0/5.1/10.5/1.8/0.7/3.8 :36 |
| $48 | Paul Millsap, ATL (31) | SF, PF | More perimeter touches with Dwight clogging the lane, such an underrated commodity. |
| | Slim's Projection: |   | .470/.760/1.0/18.0/9.2/3.4/1.6/1.2/2.3 :32 |
| $47 | Paul George, IND (26) | SG, SF | Hard not to root for the guy bouncing back from the bad injury; played 81 games last year, set a huge career best in FT volume, and this is going to be a ridiculously paced team. Living up to the IND name! |
| | Slim's Projection: |   | .415/.850/2.3/22.5/6.8/3.8/1.8/0.3/3.0 :34 |
| $47 | DeMarcus Cousins, SAC (26) | PF, C | Missed 40 games the past two seasons, FT% came crumbling down around a huge volume, and without Rondo, look for Boogie to turn it over like the good ol' days as well. Not close to a first-rounder for me anymore. |
| | Slim's Projection: |   | .460/.730/1.0/27.0/12.1/3.6/1.5/1.4/4.0 :34 |
| $46 | Draymond Green, GS (26) | SF, PF | Takes a slight nudge down to the nards with the GSW Dream Team assemblage, but he should still be the same #Occupy we know and love, but could no longer bear children with… |
| | Slim's Projection: |   | .485/.710/1.1/12.5/9.8/6.7/1.6/1.4/2.8 :34 |
| $45 | Kemba Walker, CHA (26) | PG | Breakout season from the Huskie, boosted the FG%, boosted the FT volume, and brings a very interesting skill set for only 2ish TO per. |
| | Slim's Projection: |   | .425/.840/2.0/20.0/4.1/5.2/1.6/0.5/2.2 :36 |
| $45 | Damian Lillard, POR (26) | PG | I really hate the lack of steals and the high TO when compared to Kemba. I can make up the other stats on ThrAGNOF! |
| | Slim's Projection: |   | .425/.880/3.2/25.5/4.0/6.6/1.0/0.3/3.1 :36 |
| $41 | DeAndre Jordan, LAC (28) | C | 4/5/3 playoff sched from a guy that almost never misses games. FT-punt is giving me a lot more interest after seeing DJ came out at 3rd overall when you take out FT% last year. Two cats in the bank for the quarters and semis of the H2H playoffs. |
| | Slim's Projection: |   | .700/.430/0/12.0/13.5/1.0/0.7/2.2/1.3 :34 |
| $41 | Andre Drummond, DET (23) | C | Still emerging, love his post game, but I like DJ's playoff sched and blocks a smidge more. |
| | Slim's Projection: |   | .530/.380/0/17.5/14.7/0.8/1.4/1.7/2.0 :34 |
| $40 | Brook Lopez, BKN (28) | C | Injury risk seems to be by the wayside, but Ol' Clownfoot is on an ugly Nets team on a fairly-friendly contract. Got shut down last year. A trade at the deadline would hurt. |
| | Slim's Projection: |   | .505/.790/0/20.5/7.6/1.7/0.6/1.7/2.3 :32 |
| $40 | Kristaps Porzingis, NY (21) | PF, C | The Posion Goose! Only rookie to score more than 1,000 points, grab 500-plus rebounds, make 75-plus 3-pointers and block more than a 100 shots. USG may hurt next to Melo/Rose, but he'll still get his, and get dem swats on top of everything. |
| | Slim's Projection: |   | .445/.825/1.6/17.0/8.5/1.5/0.8/2.3/2.0 :32 |
| $39 | Al Horford, BOS (30) | PF, C | The way B-Rad runs rotations, I'm a little worried about the minutes being 29-30. Slim has more faith. His game is suited for a long career, but I worry about some early Boston meshing as well. |
| | Slim's Projection: |   | .505/.785/0.9/15.5/7.8/3.2/0.8/1.4/1.4 :32 |
| $37 | Blake Griffin, LAC (27) | PF, C | Disaster 15-16, but BG is playing for a contract (he'll likely get max either way, but ya know) and I think bounces back fine, as long as you're not on the Clip staff and clown him at dinner. |
| | Slim's Projection: |   | .505/.730/0.2/21.5/8.2/4.7/0.8/0.5/2.3 :34 |
| $36 | Eric Bledsoe, PHO (26) | PG, SG | Was looking great with my high rank of him last year, but those effin injuries… Risky, but did play 81 games sandwiched between the injury-plagued seasons. Had the meniscus surgery that takes longer to recover from so you can play at peak level, so I still see that big upside there. |
| | Slim's Projection: |   | .445/.800/1.4/19.5/4.2/6.0/1.6/0.5/3.4 :32 |
| $35 | Jimmy Butler, CHI (26) | SG, SF | 67 games or fewer in the past 3 seasons, and now has USG hogs Wade and Rondo to ruin possessions rather than Rose. 2 is worse than 1… Still should be his team and a solid value though. |
| | Slim's Projection: |   | .460/.830/1.0/18.5/5.3/5.8/1.6/0.5/2.0 :36 |
| $35 | Victor Oladipo, OKC (24) | PG, SG | I'm warming more and more on the player, but I really don't love this situation. I'm confused as to why changing your running mate from Elfrid Payton to Westbrook is a GOOD thing, and not like OKC is too shabby compared to ORL everywhere else. I don't trust the 3s and I think he could be overdrafted. |
| | Slim's Projection: |   | .450/.825/1.5/19.0/5.1/4.2/1.8/0.8/2.6 :36 |
| $35 | Kyrie Irving, CLE (24) | PG, SG | Looking at 15-16 seasonal numbers might be a turnoff, but he was eased in off the knee injury. Post-ASB and that final Finals shot is a turn ON though! What can Uncle Drew do for YOU?! |
| | Slim's Projection: |   | .455/.870/1.8/20.5/3.1/5.1/1.2/0.3/2.4 :34 |
| $33 | LaMarcus Aldridge, SA (31) | PF, C | Slim dislikes Aldridge with a Patrick Patterson-esque fury, but LA was 9th in per-game last year the final 31 games, and scores with a big volume of great FG% with virtually no TO. Being on the old Spurs is annoying though… |
| | Slim's Projection: |   | .495/.845/0/18.5/8.6/1.6/0.5/0.9/1.4 :30 |
| $31 | Isaiah Thomas, BOS (27) | PG | 37th overall finish last year, but mostly due to low REB and bad FG%. Makes him a beautiful fit in a punt-FT, if you loaded up on the big boys early. |
| | Slim's Projection: |   | .425/.870/2.0/21.5/2.8/6.0/1.0/0.1/2.7 :32 |
| $29 | Gorgui Dieng, MIN (26) | PF, C | Choo Choo! Who's with me on the hype train?! Through games 14-82 – 10.8/7.5/2.0/1.1/1.2 with 53.9% from the field and 82.6 FT%. That was only in 28:30 MPG and not starting half those games. I think Slim is a little light on the projection with upside to play huge minutes for Tibby Tibs. |
| | Slim's Projection: |   | .515/.810/0.2/12.0/7.8/2.2/1.1/1.6/1.8 :30 |
| $28 | Rudy Gobert, UTA (24) | C | Monsieur Elbow was Le Poo last year, that's for sure! FIBA ball apparently ruined his conditioning, and he tore his knee at one point. But he bounced back quick from injury – good to see for a big – and still has elite big man skills. Nice fallback FT-punt option. |
| | Slim's Projection: |   | .580/.600/0/10.5/11.3/1.6/0.8/2.5/1.8 :32 |
| $28 | Carmelo Anthony, NY (32) | SF, PF | With the facilitating ineptitude of Rose and coming off a career high in dimes, I could see Melo be a sneaky 5.0 AST source. We know scoring will be there with bleh peripheral stats, but me likey if his name value sours his ADP too much. |
| | Slim's Projection: |   | .440/.820/1.6/20.5/7.4/3.9/0.9/0.4/2.3 :34 |
| $28 | Kevin Love, CLE (27) | PF, C | Small steps up in per-minute stats, Love has gone from injury-plagued first rounder to low-upside mid-rounder. Might make your leaguemates fall asleep with this pick. |
| | Slim's Projection: |   | .435/.820/2.2/16.5/10.0/2.5/0.7/0.5/1.8 :32 |
| $27 | Serge Ibaka, ORL (26) | PF, C | Blocks dropping, turning into a jump shooter that is hurting FG%… He was clearly out of my top-50 pre-trade, but has some great upside for an expanded offensive role in ORL. |
| | Slim's Projection: |   | .475/.765/1.3/15.0/7.5/0.9/0.5/2.1/1.6 :32 |
| $27 | Derrick Favors, UTA (25) | PF, C | Favors would be 10 higher if not for back-to-back seasons with back-to-back spasms. Also the blocks didn't come along like we thought… Love his game, hate the risk. |
| | Slim's Projection: |   | .510/.715/0/16.5/ 8.3/1.6/1.0/1.7/1.7 :32 |
| $24 | Chandler Parsons, MEM (27) | SF, PF | 19.0/5.9/3.1/1.1/0.3 with an unreal 2.6 treys on 51.9% FG shooting his last 26 games. Yes, two straight seasons ending with knee issues, but I believe in Memphis believing in him. By the transitive property, I therefore believe in Parsons. |
| | Slim's Projection: |   | .480/.710/1.9/15.5/4.9/3.1/0.9/0.3/1.8 :32 |
| $24 | C.J. McCollum, POR (24) | PG, SG | Yikes my anti-McCollum 15-16 calls didn't go well! I don't know if he has any more upside, unless he can get to 1.5+ steals. |
| | Slim's Projection: |   | .440/.830/2.4/20.0/3.1/4.2/1.1/0.2/2.4 :34 |
| $24 | Jae Crowder, BOS (26) | SF, PF | The Boston Clam Crowder! Sexy 1.7 swipes from a forward and I don't see a way he could finish much worse than the 32nd per-game 15-16 he had. |
| | Slim's Projection: | | .440/.790/1.7/14.0/5.0/1.9/1.6/0.4/1.1 :32 |
| $23 | Pau Gasol, SA (36) | PF, C | Old and Spurs, go together like hangovers and carnival rides. You just have to build in a lot of regression, especially in minutes, but he can still be top-50 serviceable. |
| | Slim's Projection: |   | .480/.795/0.2/16.0/9.5/3.4/0.4/1.6/1.9 :30 |
| $23 | Klay Thompson, GS (26) | SG, SF | Takes the big hit amongst the Golden State Western All-Stars, and the D stats took a major step back last year as well. Back to being one of the NBA's best ThrAGNOFs. |
| | Slim's Projection: |   | .465/.870/2.9/18.5/3.4/2.0/0.9/0.5/1.6 :32 |
| $22 | Gordon Hayward, UTA (26) | SG, SF | FG%, AST, STL and BLK all dropped last year, and now they have a competent PG. Love the player, but couldn't rank him any higher. |
| | Slim's Projection: |   | .440/.820/1.8/20.0/5.0/4.2/1.3/0.4/2.6 :36 |
| $21 | Ricky Rubio, MIN (25) | PG | Despite having constant critics (both Rubio himself AND to me, for my love for Rubio!) he played 76 games last year and had a top-50 season. Kris Dunn does look awesome, but until the Wolves finally trade Rubio, I think he's at the end of the top-50 again. |
| | Slim's Projection: |   | .380/.830/0.9/11.0/4.5/8.9/2.1/0.1/2.7 :32 |
| $20 | Nikola Jokic, DEN (21) | PF, C | The love is starting to get strong for this one! In per-game/per-36 min stats, he was 13th in the NBA last year. And not like he played mop up minutes, he started a ton, just Mike Malone wouldn't play him. Gives you a legit 9-cat impact, even though no one stat shines. |
| | Slim's Projection: |   | .490/.810/0.4/11.5/8.2/2.8/1.1/0.8/1.7 :27 |
| $20 | Goran Dragic, MIA (30) | PG, SG | 17.3/4.6/6.7 post-ASB last year, with a lot more upside with Wade gone, despite the metrics not loving his game due to lack of STL/3s. His FG% makes him a great punt-FT fit though, and seeing how drafts are playing out and SOMEONE is punting FT by the 4th round, I am moving him snugly in my top-50. |
| | Slim's Projection: |   | .485/.765/1.2/18.5/3.7/6.7/1.1/0.2/2.6 :34 |
| $20 | Nicolas Batum, CHA (27) | SF, PF | A tad more upside for Frenchy with Lin gone, but he had a career-high in TO last year and always struggles in FG%, so those hurt him a tad. |
| | Slim's Projection: |   | .435/.845/1.9/15.0/5.9/5.7/1.0/0.5/3.0 :34 |
| $19 | Nerlens Noel, PHI (22) | PF, C | Still the allure of 2/2 STL/BLK! Sixers keep saying one of the bigs will be gone – make a deal already! Although it looks less likely with Simmons down… I moved Noel up one with that news, but not a huge change for me. |
| | Slim's Projection: |   | .510/.600/0/11.5/8.0/1.9/1.8/1.5/2.0 :28 |
| $19 | Nikola Vucevic, ORL (25) | PF, C | I thought I was going to be a smidge above consensus on Ibaka, but turns out I don't want any part of the Magic frontcourt after all, especially Vuch. Any lapses on D, and Bis is gonna get the Business! |
| | Slim's Projection: |   | .515/.750/0/17.5/9.2/2.3/0.7/1.0/1.8 :30 |
| $16 | Tobias Harris, ORL (24) | SF, PF | So underrated. After getting traded to Motown, the numbers all boosted up – better FG%, 3+ PPG, more FT volume, more 3s, and a much better AST:TO that went from 2.0:1.6 in ORL to 2.6:1.1 in D-town. Full off-season with his new crew, and this could be an awesome, metrics-friendly season. |
| | Slim's Projection: |   | .470/.810/1.2/17.0/6.2/2.5/0.8/0.5/1.3 :34 |
| $16 | Mike Conley, MEM (28) | PG | Despite my hate on him last year (100% correct too!), I like him at about the same spot in 16-17 with an insane 6.1:1.5 AST:TO last season. Low TO from a PG fits a lot of builds, plus a good wing running mate in Parsons finally. |
| | Slim's Projection: |   | .430/.840/1.5/15.5/2.8/5.6/1.2/0.2/1.6 :32 |
| $16 | Dennis Schroder, ATL (23) | PG | Ich Liebe the German! Were's Paul?! I need to be sure I spelled that right! Yes, the TO was bad in per-minute terms last year, but he had an offensively inept 2nd unit around him and he was trying to prove he's a starter. I don't think they get too out of control. Gonna score and dime like a Blitzkreig! |
| | Slim's Projection: |   | .420/.795/1.4/14.5/3.9/6.1/1.2/0.1/3.3 :30 |
| $16 | Jeff Teague, IND (28) | PG | I know it looks lazy having these two back-to-back, but they're sooooo close! Teague a little safer and will easily win STL, I just worry about how much rock he gets in that system. |
| | Slim's Projection: |   | .445/.850/1.5/16.5/2.8/6.2/1.4/0.3/2.7 :32 |
| $16 | Elfrid Payton, ORL (22) | PG | Get SKIIIIIILES!!! the F%*# outta here! Skiles even publicly said he didn't think Elfrid was the PG of the future, and with a new system and a defensive-minded coach, I could see Elfrid getting off the Shelfrid and taking off. |
| | Slim's Projection: |   | .440/.600/0.5/12.0/4.2/7.0/1.6/0.4/2.5 :32 |
| $15 | Marc Gasol, MEM (31) | C | The bone in his foot he broke is a really tricky one for big men, and he couldn't even run as of June 5th. There is confirmation there will be DNPs and minutes limits to open the season, but if he can stay healthy through winter, I expect his game to come back into form when you're in the playoffs. |
| | Slim's Projection: |   | .475/.790/0/15.5/7.1/3.7/0.9/1.3/2.1 :32 |
| $15 | DeMar DeRozan, TOR (27) | SG, SF | My original blurb was too good – "Why I didn't like DeRozan last year – Pts went down, AST:TO took a huge step back, treys down, FG% down, and a bad groin injury was the main reason he missed 22 games. Why I like DeRozan this year – Pts went back up (23.5 – career high), AST:TO took a huge step forward (4.0:2.2, ironically the exact same as in 13-14), treys up, FG% up, and he only missed 4 games." |
| | Slim's Projection: | | .445/.845/0.5/23.0/4.4/4.0/1.0/0.2/2.2 :36 |
| $15 | Brandon Knight, PHO (24) | PG, SG | Apparently this rank still prices me in, but I love the high-output 3s with the AST contribution – easy to miss the 5.1 AST he brings amongst some other warts, mainly FG%… |
| | Slim's Projection: | | .415/.835/2.0/18.5/3.8/4.6/1.1/0.2/3.0 :34 |
| $15 | D'Angelo Russell, LAL (20) | PG | While I keep calling him D Barksdale for a character in one of the most sophisticated shows ever made, D Russell is anything but. 1.6/3.3/1.2 in 3s/AST/STL in sub-30 minutes as a 19-yr-old is still mad intriguing, especially with no Kobe-USG-suck. Hopefully Russell can keep from doing something stupid. |
| | Slim's Projection: |   | .420/.750/1.9/16.0/3.6/5.2/1.3/0.1/2.9 :32 |
| $14 | Evan Fournier, ORL (23) | SG, SF | The Virgin! Also, don't google what his last name means. Posted a career year going 15.4/2.8/2.7/1.2/0.0 with 2 treys a game and only 1.7 TO, and had some assist-binges as well, diming 3.7/per in April. No Dipo will mean more usage, and they desperately need his scoring! |
| | Slim's Projection: |   | .460/.815/2.1/19.0/2.9/3.3/1.3/0.1/1.9 :34 |
| $14 | Darren Collison, SAC (29) | PG | I used to love his fantasy-friendly game as a PG with low TO, but now I hate his character. I like to cheer for my fantasy teams, and that's tough to do with Colly. "Only" an 8-game suspension keeps him a pretty solid mid-round pick though… |
| | Slim's Projection: |   | .470/.860/1.2/15.0/2.8/6.5/1.4/0.1/2.5 :36 |
| $13 | Jonas Valanciunas, TOR (24) | C | The Luminescent Lithuanian's per-game fantasy rank always looks purdy next to his MPG, but given an injury history, I don't automatically think no Biyombo = 30+ MPG. I like him, don't get me wrong! But I don't have that Canadian love… |
| | Slim's Projection: |   | .565/.765/0/14.0/9.3/0.8/0.4/1.4/1.5 :28 |
| $13 | Bradley Beal, WAS (23) | SG | I actually might have some Beal shares this year, with some confidence in that the Wizards have faith his leg injury issues are behind him – hell, it's THEIR medical staff that know him better than anyone! So if they had doubts, I suspect they wouldn't have dropped all dat ca$h. |
| | Slim's Projection: |   | .440/.780/1.9/17.5/3.5/3.0/1.0/0.2/2.0 :32 |
| $12 | Marcin Gortat, WAS (32) | C | The Ten Foot Pole is about to be an Eleven Year Pro, but that ain't stopping me! He's finished in the top-50 in the past few seasons – yes it's metrics-whoreish – but even with a few less MPG, I think this is good value. |
| | Slim's Projection: |   | .565/.700/0/12.0/9.2/1.2/0.5/1.2/1.4 :28 |
| $12 | Jusuf Nurkic, DEN (22) | C | In 17 MPG, Jamba Jus got to 1.4 BLK, 0.8 STL and has some really underrated playmaking ability as a post-passer. I think his %s take big hikes up, and even if he's only at 24-25 MPG, I think can be a win at this rank. |
| | Slim's Projection: |   | .460/.650/0/14.0/8.8/1.6/1.0/1.9/2.2 :28 |
| $11 | Rudy Gay, SAC (30) | SF, PF | Gay only scores. Despite the real-life basketball metrics hating him though, he was 46th last year despite dropping from 3.7 to 1.7 dimes with Rondo hawgin' it. No Rondo, mo' dimes! But this is looking like a messier and messier divorce, with Gay publicly putting out there he's opting out next year. Virtually any trade is going to hurt, plus he has to deal with internal strife for however long he plays in 16-17 with the Kings. |
| | Slim's Projection: |   | .455/.785/1.0/17.5/6.4/2.3/1.3/0.6/2.3 :34 |
| $11 | Danilo Gallinari, DEN (28) | SF | Uggghhhhh, Gallo! Why can't you stay healthy! A big sleeper of mine last year was working out pretty well until a kankle. He's major trade bait, but I still love his game. |
| | Slim's Projection: |   | .415/.860/1.8/17.5/5.0/2.3/0.7/0.3/1.4 :32 |
| $11 | Trevor Ariza, HOU (31) | SG, SF | He fits certain builds REALLY well, and like Gortat is a metrics-friendly finisher every year, but I don't think the D'Antoni effect really impacts Ariza as much. The ups and downs in FG% can crush you, unless you're outright punting FG%. |
| | Slim's Projection: |   | .410/.790/2.4/13.0/5.2/2.5/1.9/0.3/1.5 :36 |
| $10 | Rajon Rondo, CHI (30) | PG | Speaking of needing to punt stuff! Yes, AST and STL were great last year, but expect major hits in dimes next to Wade and Butler. Might be closer to DAL stats than SAC stats… |
| | Slim's Projection: |   | .450/.590/0.8/10.5/5.8/8.4/1.8/0.1/2.9 :32 |
| $9 | Andrew Wiggins, MIN (21) | SG, SF | Obviously needs to make improvements, but at least he's durable! Big scoring sources aren't too plentiful past here. |
| | Slim's Projection: | | .475/.785/1.0/21.5/3.7/2.4/1.2/0.7/2.1 :36 |
| $9 | Myles Turner, IND (20) | PF, C | From game 41-82, i.e. the "legit" 2nd half of the season, he went 12.2/6.4/0.9/0.5/1.7 in 26.6 MPG, shooting 49.7% from the field, 73.9% from the stripe, and only committing 1.4 TO. Seasonal numbers get jacked up due to low minutes out of the gate and coming off the broken thumb prior to this run. |
| | Slim's Projection: | | .465/.765/0.3/12.5/6.9/1.0/0.7/2.1/1.8 :28 |
| $8 | Dwyane Wade, CHI (34) | PG, SG | Rondo is a TO-vortex! We might get a little fix there, along with good scoring and some wing dimes. But ya know, for 65 games… |
| | Slim's Projection: | | .460/.780/0.1/18.0/3.8/3.6/1.0/0.4/1.9 :30 |
| $8 | Zach LaVine, MIN (21) | PG, SG | As a starter, was unreal for 17.3/2.8/3.2/1.1/0.2 in 33 games, including 2.4 treys at an absurd 47.4% clip from the field overall. I don't know if that % is fully replicable, but heavy treys without killing your FG% should fit some FT punt builds. |
| | Slim's Projection: | | .445/.785/1.7/16.5/2.8/3.1/1.0/0.2/1.8 :32 |
| $8 | Dirk Nowizki, DAL (38) | PF, C | I'm glad I'm including ages, because that explains the only reason why The Gerimator is this low. He stands the test of time, but we'll see if he can hold up another full NBA season. |
| | Slim's Projection: | | .450/.890/1.6/17.5/6.0/1.8/0.6/0.5/1.1 :30 |
| $8 | Jeremy Lin, BKN (28) | PG, SG | Had a great 15-16 in FT volume and a career-low TO rate, and joins a team in desperate need of playmaking. And cool hair. |
| | Slim's Projection: | | .415/.810/1.3/14.0/3.3/6.3/1.2/0.6/2.4 :32 |
| $8 | George Hill, UTA (30) | PG, SG | Provides 5ish dimes with a minuscule TO rate, with just an overall non-killing game in %s and TO. LET ME SEE THAT THONG! |
| | Slim's Projection: | | .440/.790/1.7/12.0/3.8/3.8/1.0/0.2/1.3 :32 |
| $8 | Aaron Gordon, ORL (21) | SF, PF | Vogel – "I'ma use A-Gord like P-George!" Me – erection. |
| | Slim's Projection: | | .470/.655/0.8/13.5/8.3/2.7/1.1/0.8/1.7 :32 |
| $7 | Robert Covington, PHI (25) | SF, PF | FG% remains a big issue, but his post-ASB got to 31:10 MPG with an absurd 3.3 treys and gorgeous 15.6/7.0/1.5/1.5/0.6 slash. Another strong fit for FG% punt. |
| | Slim's Projection: | | .390/.795/2.4/12.5/5.4/1.5/1.4/0.5/2.0 :28 |
| $7 | Kent Bazemore, ATL (27) | SG, SF | Fell off a smidge last year as the minutes I think caught up to him a bit, but he offers a very sexy metrics-friendly game, and could be a huge get if he can maintain across 82 games. |
| | Slim's Projection: | | .440/.795/1.7/13.0/5.0/2.6/1.3/0.5/2.0 :30 |
| $7 | Avery Bradley, BOS (25) | PG, SG | Career highs in STL, PTS and 3s, with a nice FG% for a high-end ThrAGNOF. |
| | Slim's Projection: | | .445/.790/1.9/15.0/3.0/2.2/1.4/0.3/1.4 :34 |
| $7 | Jordan Clarkson, LAL (24) | PG, SG | Ugh, a tough whiff last year, but with Kobe's USG gonzo, I could see him being George Hill-ish this year… |
| | Slim's Projection: | | .440/.815/1.6/16.5/4.0/3.6/1.1/0.1/1.8 :32 |
| $7 | Enes Kanter, OKC (24) | C | Anemic in AST/STL/BLK, the upside for a 20/10 season with a good FG% keeps him well ahead of the 100 range. |
| | Slim's Projection: | | .545/.800/0.2/16.5/9.3/0.6/0.5/0.5/1.9 :28 |
| $7 | Wesley Matthews, DAL (29) | SG, SF | Even off the awful injury, played 78 games at 33:54 MPG in 15-16. Mark Cuban said Matthews couldn't even dunk half of last year, but he's apparently having a great, healthy offseason. A great unsexy name for sexy upside. |
| | Slim's Projection: | | .430/.850/2.6/15.0/3.3/2.2/1.1/0.2/1.0 :34 |
| $6 | Devin Booker, PHO (19) | SG | Mannnnn I want to rank him higher and higher with the PJ Tucker injury news, but 0.6/0.3 STL/BLK with 2.6 AST last year, meh, and a lot came without Knight and Bledsoe off the floor. I think you have an extremely sexy, admittedly young and sexy, player that could be overreached for if you went much higher than here. |
| | Slim's Projection: | | .435/.845/1.6/13.0/2.6/2.1/0.7/0.3/1.8 :28 |
| $6 | Luol Deng, LAL (31) | SF, PF | 15.2/8.1/2.5/1.2/0.5 over the final 28 games, with 1.1 treys shooting 48.4% with only 1.4 TO. Yes – no Bosh – but it's not like the Lakers have a murderers row up front. Another unsexy name that I think will fall too far. |
| | Slim's Projection: | | .440/.770/1.0/13.5/5.8/1.8/0.9/0.3/1.0 :32 |
| $6 | Thaddeus Young, IND (28) | SF, PF | I think he's going to be a little overdrafted, as his better numbers have come on awful PHI and BKN teams. I'm not quite sure how he'll fit into the Pacers up-tempo system, as he's likely the #5 option. |
| | Slim's Projection: | | .480/.675/0.3/13.0/8.1/1.9/1.4/0.4/1.7 :30 |
| $6 | Monta Ellis, IND (30) | PG, SG | HE'S STILL GETTING PAID ONLY $11 MIL A YEAR!? Readers last year get that one… 1.9 STL and 4.7 TO is what you're drafting here, as any bounceback in scoring is tough to see with this new offense. |
| | Slim's Projection: | | .430/.780/1.1/14.5/3.2/4.2/1.9/0.3/2.4 :34 |
| $5 | Ryan Anderson, HOU (28) | PF, C | Ryno, the ThraAGNOF bigman dyno! If you get 70 games of his 3PTM/C combo, you're happy. |
| | Slim's Projection: | | .430/.870/2.4/17.5/6.2/1.0/0.5/0.3/1.5 :30 |
| $5 | DeMarre Carroll, TOR (30) | SF, PF | In a limited sample due to injuries, 3PTM and STL were both career highs, At least all of his injury issues last year didn't lead to some big surgery. I could see a nice big bounceback. |
| | Slim's Projection: | | .450/.720/1.8/12.0/5.3/1.6/1.4/0.2/1.1 :32 |
| $4 | JJ Redick, LAC (32) | SG | I don't see the crazy high marks of 48% from the field again, 47.5% from deep, or scoring over 16 PPG with Blake back. ThrAGNOF! |
| | Slim's Projection: | | .475/.890/2.6/15.0/2.0/1.5/0.5/0.1/1.0 :28 |
| $4 | Rodney Hood, UTA (23) | SG, SF | Loves – 2 treys and 2.2-2.5 FT for 86% freebie clip. Hates – 0.9/0.2 in Stl/Blk and 2.7:1.9 AST:TO. I worry the dimes and steals are a little overrated and he's more ThrAGNOF than not, but I do still like him! |
| | Slim's Projection: | | .425/.850/1.9/15.0/3.4/2.9/0.9/0.2/1.7 :32 |
| $4 | Emmanuel Mudiay, DEN (20) | PG | Makes the top 200 due to PG runs. Not that they have diarrhea, but you get it. Mudiay did finish 15-16 strong going 16.5/3.8/4.9/0.6/0.4 hitting 1.7 treys and shooting 40.8% (high for him) over the final 22 games, so there's a little hope for minor-breakout potential. |
| | Slim's Projection: | | .405/.760/1.6/15.5/3.7/5.7/1.3/0.6/3.1 :32 |
| $4 | Joakim Noah, NYK (31) | PF, C | Goromotaro! I do like his upside for dimes continuing to play with Rose, but even if this is looking FANTASTIC through 20 games, I would sell immediately due to brittleness. |
| | Slim's Projection: | | .465/.690/0/8.5/9.4/4.8/0.8/1.1/1.8 :30 |
| $4 | Kentavious Caldwell-Pope, DET (23) | SG | The KCP addiction remains STRONG! Well, I should say I've plateaued, now that his ADP is getting to where my rank is these days… About time! |
| | Slim's Projection: | | .425/.800/1.6/14.0/3.5/1.8/1.4/0.2/1.3 :34 |
| $4 | Greg Monroe, MIL (26) | PF, C | I have to rank him somewhere, although admittedly this hate might be going too far. I worry where he lands in an inevitable trade, as the Bucks hate him. |
| | Slim's Projection: | | .515/.740/0/13.0/8.3/2.2/0.9/0.8/1.5 :28 |
| $4 | Justice Winslow, MIA (20) | SF, PF | I'm admittedly a little iffy with this rank, but the combo of 0.9 STL and only 1.2 TO as a rookie excites me, as well as an expanded role. FT% is a little bit of an issue, but I think he can surprise, especially if no Bosh. |
| | Slim's Projection: | | .445/.730/0.8/12.5/7.9/2.7/1.2/0.8/1.7 :34 |
| $4 | Markieff Morris, WAS (27) | PF, C | FG% went WAY up even though he took more 3s, TO way down, and same STL/BLK after getting to the Wiz. Still only 27, with a full offseason with the new crew, there could be something here. |
| | Slim's Projection: | | .465/.760/0.8/13.5/6.0/1.8/1.0/0.6/1.8 :30 |
| $4 | Jabari Parker, MIL (21) | SF, PF | An unreal 18.8/6.2/2.2/1.1/0.3 line over his last 29 games, which I originally felt was unrepeatable and blah without threes, but now without Duchess, there's a legit shot he could push for 20 PPG. With the added rebounds and still some youthful upside, I thought I was a buyer, but apparently he's being hyped hard in other rankings-sets. I'm not going TOO nuts for a guy who can score but had bad D stats and no 3s… |
| | Slim's Projection: | | .490/.770/0.3/19.5/6.3/2.2/1.1/0.3/2.1 :36 |
| $3 | Jrue Holiday, NO (26) | PG | We wish he and his family the best, as he takes an indefinite period of time to be with the people that matter most. Hate to be callous, but in fantasy terms, I don't think I want to invest in an uncertain amount of stat accrual. |
| | Slim's Projection: | | .445/.830/1.7/18.5/3.6/7.3/1.6/0.3/2.9 :32 |
| $3 | Otto Porter, WAS (23) | SF | There are some rankings and pre-ranks that are out of control for Porter, who was barely ownable when Beal was on the court – he only spiked when Beal was hurt. |
| | Slim's Projection: | | .465/.760/1.2/11.0/5.1/1.6/1.4/0.4/1.0 :30 |
| $3 | Derrick Rose, NYK (27) | PG | I had a little optimism he could be a little better than last year, but then his legal issue got more and more publicity, and he just doesn't sound like a fun guy, guilty or not of a crime. I like to cheer for my fantasy teams, sue me! |
| | Slim's Projection: | | .420/.810/1.0/18.0/3.2/4.8/0.7/0.2/3.0 :32 |
| $2 | Matt Barnes, SAC (36) | SF, PF | One of my favorite late round staples, Barnes follows Joerger – who apparently loves him – to SAC, where he is going to play both F positions. 1/1/1 3/STL/BLK gonna be tough to find any later! |
| | Slim's Projection: | | .410/.780/1.5/9.5/4.7/1.8/0.8/0.6/1.2 :26 |
| $2 | Marcus Morris, DET (27) | SF, PF | Not flashy, but only has missed 3 games the last 3 seasons, and offers a nice well-rounded scoring boost. |
| | Slim's Projection: | | .440/.750/1.3/13.0/4.9/2.3/0.8/0.3/1.7 :34 |
| $2 | Marvin Williams, CHA (30) | SF, PF | As metrics-whorey as it comes, with only 0.8 TO last year in a spread line. I don't know if I buy 45+ FG% again or the 1.0 BLK though… |
| | Slim's Projection: | | .435/.800/1.7/10.5/5.8/1.3/0.8/0.6/0.8 :28 |
| $2 | Jared Sullinger, TOR (24) | PF, C | The Raptors desperately need deep shooting from guys other than Lowry (and I guess Carroll), but at well under 30% from downtown in his career, I think it could get a little ugly, and I don't think we see this huge 1+/1+ STL/BLK season either. |
| | Slim's Projection: | | .440/.725/0.7/13.5/8.2/2.6/1.0/0.7/1.4 :28 |
| $2 | Robin Lopez, CHI (28) | C | Worst player in basketball! He is what he is, a nice nab for big man depth in non-FT punt builds. |
| | Slim's Projection: | | .535/.790/0/11.0/7.5/1.5/0.3/1.5/1.5 :28 |
| $2 | Jerryd Bayless, PHI (28) | PG, SG | JB love JB! The Sixers need a PG who can hit treys and keep the TO down. With no Simmons development most of the season, there will be a little more rock for Bayless, upside for added 3PTA and more usage, I likey. |
| | Slim's Projection: | | .420/.805/1.8/12.5/2.8/4.1/1.0/0.2/1.8 :30 |
| $2 | Dwight Howard, ATL (30) | PF, C | Obviously a fun FT punt asset if he lasts this long, but the TO issues, injury-proneness, and changing to another team worry me a smidge. I think the resurgence season last year was an anomaly to his career trends. |
| | Slim's Projection: | | .585/.520/0/15.0/11.0/1.3/0.9/1.6/2.6 :32 |
| $2 | Will Barton, DEN (25) | SG, SF | People are being way too chill on Will the thrill! 5.8 REB, 2.5 AST, 0.9/0.5 STL/BLK, and 1.4 treys as ancillary stats to the scoring is nothing to sneeze at, and I think he gets a similar MPG role, even with everyone healthy and the new wing rooks. |
| | Slim's Projection: | | .430/.790/1.0/12.0/4.9/2.1/0.8/0.4/1.6 :26 |
| $2 | Clint Capela, HOU (22) | PF, C | More D'Antoniiiii! Obviously a must-draft for FT punters; for other builds, the upside in Boards-n-Blocks is capped a little due to the drain. |
| | Slim's Projection: | | .565/.420/0/11.0/9.6/1.0/1.0/1.7/1.3 :28 |
| $2 | Harrison Barnes, DAL (24) | SF, PF | Doesn't hit enough treys or bring enough D-stats, but maybe can get to 18 or 19 a night in Big D. |
| | Slim's Projection: | | .445/.755/1.4/15.0/5.2/1.8/0.8/0.2/1.5 :32 |
| $2 | Evan Turner, POR (27) | SG, SF | Both Turner's AST and AST:TO took massive steps forward in Boston, but nothing else really jumps off the page. I imagine a similar role in POR. |
| | Slim's Projection: | | .460/.780/0/10.5/5.0/4.2/1.0/0.2/1.9 :28 |
| $2 | Reggie Jackson, DET (26) | PG, SG | Brutal news that R-Jax "could" miss 6-8 weeks with knee issues. It wouldn't be the end of the world, but this is for knee tendinitis, and not off a surgery. So who knows if this lingers. I am hoping to steer clear, and nab Ish late to see what happens… |
| | Slim's Projection: | | .440/.860/1.6/19.0/3.0/6.6/0.8/0.1/3.0 :32 |
| $2 | Buddy Hield, NO (22) | SG | Steals consistently went down in college and he shot 32.7% in Summer Ball, with only a 22.9% clip on treys. Small sample, but there's going to be some big % waffles to his ThrAGNOF game. |
| | Slim's Projection: | | .400/.820/2.2/14.5/4.4/2.3/1.0/0.2/2.3 :34 |
| $2 | Jahlil Okafor, PHI (20) | C | Surprised me as a rookie with over a block/per and a non-killing FT%, but I hate their big man mix and all the issues he had mostly off the court. |
| | Slim's Projection: | | .510/.670/0/17.0/6.9/1.3/0.4/0.9/2.0 :28 |
| $2 | Ish Smith, DET (28) | PG | I admittedly waffle at times with the true "purpose" of these ranks, but I am looking to draft Ish in the last 2 or 3 rounds in all drafts right now with the R-Jax news. Was previously effective as a starter on a bad team, now he starts for a good team. I think this start could be pretty epic, then you address when/if R-Jax is back. |
| | Slim's Projection: | | |
| $1 | Kris Dunn, MIN (22) | PG | Insane in Summer Ball, going 24/7/3/2/1 shooting 54.3% from the field and getting to the stripe for 15 freebies in only 2 games (due to a concussion). It's tough to project HUGE playing time, but the counting stats could be sexy in a major combo guard role. %s and TO are an issue though, cough MCW… |
| | Slim's Projection: | | .435/.700/0.5/11.5/2.3/4.2/1.3/0.3/2.3 :26 |
| $1 | Deron Williams, DAL (32) | PG | Limited upside, low D stats, low FG%, but is a PG who starts in the NBA and had 5.8 AST last season. We obviously can't expect a full season either. |
| | Slim's Projection: | | .410/.860/1.5/14.0/3.0/6.0/0.9/0.2/2.2 :32 |
| $1 | Mason Plumlee, POR (26) | PF, C | 4.8 dimes in the postseason, and shot 64.2% at the stripe which is a big step forward. Maybe he can be a sneaky C dimes source, and has played all 82 the past 2 years. |
| | Slim's Projection: | | .525/.635/0/10.0/7.8/3.0/0.8/0.8/2.0 :26 |
| $1 | Tim Frazier, NO (25) | PG | With Jrue likely out a good stretch at the beginning of the season, Frazier is penciled in as your PG starter. Went 13.1/4.4/7.5/1.4/0.1 over the final 16 games last year! And not even all of that came as a starter! I'm tempering my expectations a tad because we just don't know the Jrue game played this year. |
| | Slim's Projection: | | .415/.745/0.6/12.0/4.1/6.8/1.0/0.1/2.5 :28 |
| $1 | Zach Randolph, MEM (35) | PF, C | We know about what we'll get, and he barely turns it over, for a PTS/REB source I would buy at this point. Not too worried about a bench role, yeah maybe a few less minutes, but should be better per-36 against 2nd units. |
| | Slim's Projection: | | .475/.775/0/15.5/7.9/2.2/0.6/0.2/1.6 :30 |
| $1 | Rondae Hollis-Jefferson, BKN (21) | SG, SF | Had a 7.6/7.7/1.6/1.9/0.4 9 game stretch pre-injury, and BKN needs him to be their SG of the future. |
| | Slim's Projection: | | .460/.720/0.2/9.5/7.6/2.1/1.8/0.7/1.3 :32 |
| $1 | Patrick Beverley, HOU | PG, SG | While I initially liked the upside for P-Bev in D'Antoni system, injuries are rearing their ugly head already with a lingering knee issue… Would just be preseason noise for most guys, but P-Bev already hurt has me scurred. |
| | Slim's Projection: | | .425/.765/2.1/10.5/3.9/3.6/1.4/0.4/1.4 :30 |
| $1 | Julius Randle, LAL (21) | PF | About as low-hyped as we could get for a guy who averaged a dubdub as a rook… FG% and lack of D stats hurt. |
| | Slim's Projection: | | |
| $1 | Danny Green, SA (29) | SG, SF | We saw how fickle metrics-whore guys can be – didn't hit his 3s and it destroyed his value last year. Could bounce back a little. |
| | Slim's Projection: | | |
| $1 | Nikola Mirotic, CHI (25) | SF, PF | I'd be much more intrigued if they didn't bring in Wade squeezing out SF minutes as I don't think he's a great fit at PF due to defensive issues. |
| | Slim's Projection: | | |
| $1 | Kyle Korver, ATL (35) | SG, SF | After shooting treys in the high-40%s for a long stretch, 39.9% last year. A healthy offseason instead of recovering from two surgeries including one on his elbow – I think a sneaky bounceback ThrAGNOF. |
| | Slim's Projection: | | |
| $1 | Bismack Biyombo, ORL (24) | PF, C | Not investing in the ORL frontcourt, but there's obviously Boards-n-Blocks usability with your last pick or two here. Even if he's coming off the bench, it should be for good minutes. |
| | Slim's Projection: | | |
| $1 | Michael KIdd-Gilchrist, CHA (23) | SF | In his 6 full games before the [re]injury last year, he was a pretty saucy 13.5/7.0/1.2/0.3/0.5 shooting 52.6%. Sure a small sample, but he's still really young and had big improvements the past two seasons. Just needs to keep those shoulders in those sockets! |
| | Slim's Projection: | | |
| $1 | Zaza Pachulia, GS (32) | C | Pizza arms! Up until Feb 19th in 15-16, he was 10/10.9/2/1/0.3 before they massively scaled back his minutes. Should fit a nice boarding need for the Golden State NBA All Stars of the West Warriors. |
| | Slim's Projection: | | |
| $1 | Steven Adams, OKC (23) | C | Despite low-volume, vastly improved his %s and AST:TO last year. I'm not sure the volume goes up a ton though, making him barely above the streaming class. |
| | Slim's Projection: | | .590/.600/0/11.0/9.6/1.0/0.8/1.5/1.3 :32 |
| $1 | Amir Johnson, BOS (29) | PF, C | Sneaky punt-FT target with a great FG% and bad FTs. I was surprised to actually like Amir this year, but with no Sully, there isn't heavy-hitting PF to really rival Amir's role. Love dem D stats. |
| | Slim's Projection: | | |
| $1 | JaMychal Green, MEM (26) | PF | The Grizz lack A TON of depth up front, and he had a 16 game stretch in March of 12.6/7.4/2.3/0.9/0.8 in under 29 MPG. On non-Gasol nights, he could easily do that, and now it looks like he's starting with Zach Randolph reportedly coming off the bench (which annoys the nuts outta me, I wanted to be on an island here!). Love the PT upside. |
| | Slim's Projection: | | .475/.755/0.2/7.2/4.7/0.8/0.6/0.4/1.1 :18 |
| $1 | Al Jefferson, IND (31) | PF, C | Big Al has big tread on the big tires, but could easily go 11/6 with low TO for a backend big. But hopefully someone else in your league nabs him higher for name value 🙂 |
| | Slim's Projection: | | |
| $1 | Kenneth Faried, DEN (26) | PF, C | You're probably hoping for a trade to be honest… Even in a low MPG role out of the gate if he's still in DEN, I think there's enough for early-season ownership. |
| | Slim's Projection: | | |
| $1 | Alex Len, PHO (23) | PF, C | Only gets ranked here due to upside – he was a trainwreck when a starter last year, and projected to still come behind grandpa Tyson. More a stash-and-hope. |
| | Slim's Projection: | | |
| $1 | Tony Parker, SA (34) | PG | Interesting note – looks like Parker had his best AST:TO ratio of his career last year: 5.3:1.8. I know he's old and not going to play a huge MPG or games played, but I found that intriguing as a final AST boost. |
| | Slim's Projection: | | |
| $1 | Michael Carter-Williams, MIL (24) | PG | Middleton injury doesn't change much, although maybe he helps swing a trade to a team needing a PG. |
| | Slim's Projection: | | |
| $1 | Al-Farouq Aminu, POR (26) | SF, PF | I don't buy that a guy had a FG% of 41.6 – right where it was last year – while going from 1.7 to 4.3 treys attempted. 36.1% from deep seems like an epic fluke to me, and his ups and downs make him too annoying to own for me to invest. |
| | Slim's Projection: | | |
| $1 | Timofey Mozgov, LAL (30) | C | If he gets to 28 MPG, he could get 1.5 blocks and a few boards, but health has been an issue and I have no faith in the Lakers not to screw the pooch somehow. |
| | Slim's Projection: | | |
| $1 | Josh Richardson, MIA (23) | SG, SF | I wasn't fully buying into the hype, as he shot 53.3% from deep (!!!) in the second half last year during that huge run. I saw some regression coming …andddddd, he tears his knee in offseason workouts. Ugh! This is going to cost him an epicly important training camp and preseason, but I still have him on the fringe of draft-worthy as an IL slot, since RCL leagues have 2 IL spots. |
| | Slim's Projection: | | |
| $1 | Taj Gibson, CHI (31) | PF, C | With Noah and Pau outta there, there's a shot for 28-29 MPG with a 9/9 1.3 BLK sort of line, with a great FG%. Low end, but usable. |
| | Slim's Projection: | | |
| $1 | J.R. Smith, CLE (31) | SG, SF | 12.4 Pts and 2.6 treys we saw last year I think regress with a full season of Kyrie. But the Cavs do play a ton of off nights, so that could help his ThrAGNOF ownability a tier above the streamers. |
| | Slim's Projection: | | |
| $1 | Tyler Johnson, MIA (24) | PG, SG | I think the plan was always to mainly play him behind Dragic, so I'm not tinkiering his rank with the J-Rich injury. Lovvvvvve TyJo's game, but I dunno if he'll play enough to reap the full rewards. |
| | Slim's Projection: | | |
| $1 | Courtney Lee, NYK (30) | SG, SF | Pretty lame last roster-filler, but he contributes STL/3s with virtually no TO. |
| | Slim's Projection: | | |
| $1 | Tyson Chandler, PHO (33) | C | Very usable 10.1/9.4/0.9/0.6/0.8 run over his last 24 games, shooting 67.8%. Injuries and age knock him down a round or two, but I'd be fine with him as my last pick. |
| | Slim's Projection: | | |
| $1 | Jared Dudley, PHO (31) | SG, SF | Probably a forgotten name come draft day, but did go 10.1/3.9/2.7/1.2/0.2 over 39 games while Wiz had injuries, with 1.7 treys and shooting almost 50%. Has a chance to replicate that as the Suns starting SF or PF. |
| | Slim's Projection: | | |
| $1 | Dario Saric, PHI (22) | PF | More TO than AST in Euro play, and even with the opening of minutes with Simmons hurt, I'm still not sold how "must-own" he'll be even in 12ers due to the TO question mark and defensive-stats apititude. But I'll 100% take a stab at him with my last couple picks if he's there. |
| | Slim's Projection: | | |
| $1 | Ivica Zubac, LAL (19) | C | Sexy upside time! Mozgov is obviously bleh, and Zubac was unreal in Summer Ball, with low TO, awesome %s, and game-changing D. |
| | Slim's Projection: | | |
| $1 | Andrew Bogut, DAL (31) | C | We know the Bogut schtick by now – steals and blocks, bad FT, legs made of glass. |
| | Slim's Projection: | | |
| $1 | Marcus Smart, BOS (22) | PG | Seems like there's some buzz for him to take the next step, but I don't see that happening until they let him slash instead of shooting 3s. STL in the bank is nice, but meh. |
| | Slim's Projection: | | |
| $1 | Omri Casspi, SAC (28) | SF, PF | A key FT punt target – Casspi hits 3s and shoots a good % while having a tough time at the stripe. A Gay trade locked in stone will boost him a good bit for me. |
| | Slim's Projection: | | |
| $1 | John Henson, MIL (25) | PF, C | Well, an OBVIOUS FT target, and a Monroe trade locked in stone boosts HIM up a bit! |
| | Slim's Projection: | | |
| $1 | Mirza Teletovic, MIL (31) | SF, PF | Was going to be a ThrAGNOF off the bench for the Bucks with a murky outlook for minutes; alas, Middleton is out most of the year, and the Bucks DESPERATELY need perimeter shooting. They'll find a way to play Teletovic a good bit, but I'm not going too crazy… ThrAGNOF! |
| | Slim's Projection: | | |
| $1 | Michael Beasley, MIL (27) | SF, PF | In only 18 MPG, Beasley went 12.8/4.9 with a usable-enough 0.6/0.5 STL/BLK in his stint in Houston, I already liked him as a sleeper and then he gets traded to a BETTER situation! They obviously need scoring, but unfortunately he's not a huge perimeter shooter, so I'm not sure exactly what his role will be. |
| | Slim's Projection: | | |
| $1 | Bojan Bogdanovic, BKN (27) | SG, SF | ThrAGNOF! Nets need wing scoring/3PTM in the worst way, but the rest of his stats are so empty to rank him higher, even with the Pts/3s upside. |
| | Slim's Projection: | | |
| $1 | Gary Harris, DEN (22) | SG | Expected to miss 4-6 weeks with a groin strain, likely having him miss the first few weeks of the season. I just HATE this for younger guys. Blah |
| | Slim's Projection: | | .465/.820/1.7/14.0/3.3/2.1/1.5/0.3/1.4 :32 |