As we prepare for the 2016-17 Fantasy Basketball Season, I'll be taking a look at each NBA team with their major adds and drops to see if we can pan for any surprise rotational gold.  This open is especially witty for the Nuggets…  We'll be counting down from worst NBA regular season to the best, mainly because I'm still figuring out how to rank the Warriors…
Utah Jazz (40-42)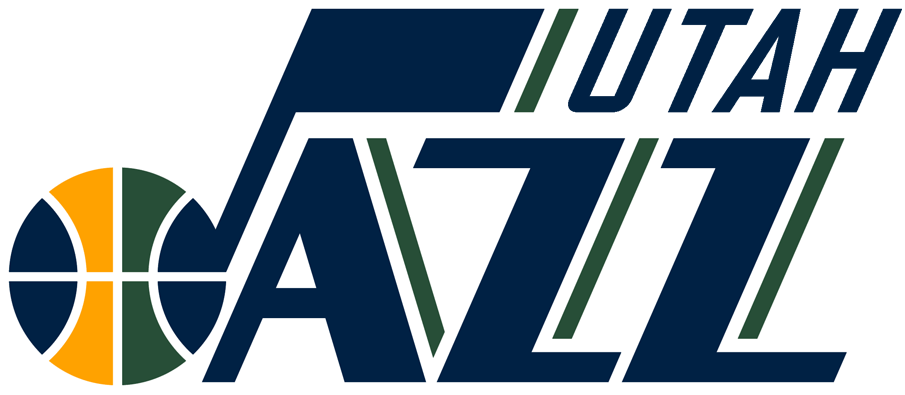 Key Acquisitions:
G/F Joe Johnson
F Boris Diaw
Key Losses:
F Trevor Booker
A terrible logo!
Hell yes!  Look at the Jazz bringing sexy back, using their old school look as their official logo of 16-17.
Ya know, this team reminds me of a defensive-minded version of the Wolves.  Oodles of young talent, they barely made any changes, and I think Slim will indeed get his wish and see them as a postseason team.  Slim loves his Jazz!  I think it's just because they're a team in the West who didn't burn his Heat…
Anywho, the position where they made the biggest change was a MASSIVE upgrade at PG, so A+ in the offseason moves department!  And oh man, wait until you get idea of what this second unit is gonna be…  Here's how the 16-17 Utah Jazz are coming together for the upcoming season:
PG – Projected Starter – George Hill
Let me see that thoooooong!  Baby!  That thong, thong thong thong, thong!  Yup, Sisqo heads to Utah in a tough trade given his ties to the Indianapolis area, but what should be an encouraging one for his importance to his team.  Hill goes from a bystander in a high-paced offense, to critical defensive cog and perimeter threat.  Instead of Paul George dribbling it up and taking a shot right away, there is going to be some offensive flow.  I'm not expecting HUGE totals, but I think he can be a surprise in the dimes just because they're going to actually pass the ball around.  Maybe 5ish?  Plus his normal great %s and low TO.  He can see MY thong!
Key Reserves – Dante Exum, Shelvin Mack, Raul Neto
I think he led the Jazz in starts last year, but Raul Neto might not even make this team.  D-League!  I really like Shelvin Mack, and he might still have a little bit of a combo guard role, but I am desperately hoping we get to see Exum unleashed against second units.  He's reportedly 100% healthy, and instead of being thrown in against starters when he was 18 out of poor competition in Australia, now he gets to show his game against second units.  I think he can flourish.
SG – Projected Starter – Rodney Hood
Hey, I like Rodney Hood too!  But I feel like his contingent is louder than Donald Trump in a presidential debate!  "Wrong!"  Haha, just kidding – at 93 in my overall ranks, I'm literally exactly at the 93 consensus on FantasyPros.  I just worry we're overrating the non-ThrAGNOF stats of his game – meh steals, meh assists…  I think the 2.7 dimes we saw last year goes down too.  What puts him in the top-100 is a decent FT volume at a great %.
Key Reserves – Alec Burks, Chris Johnson
Ugh, injuries, injuries, injuries for one of our former Razzball favorites Alec Burks.  Hood is clearly the starter, they have dynamic backup PG options…  We'll just never know where his career could've taken him when healthy the past few years when the Jazz really needed his scoring in a ton of MPG.  Johnson is reportedly a cut candidate, but he's given then a few good reserve minutes here and there and could sign again with them during the season if he doesn't get an invite somewhere else.
SF – Projected Starter – Gordon Hayward
I've mentioned this a few times, but this may be new for more recent readers – I called Gordon Hayward his freshman year at Butler.  I grew up in Davidson and watched all the Curry games I could, then comes along this Butler freshman in this game that blew my mind.  I remember telling people he was going to be a solid NBA player right then and there.  I of course didn't see him almost winning the National Championship on an absurd half court shot!  And didn't think he'd be a max deal guy.  I'm saying all this because I'm a huge Hayward fan – love his game, always have.  But I'm in the red on him on FantasyPros at 43 in my ranks, because his 3PT efficiency remains iffy and his AST/STL/BLK have all gone down in 3 consecutive seasons.  I know George Hill isn't exactly Rajon Rondo, but I do think it hurts Hayward's chances of getting those dimes back up.  At this point, I see Hayward as a scorer with sexy FT volume, but not enough else across the board to put in my first 3 rounds.
Key Reserves – Joe Johnson, Joe Ingles
Backing up Gordon is a pair of regular Joes!  Well, Ingles is pretty regular…  JJ on the other hand I think can play some great backup wing and lead the second unit.  Mannnnn, this might be the NBA's most exciting second unit!  More to come too!  I obviously don't see shallow league usability, but in the deepers I think JJ can chip in some scoring, 3s, & dimes.
PF – Projected Starter – Derrick Favors
While baby got back, Favors has a bad back, and Anaconda is scared of those buns, hun!  Love Favors' game, the D stats are maintaining with better scoring numbers, but a big man with back spasm issues will always scare you.  If they need to hire a masseuse, I have fingers made of pleasure!  Ew.
Key Reserves – Trey Lyles, Boris Diaw
Just to keep things interesting on this second unit, they add the leading scorer from the Summer League!  Lyles hit 3s, got the stripe nearly 10 times a game, and was unstoppable.  But he really only boarded and scored, so he's like a poor man's Teletovic due to the playing time.  Then the Jazz also pick up Diaw off the Spurs scrap heap as San Antonio needed cap space for Pau.  Maybe they go smaller and play Diaw in some stretches as the backup 5 though…  I can't see Lyles going much under 18-20 MPG.
C – Projected Starter – Rudy Gobert
Monsieur Elbow, it's time for a bounce back!  Hampered by fatigue after playing in FIBA, then sidelined for a month with a knee injury, Gobert grinded through a tough 15-16 season.  Despite my whiff on his high rank, he still had well over 2 blocks and 11 rebounds a game, so not like all was lost.  Hopefully he took some longgggggg recovery time from the Olympics playing for France this Summer, and can come in fresh to 16-17.
Key Reserves – Jeff Withey, Henry Sims
I have a feeling Sims is getting cut, leaving Withey vying with Diaw for backup 5 minutes.  While Gobert was out, Withey had a 16 game stretch in there of 7.3/6.0/0.8/0.9/1.9 in 21 MPG, providing a very serviceable blocks-boost  He should be a nice fill-in should Gobert go down.  But let's not put that bad juju in the world!
 JB's 2016-17 Projection: 48-34
Hard to believe this team was nearly .500 with absolutely nothing at PG, and a missed month from both Derrick Favors and Rudy Gobert.  Plus they have my favorite second unit in the league.  If the band can stay healthy, look out West!