Sweet vindication! It was just a matter of time before Roy Tarpley – my evolutionary Jabbar – proved me right. 35/17/1, with a pair of steals, a pair of blocks and a sweet .652 from the field. If you rearrange Roy Tarpley, you can spell "breathtaking" (provided you also add and substitute a few letters not already found in the name Roy Tarpley). The 35? The 17? The .652? All career-highs. This warm, fuzzing intro to today's daily Razzball notes? I can only assume that for Tarp, it's also a career high(light). I reached a bit for the guy, convinced some of you to do the same and was a bit worried by the first few games. The Lakers were rough, and he had to bump against Akeem a game later. Then came the Heat and now the Suns. It's no wonder this guy's catching fire! Roll him out there, fantasy owners and remember to thank me come playoff season!
User your computer's track ball to scroll down. Or you can just guess what else is written down there:
Larry Bird – Reportedly suffering from a recurrence of tendinitis in his Achilles' tendons and the Celtics doctor hasn't ruled out surgery that would sideline him 3-4 months. Bird poop.
Norm Nixon – After double-doubling in his first game, then scoring 11 and 12 points in his next two, his owners were hoping Nixon was a guy they could kick around. Then in his fourth game, he played 25 minutes, shot .222 from the field and ended with a 4/2/2 line and they all went to go stick their heads in their ovens.
Mark Price – Double-doubled in first three games of the season. He's only had nine in his last two seasons. As you were.
Mark Jackson – Keeping with the Mark theme, when choosing a game ball before each home game, Jackson said, "I like to get a relationship with the ball – sort of like you do with a woman. You want to get a feeling for it. You try to get an understanding with it. I don't want to sound corny, but it's kind of a sensitive thing." Thankfully, he's in front of the camera and not providing commentary behind it. I'd have to constantly go walk out in traffic listening to this guy.
Johnny Newman – There are rumors that the Blazers are considering trading aweighe Kiki for Johnny Newman. John E. Newman was overheard saying, "what me worry?" But considering Vandeweighe isn't schedule to step on the court until the New Year must sour his milk a tad.
Cliff Levingston – He's totaled 32/7/2 through his first four games, while Antoine Carr has totaled 39/25/4. What I'm trying to say is you should have drafted Moses Malone.
Vinnie Johnson – 17.5 ppg in last two. Hold off on burning a waiver add just yet. Microwaves cool just as fast as they heat.
Cliff Robinson – Another double-double (26/10) on Wednesday, another self-inflicted slap to my noggin for drafting McMillan over Robinson. He's averaging 22/8 in first four games, and he's shooting the lights out (.581). Considering he wasn't drafted before the fifth round in most drafts, this bump in production could be huge for his owners.
Ricky Pierce – He's averaged 16/3/2 through the first five full seasons of his career and 24/2/2 so far into year six. Still, he wasn't drafted before the seventh or eighth round in most drafts, as he still gets little respect among casual fans. I blame his weak chin. Chicks hate weak chins and let's face it, tons of chicks are casual fans.
Derek Harper – He was as cold as the cases in that "America's Most Wanted" show. (Sidebar: has anyone watched that yet? I feel like week after week, it's gotta be a downer. I'd watch a show called "Finding America's Most Wanted," but nothing short of that) Anyway, Harp shot 1-for-9 (.111), and ended with a 4/2/11 line. Don't sweat it. Wait 'til you see Rodney McCray's line.
Rodney McCray – Rodney McCray's line: 4/8/8, 0-for-15 (15!) from the floor. And Rodney wonders why he doesn't get any respect.
Eddie Johnson – 37 points in 29 minutes from the bench after an Opposite Day McCray shooting performance of 15-of-19 from the floor. If he manages even two more games like this for the rest of the season, I'll replace all my records with CDs.
Jose Ortiz – Got the start for the Jazz in his debut on Wednesday. The first start by a Puerto Rican in NBA history went like this: 5/6/0 in 16 minutes. One night later, he plays seven minutes earning nothin' but three fouls. So this is working out well.
Derrick Chievous – In 35 minutes, the Houston rookie ended with a 27/3/4 line and is averaging 16.3/3.3, with 1.5 steals per game. Derrick is trouble, kids. Better call his spinster sister, Miss Chievous.
L I N E   O F   T H E   N I G H T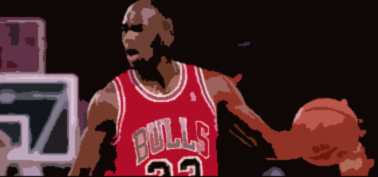 .545/.875 / 2 3ptm/ 52 pts/ 3 rbd/ 2 ast/ 9 stl / 2 blk/ 2 tov
Michael Jordan – Scored 25 in the first half, 19 in the fourth quarter and the Bulls beat the Celtics in Boston for the first regular season game since 1985. This is what you paid for. He is why you paid it.