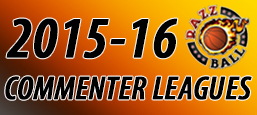 With the All-Star break rapidly approaching, it's a good time for fantasy owners to sit back and re-evaluate their season so far. For teams struggling to move into the playoff picture, a win-now trade for a slumping star or gamble on a potential breakout may be necessary moves to remain competitive. As the RCL Update indicates week-in and week-out, the standings are not set in stone, and today's favorites may fall victim to the injury bug (*reaches for Voodoo doll*) leaving them susceptible to the surging contenders.
Either way, with a lot of basketball left to be played, only the vigilant fantasy owners will rise from mediocrity and continue to excel in the standings. By this point in the year, everyone has a pretty good gauge on value, so don't be afraid to part ways with a struggling asset (I'm talking to you Danny Green owners) to make your team better in the short term.
String together a couple impressive wins, and before you know it, you're front page on the RCL Update.
Check out how your teams stacked up in week 12 of the 2015-16 RCL Master Standings Table table, and here's how the action went down in the twelfth regular season week across our 22 RCL Leagues:
Please, blog, may I have some more?