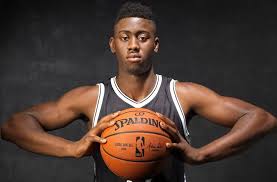 Every fantasy basketball season there are players who come out of nowhere and decide fantasy championships. Donovan Mitchell and Tyreke Evans were those guys last year. Both were overlooked for two totally different reasons, as Mitchell was a rookie and Evans had struggled with injuries over his brief career. But both got an opportunity due to injuries on their respective teams and proceeded to go nuts. So let's take a look at five guys who are available late in drafts and have the talent to be fantasy basketball difference makers:
Willy Hernangomez – Charlotte Hornets
Here at Razzball we have been begging teams to "Free Willy" for a couple of years now. Willy may not be the best real-life defender, but this is "fantasy" basketball and we only care about stats. And with Hernangomez, baby…got….stats. After his trade to Charlotte last season, the per 36 numbers were: 18 points per game, 16 rebounds!, 1.5 assists, 1.5 steals, 1.2 blocks…ohh baby I wanna get wit ya. Coming into the season Charlotte was saying they liked Cody Zeller's game better for the system, but it was Willy who produced 14 points, 3 rebounds, 1 steal, and a block in 17 minutes…my homeboys tried to warn me but those stats you got…well you know the rest. Go get him.
Jakob Poeltl – San Antonio Spurs
Poeltl was the forgotten man in the Raptors' trade of Demar Derozan for Kawhi Leonard and Danny Green, but he could have a chance to make a name for himself this fantasy season. Pau Gasol is no spring chicken and has even come out and said he would be willing to come off the bench. This could mean a good chunk of minutes for Poeltl (aka Jakob Smirnoff) who has shown that he does not need much playing time to make a fantasy basketball impact. Poeltl's per-36 last season were: 13 points, 9.3 rebounds, 1.3 assists, 0.9 steals, and 2.4 blocks. If you went guard-heavy early in the draft, then Poeltl makes a great last pick, as consistent blocks are hard to come by.
Miles Bridges – Charlotte Hornets
I wanted to include one rookie on this list and Bridges felt like the perfect pick due to his similarities to last year's stud rookie Donovan Mitchell. Mitchell stayed in school for two years in order to improve and was picked 13th in the draft by one team and ended up playing for another. Miles Bridges stayed in school a second year in order to improve and was picked 12th by one team and ended up on another. Mitchell was not expected to make a big impact in his rookie season, but injuries opened up playing time and he took off. Bridges was also not supposed to make a big impact this season, but his play in Summer League, and so far in the preseason, have given him a great opportunity to earn a lot of minutes right away. Not to mention, Michael Kidd-Gilchrist suffered a concussion which could allow Bridges to crack the starting five immediately. Even if you do not believe in fate, you have to admit the similarities are eerie. In the last preseason game, Bridges scored 23 points, with 6 rebounds, 2 assists, 1 steal, and a block in a team-high 28 minutes. His athleticism was on display and there is talk that he will get minutes as a small-ball center. I am a believer and you should be too.
Cedi Osman – Cleveland Cavaliers
When LeBron James left the Cavaliers for Los Angeles, he left a giant usage hole in the lineup that somebody has to fill. Kevin Love of course is going to be the focal point and I believe second-year player Cedi Osman can be the number two (I mean that in the good way, not the other way). Who else is going to step up? Rodney Hood? Jordan Clarkson? Rookie Collin Sexton? Osman has a really nice, well-rounded game which should allow him to put up fantasy-friendly numbers this season. His per-36 stats last year were: 12.7 points, 6.4 rebounds, 2.2 assists, 1.2 steals, 0.2 blocks while shooting 48% from the floor and hitting 1.7 threes a game. That was in a rookie season surrounded by usage monsters. With teams focused on stopping Love and the dynamic Sexton penetrating and kicking, Osman should find himself with good looks and open lanes all season long.
Caris LeVert – Brooklyn Nets
Usually you need to take the "word out of training camp" with a grain of salt, but in the case of Caris LeVert, I am buying all the hype. I will start this breakdown with a warning that LeVert has shown to be a bit fragile in his short career, but I think he is a risk worth taking. The Nets have a nice group of exciting young players and I believe LeVert has the talent to be the best of the bunch. He can get to the rim and has a variety of moves to get his own shot. He can shoot from deep and distribute like a point guard, while also pulling down boards and racking up steals. His per-36 numbers are decent: 16.6 points, 5 rebounds, 5.8 assists, 1.6 steals, 0.4 blocks with 1.6 threes per game, but it really feels like, based on reports, that things have clicked for LeVert and he is ready to improve upon those numbers. With increased scoring and improved efficiency, those stats can easily be pushed up into elite territory. Not bad for someone you can get with your last couple of picks or even off waivers in some leagues.
I hope these sleeper picks hit for you guys because I am counting on them in my own leagues. Find me on Twitter @TheFantasyDick and on YouTube at Razzball Fantasy Basketball where we have our weekly podcast and other fantasy basketball advice videos.