Standings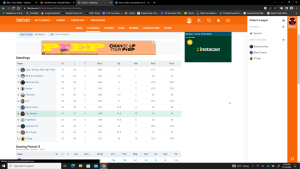 Son continues his hot streak and is now in the driver's seat for the six spot and playoffs berth.   There is never a letup in this league.  I thought I knew something after having the one seed in a deep dynasty and winning my other league multiple times.  Gotta keep improving.
Put a Fork in….
…the other non-writer, Luigi.  My day is coming, I know.  Luigi though, at this point is 25 back.  That is dead last, and to make things worse he has Giannis!  Let's look at an autopsy for this slow painful death which is to come.
Looking at the full season stats, Luigi's team struggles with all the guard stats.  Points, assists, threes, and steals. He's in the bottom 2 or 3 in all of them.  He is great in boards and solid in blocks, though.  Clearly, he picked good big guys and not guards.  I'm looking at the team right now. Who's underperformed?
RJ Barrett:  40% shooting, weak on steals and did not take the step forward.
Fred Van Vleet:  36% shooting on the year
Isaiah Hartenstein:  beaten out by Mitchell Robinson, was counting on him to be a help in shooting and hasn't materialized
Herbert Jones:  rotation minutes and counting stats did not improve
Josh Giddey:  love to watch the guy but he can't shoot.
This just hasn't meshed.  If I were Luigi, and I'm not, I'm more of a Mario guy (sorry, dad joke) or Wario actually.  Now that I think about it, Wario was my N64 character for MarioKart.  That guy piled up the red shells!   I wasn't much for the steering, I had to blow up the small fools like Toad and Yoshii.  Unless I had to do Bowser's Castle.  That was a hard race!  Also, this game was why I had a 2.5 GPA in college.
Top 5 N64 MarioKart Races
 Mario Raceway:  Just enough danger with those plants that eat you thingies, but enough area to make up ground and shoot people with red shells
Sherbet Land:  Drink Bud ice, but beware of the penguins.  Another great college years reference anyway
Toad's Turnpike:  This was a good one to get the crappy MaroKarters off the N64 rotation
DK Jungle Parkway:  good fast one, hard to steer though so need good weapons.
Wario Stadium: my character was built for this dude! (nobody says that now, but we did then.  Now it's all "bra."  Which to me is a woman's unmentionable)
Where was I?  Oh yes, a bad fantasy team.  I would actually look to deal for more bigs, dominate the percentages category.  I would be looking to keep Van Vleet and Barrett (RJ has had great second halves before) and trade for more high volume shooters and tank percentages.  There's one team that went all guards;  maybe he'd be a good trade partner?  What up, Son?
Another lesson is to get a high volume scorer or three on the squad.  Allen is a great C, but matching him up with Bam Adebayo might not have been the best move.  Points and threes are categories!  I guess sometimes it just doesn't work out.  Van Vleet and Jrue Holiday were solid value picks;  they just haven't played well.
Now that I do a bit further research, he's only made six moves on the season.  Six!  This is honestly a really good league with active owners.  Six moves is a death blow.  So now I've written 400 words to say one thing:
Work on your teams in-season.
And y'all knew that already.  Thanks for reading!  This is why you all come to Razzball.
Pickups of the Week:
It's an all villains week on the pickups.
Grayson Allen:  Y'all be trippin'! He's a true champion in college and a first team All American.  He has not fallen on his face in his pro career either.  Yes, I'm a Duke fan, and Grayson was one of my favorites.  In the NBA, he's kinda a Thunder Dan Majerle-lite, minus the usage.  What makes Allen appealing is some mild scoring, a lot of 3s, and a few boards and assists mixed in.  Obviously the boards and assists are linked to playing time.  So what earns Grayson minutes?  Defense!  He's in the lead in the Defensive Rating stat in the entire league.  Yes, I double checked, here it is: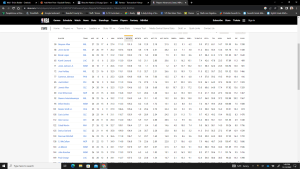 It's also crazy the Bucks have the top 3 guys.  It's like they might be good at basketball or something.  But with this rating, Allen's minutes are safe, and he will always be open for sniping opportunities.  Pick him up for 3s, FT% and low but steady volume other counting categories.
Jalen Johnson:  Now you know I'm a Duke fan, and you know I'm not going to go out of my way to compliment a guy who "opted out" of the Covid year after being benched.  I'm probably never going to root for him, but he got picked up by the Oracle and he's up there in the standings.  And I'm sure after yesterday he'll be dropped: 1 point and 4 boards isn't roster worthy.  Good.  I want him to not do well.  He actually has some ability and could develop but I'll never care.  Except for this pass he made yesterday:
Caleb Martin:  Minutes are gold in the NBA.  Gold, Ponyboy, gold!  So he's my favorite pickup this week.  In a genius move, I drafted My Favorite Martin (this is not true.  I honestly can't tell them apart.  I never could even when they were floundering freshmen at NC State) and let him go after a bad week.  Well, I finally could rectify my mistake.  Since Nov. 21, he's been over 26 minutes every game, with only two of the ten games in that span being under 32.  He's been hitting over a 3 per game and usually chips in a steal or two.  An added bonus is a low turnover rate.  I think he's mine for the duration.
Random Notes
I've noticed there isn't a great fantasy basketball blog out there besides Razzball.  I'm not being a corporate shill.  Rotoworld just fired all their good NBA guys to hire Matthew Berry and have nothing else, and they were the only comparable site.  Keep reading this site, even though they let me write stuff like "work on your fantasy team" the other guys are all really smart!  I'm actually kinda honored my stuff makes it on here.  Every day something good is posted.