Ho hum, another week goes by in the Writer's League.  Standings if you're following along: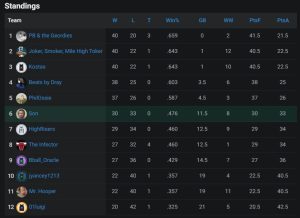 What if this were a roto league?
Would it be different?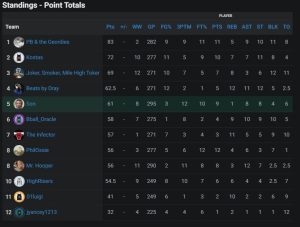 Man, another boring thing.  I was hoping somebody would jump  up in the standings based on their roto style stats.  I specifically was hoping that that someone was me.  Alas and alack, it's not to be.
Playoffs?  We're talking playoffs?
At this point, PB & G and Kostas would nab the first round byes.  If I were a better writer I would have put in the first sentence that there are six playoff teams in here.  Kostas killed me 8-1, and Pub G (Remember that game?  It was so much better than Fortnite!  You could hit people with cars!)  had a big win vs. the JokerSmokers (tie last week, loss this week!).  Son continued his rise into the playoff contention with another win.
3 vs 6 would be Kostas vs. Son
4 vs. 5 would be PhilOssie vs. Beats by Dray
There is an impeding Vikings-style shield wall level blood bath for the six spot.  Son, High Risers, and the Infector are all within two games, and the Oracle is two back of that.  Lotta hoops to be played here!
Fantrax Player Rankings
Fantrax has a super secret algorithm they use to rank players.  When you look up a player, they are given a "Score" metric.  Luka Doncic has a 100 while Nikola Jovic is the lowest-rated active player without injuries at 33.66 owned in this league.  Maybe his owner can get Sioux Falls stats.  Sioux Falls is a real city in South Dakota with a real G League team.  I went to college around that area.  It's very cold and we should pray for them all winter.
I want to highlight the number 3 player……………Kristaps Porzingis.    I had not noticed this resurgence since I never watch the Wizards on purpose.  He's right around 22 points, 9 boards, 2 3-pointers and 1.5 blocks.  This nifty little package is supplemented with below 2 TO per game.  Seriously, the Oracle himself could not have predicted this level of statistical nirvana!  Or maybe he could since he owns KP.
I honestly have no idea what I would do if I owned KP.  I think, based on the fact that I never considered drafting him, I would probably recommend dealing him, but I can understand wanting to ride this train like this song from my college dancing days:
This was the best conga line song of all time.  Don't @ me.
I was all set to bash on Bam Adebayo because of his low ranking, but then I realized the flaw in the super secret algorithm.  Turnovers are ranked too high!  I usually don't worry about them too much.  So Bam, congratulations to the man who grew up in the same area as me, good job on the 21 points per game neighbor who I never met or watched play.
Notable Transactions
Guys, do some trades would ya?  I mean, what am I supposed to keep writing about here!
The trouble with streaming guys is that they come with an expiration date.  No, not like milk in Drew Carey's fridge when he decided to only drink adult sodas.  Like James Harden comes back.  Not surprisingly, Shake Milton and De'Anthony Melton hit the waivers this week.  I would have been more patient on Melton since he's been productive in 25 per game.
Probably my main pickup of the week and one I'm ashamed I did not attain is AJ Griffin from the Hawks.  Injuries have reared their ugly head again for De'Andre Hunter and John Collins opening up minutes for a swingman.  I also do not want to get into politics, but I Googled a tweet about this and Trae Young got drama going on again.  I'm here for this.  Always.  Love NBA drama.
Trae Young missed Hawks' game vs. Nuggets after argument with head coach Nate McMillan: report https://t.co/COMAwZJPbT

— Fox News (@FoxNews) December 5, 2022
Now, AJ Griffin will be the best citizen on any team, dude led IG Bible studies at Duke and his dad, Adrian Griffin, was a great guy.  AJ in college underwhelmed as he recovered from missing two high school seasons with leg injuries.  At Duke, he flashed a solid jumper, shaky handles, and a desire to play defense if he did not always have the experience to do so.  His last game featured 34 minutes and he tallied 24 points and 3 boards.  The kid can shoot and the further away from two catastrophic injuries the more confident in his athleticism he'll be.  In a dynasty league, he's the prototypical 3 and D wing for 10 years or until he's hurt again.  For this year, he's a solid streamer with potential for more.
Drops
Kevin Love was dropped.  I had my eye on him for some fun production when Jarrett Allen went down with his hip, but he's not going to do anything in 20-22 minutes worth monitoring.
Andre Drummond has been dropped from the Bulls rotation lately and should probably be dropped everywhere too.  He's actually a bad NBA player who is good at rebounding but nothing else, but thinks he's good at everything.
Thanks for reading, and let me know what I got wrong in the comments.