When I was a kid, I could tell the difference between a name brand and an off-brand cereal instantly.
I knew when my parents tried to cheap out and pass off Puffy Choco-Balls as Coco Puffs or Fruity Dino Bites as Fruity Pebbles. I didn't even need to put the spoon in my mouth to realize that it was Tasty Silly Trinkets, not Lucky Charms, sitting before me in a sea of milk.
So if I plugged Kevin Martin in where Klay Thompson sat on your fantasy roster, would you know the difference?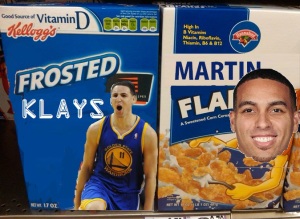 If you were in a keeper league, yes, of course. You'd be pissed because I swapped a 24-year-old young buck with a 31-year-old injury risk. But in a normal league, you might notice a slight drop-off in quality, but you'd probably just keep plowing ahead like I do now when I eat the Smack Yo Mamas I bought for my kids instead of Sugar Smacks.
This argument looked a lot better before both guys put up absolute duds on Saturday night, but Thompson's hand injury sort of balances it out. So bear with me.
Martin so far this year:
19.6 ppg, 3.8 rpg, 2.4 apg, 3.0 3PT per game, 40 FG%, 41.2 3PT%, 96.6 FT%
Thompson so far this year:
23.8 ppg, 2.6 rpg, 3.2 apg, 2.6 3PT per game, 47 FG%, 40.6 3PT%, 84.8 FT% (plus a steal and a block per game)
I'm not saying Martin is better or will be better. But I do see Thompson's FG and 3PT percentages coming down (as they did Saturday night). I also don't see Martin's numbers going anywhere as long as he stays healthy (well, they did, they went down on Saturday night).
What I am saying is this: If your team is struggling, swing a few deals where you can sell high on Thompson, and buy low-ish on Martin (made much easier by his two bone-headed plays last week), thereby replacing Thompson with Martin and upgrading elsewhere.
If off brand cereals haven't curbed your hunger, here's some more wings to feast on:
Reggie Bullock – Should be the name of one of the dude's in the classic arcade game "Arch Rivals." I recently played a whole game and spent half the time punching my nephew's players instead of trying to score. I still put up 71. Anyway, back to Bullock. This guy was THE MAN in high school, then became just a three-point in college, then tore a ligament in his knee and got a little sidetracked before getting picked late in the first round by the Clips a few years back. He can still shoot the three, and after putting up 12 points on four bombs in his season debut, many began calling for him to take Matt Barnes in the L.A. starting lineup. But Doc Rivers went the other way, slashing Bullock's minutes to 12 in the next game and then giving him a DNP-Coaches Decision on Saturday night. Could be on keeper radars, that's about it. Breaded wing with freezer burn.
Kobe Bryant – What? You scored 39 points against the Suns? And you took … 37 shots to get them? How'd you do that? Heck, I'm not even mad; that's amazing. How 'bout we get you in your P.J.'s and we hit the hay … Whoah, left that "Anchorman" moment go on a little too long there. But if there's another guy in the league with eligibility at PG, SG and SF please let me know in the comments, then pass me the Vasoline and give me a few minutes of "alone time" in the bathroom. Yep, Kobes has been above 20 in five out of his six games, and above 30 in two of them, but there is no selling high, and there is no buying low. Just enjoy the ride and pray he doesn't break down or retire. Wing that's been left under the heat lamp too long, but damn is it still tasty.
Jeremy Lamb – Everyone knows the Thunder will be without Kevin Durant and Russell Westbrook until who knows when. Everyone knows Reggie Jackson was the only guy left who could score until … Lamb came back from injury. So why were all the experts warning against taking Lamb when he came back, and then continued to complain that his game was "raw" after he dropped 17 in an impressive near-win against Memphis. Even after he duplicated that point total and added nine boards and four assists in Sunday's win vs. Sactown, they were still saying, "Oh, wait until Anthony Morrow and Perry Jones III come back!" Na, son. Just ask the dudes in the Razzball Expert Dynasty League – Ben from Rotogold paid $45 for him! That's like when Andie MacDowell overbids for a date with Bill Murray in "Groundhog Day." Kind of. Anyway, until Batman and Robin come back, you gotta have Jackson and/or Lamb – who are like the Wonder Twins – on your squad. Sweet BBQ wing.
P.J. Tucker – See that streamer slot on your team? Grab P.J. Tucker, put him in there, and forget about it for a little while. Tucker is a multi-cat guy who will never be consistent in any particular categories. But he gets the Suns whatever they need in real life, which means that even if he's not getting double-digit boards (like he did two games ago) or points (like he did last Friday against the Kings), he'll have a few steals or blocks to compensate for his fantasy managers. Good sign: Even though he sharted a little in Sunday's victory over the previously undefeated Warriors by scoring only two points on 1-6 shooting, he managed to contribute two steals and two blocks, and the Suns were +24 when he was on the floor. A wing in the first pile of wings that comes out at the next Wing Bowl.
Thaddeus Young – He's not a SG/SF and will almost certainly never get that designation. Thad is as wing-ish as you can be without being a wing. As such he makes it in this week's roundup. Let's talk about Thad's long-term value. I want him to be a guy who can go for 20 and 10 with some steals and blocks and a nice FG percentage. I know he can be that guy if given the chance, which he is doing at the present moment.. But when, or if, Andrew Wiggins starts getting the shots this season, Thad will go back to being what he was during the Doug Collins-era in Philly. This isn't a bad thing, it just means he will cease to be a stud. Your confidence in Wiggins should determine whether you should sell high on Thad right now. Boneless wing (in other words, not really a wing).
Courtney Lee – Can't take anything away from the way Lee is playing. Shooting 53.3 percent from the field, 66.7 percent (!!!) from three's, averaging 15.2 ppg. But Lee is scoring for Memphis because … nobody else is really scoring for Memphis. When Zach Randolph and Marc Gasol get their act together, Lee will go back to being a scorer with three-point capability off the bench. Sell high, my friend. Wing to Go.
Gordon Hayward – Pete Maravich. John Stockton. Jeff Hornacek. And now G-Hay. A long lineage of pasty white Jazz greats (irony alert!) continues! Statistically he's been great, but I don't like Hayward. Not one bit. Don't want him on my fantasy team. But a lot of dudes do, and you can exploit their irrational desire to own a guy that would maybe not have as much interest or attention if he weren't Caucasian. Yeah I went all Charles Barkley up in here! How about those Jazz? They're turrrrible! Plain wing.
Jeff Green – Dishes a couple fewer assists per game than Hayward, but scores more. Otherwise has the same stats. Don't hear anyone flipping their lids over Jeff Green! Personally I like Green more, and because of the Celtic luster and the fact that he's 28, I sense that he's about the reach his potential. I would sell Hayward and buy Green. Sneaky spicy hot wing.
Tyreke Evans – Stringer Bell's doppelganger has always been one of my favorite wings. He's from the same town as my moms, and his ability to score, get boards and dish the rock as a SG/SF is so toit. That New Orleans squad is so cool that I'm almost accepting that they can't be the Jazz and instead have to use a dumb name like Pelicans. Almost. Cajun Wing (of course).
Doug McDermott – Dougie McBuckets can fill it up, and on a Bulls team that is all about Derrick Rose scoring but only rarely has Derrick Rose, that's gonna come in real handy. He's gonna be a middle-class man's Ryan Anderson by year's end. Uncooked wing from an award-winning wing joint.