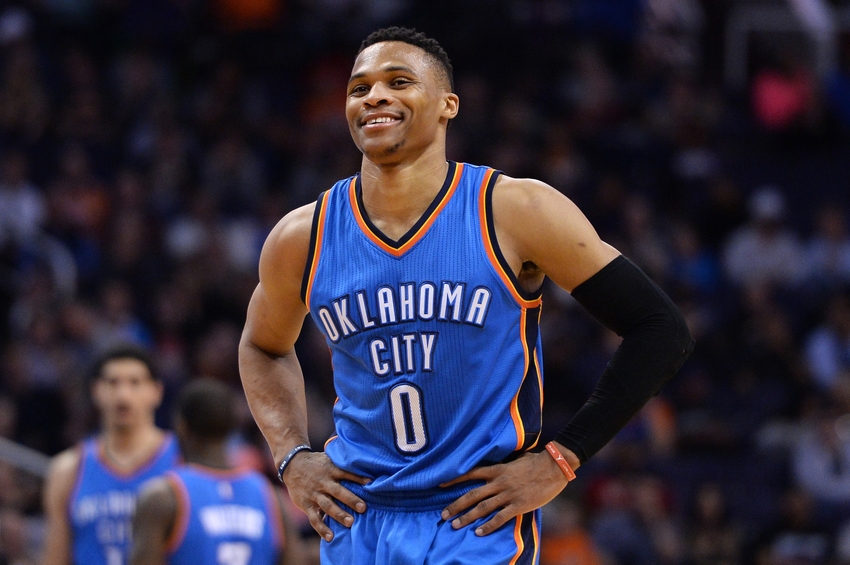 I apologize for the click-bait title right away.  However, the sentiment is correct, since Westbrook will go too high to be drafted by the savvy fantasy owner.
"Why is this??"  You ask incredulously. Good question!  I'll tell you!
I absolutely love Westbrook in real life.  He plays with a passion that rivals the likes of Bryant, Iverson, the original Isaiah Thomas, and many other greats.   However, he will kill your fantasy team.  I'm sure you can already guess why, but hear me out.
Obviously, the argument about his FG% and turnovers will not ring as true in an 8-cat league, so I'm purely addressing 9-cat here.  I personally own Westbrook in the Razzball writers dynasty league.  He put my team on his back all season, however, when I came up against a complete team in the playoffs, the category losses really came back to bite me.
So here are the premises to my argument:
Westy is a big time contributor in points, assists, FT% and boards.
Also a solid contributor in steals at 2 a game.
His numbers will give you a leg up in those statistical categories, but those numbers will not completely dominate.
He is a mediocre 3 point shooter, at best.
Turnovers – 4.5 per game.  Even if that doesn't go up with no KD, it likely won't go down.  That number has held solid for 3 seasons.
High volume FG% – It's hard to get an exact measure of his more recent career FG% with KD out of the lineup, but a solid estimate is around 41%.  There are other variables here, but it certainly is a major drain from any angle you look at it.  His FG attempts jump to over 22 per game.
These drains will lose you those two categories.
That being said, if you're confident enough in your team building ability to punt two categories, then go for it!  There simply isn't a need to do so.  The other problem is, there aren't high volume FG% guys with great percentages to counterbalance that category.  Therefore, you're likely punting FG% from the start.  The turnovers you may think that you can make up for.  The problem is, Westy occasionally has games where he commits 7-8 TOs.  Are you really willing to bet your playoff success on that not happening when there are much safer plays?
I fully expect Russ to average a triple double.  He may be a little shy in the rebounds area, but essentially, that's not a big difference.  Those gaudy numbers simply don't justify a top 5 spot in fantasy ranks.  Even James Harden puts up 44% from the field.  That's a massive difference for a player who will also give you treys, along with the menagerie of stats.
Do as you will, but I will personally be avoiding Westbrook in the world of fantasy.  Drafting him feels like a proverbial deal with the devil for regular season success.  I'll take my chances elsewhere.  Hell, I'd rather take a shot with someone like Kawhi in the early first.  Yes, he won't win the league for me on his own, but he also won't lose it for me either.  Plus, I bet someone else will take the plunge in the top 3, so he won't even be a decision at the 4th or 5th pick.
Writer's note: Ironically, the idea for this article started as an ode to Westbrook, but eventually reality came crashing down and objectivity prevailed.  He's just one of those players that I will continue to love in real life, but the price is just too high in fantasy.