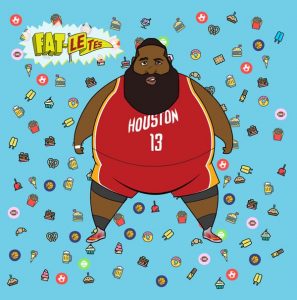 I hope you all had a good Christmas. We can all agree that the NBA starting up again was the best present of all! I was glued to the TV on Christmas Day and it was magical. As per usual, if you have any questions for Shane or me please post them below in the comments and we'll get back to you as soon as we can.
Remember to give us context and your league details since that'll help us better understand and give you better answers. To get the conversation started, here are some naughty and nice observations from week 1.
Naughty:
The entire Warriors team: They stank it up to begin the season, and finally got a miraculous win against the lowly Bulls. Kelly Oubre forgot how to shoot and Andrew Wiggins looks like he's been eating too many poutines. And their best 3-point shooter is…James Wiseman? Not quite time to start panicking yet, but it's certainly not looking great.
LaMarcus Aldridge: He is a slow starter, so he may not be on the naughty list for too long. However, early numbers are scary and owners are justifiably worried. Hold him for now and don't do anything stupid. He should bounce back since the Spurs system is rock solid, and he is too good not to.
KJ Martin's barber: This doesn't really have any long-lasting fantasy impact, but those of us who had Rockets and Thunder players on our teams sure got screwed over the first week. I can't wait to see their new hairdos, since it came at a steep price for fantasy purposes. Here's to hoping for no more Covid haircuts or late night escapades to the strip clubs.
Nice:
Kevin Durant: He looks sharp and those who took a chance on him are getting rewarded. He is sitting out for this week's back-to-back though, so that's a bummer. Still good to see KD getting back to being KD though.
James Harden: Yes, he deserves to be on the naughty list, but I love him so much I keep taking him back even though he continually breaks my heart. After missing game one, due to no fault of his own, I'm sure, Harden came back with a monster game. Even though he looks like a chubby version of Kimbo Slice out there, he was even more dominant than expected. I have a huge amount of money invested in Harden, so hopefully, his stripping days are behind him.
Paul George: The other guy that I am heavily invested in, and I'm glad to see he's looking like a borderline first-rounder again. Well, except for the thumping that they got from the Mavs, but hey PG still did ok. The important thing to note here is that he is healthy and not sitting out back-to-back games.
Christian Wood: One of the super-hyped players coming into the season, and he delivered! He looks to have good chemistry with Harden and benefited from a lot of Harden passes. If you drafted him after round 3, you're probably pretty happy right now.
Notable mentions: Chris Boucher, Gordon Hayward, Bradley Beal, Keldon Johnson
Well, that's it for the naughty and nice list. I'm sure I missed a ton of interesting notes, but I just wanted to list a few things that came to mind so that we can get the conversation started.
Let's get those questions in!