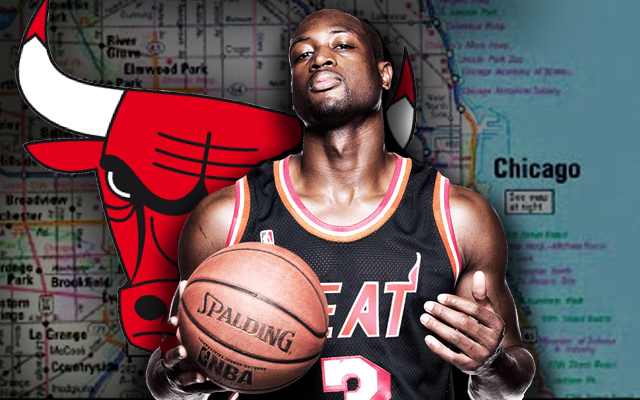 Last night marked the first return of Dwyane Wade to Miami.  Unfortunately, it was the second game of a back to back for Wade, and his shooting just wasn't there.  He put up a solid line, and the Bulls won, so I doubt he's complaining.  Those hoping for a vintage performance were severely disappointed though.   5-17 shooting just doesn't cut it.  He threw in 7 boards, 4 assists, and a steal, along with the 13 points, so it wasn't a complete waste though.
 Pelicans at Bucks (8:00 pm EST) – Final Score: 112 – 106 Pelicans Win
John Henson started the second half after AD torched Plumlee in the 1st.  I doubt the change sticks, but it's definitely worth keeping an eye on.
Anthony Davis – Absolutely dominated this game with 32 points, 8 boards, 2 assists, 2 steals, and 4 blocks.  If he stays healthy, he makes a strong case for being the best player in the league, without a doubt.
E'Twaun Moore – Put up a fairly empty 20 points, but he did get 32 minutes this game.
Tim Frazier – A 15 point 10 assist dub dub for Frazier, and he played 34 minutes.  He'll lose his job eventually, but he still looks good.
Jabari Parker – The man has been on fire lately!  33 points and 9 boards!  There were some questions about him since his injury, but his comeback is looking very good at the moment.
Giannis aklasjkfsldj – 17 and 10 boards with only 1 assist.  A meh night for the man of many letters.
Matthew Dellavedova – 12 dimes.  It didn't come with a whole lot, but it's worth mentioning since it's 1 off his career high.  (7 points, 4 boards btw)
 Bulls at Heat (8:00 pm EST) – Final Score: 98 – 95 Bulls Win
Dragic left the game and didn't return.  Word is that his ankle swelled quickly, so he may not be able to play in Saturday's game.  Richardson and Tyler Johnson would get a boost.
Rajon Rondo – 16 points, 12 boards, 6 assists, and 2 steals.  A great line from Rondo as he went 3-4 at the line as well.
Jimmy Butler – Came up big down the stretch and finished with 20/4/5 and 3 steals to top it all off!
Robin Lopez – 16 and 9, but he took 20 shots.  That surprised me a bit.
Dion Waiters – 16 points, 6 assists, but he shot 6-15.  Meh.
Hassan Whiteside – 20/20 game with 3 blocks, but he got out-hustled by Lopez on the other side.
Justice Winslow – Justice looked absolutely fantastic this game, and he was Miami's go to guy down the stretch. 15 points, 5 boards, 6 assists, and 4 steals on 50 percent shooting and 3-5 from deep.
Josh Richardson – Got hot at the end and finished with 16 points and 4 treys.  He's looking better.
 Warriors at Nuggets (9:00 pm EST) – Final Score: 125 – 101 Warriors Win
*Warning* This was a blowout from the start and there was a fair amount of garbage time here.
Frankly, there's no reason to go over the Nugget's stats, since the minutes were killed by garbage time.  Every starter was worse than -18 on the +/- scale.  Ignore this game and move on, if you own Nuggets players.
 Lakers at Kings (10:30 pm EST) – Halftime Score: 45 – 55 Kings Lead
Not a fantastic game all around.  Boogie is torching the Lakers with 18 points in the first half, but outside of that, there aren't any lines of note.  Oh, Collison does have 7 assists at the half as well, so he'll probably end up with a solid game.  This game is just too ugly to stay up for.