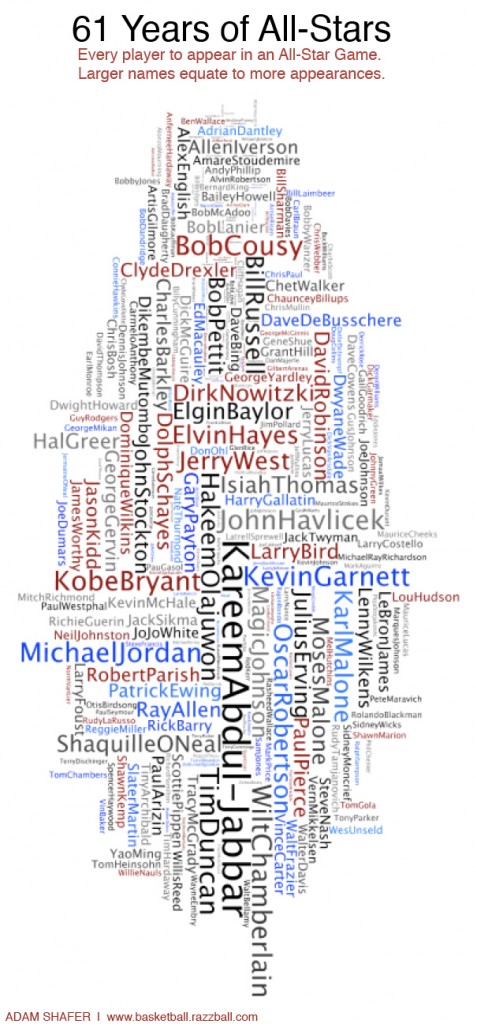 In honor of the 61st All-Star Game, we've compiled every professional player to ever don an all-star jersey, and sized 'em up according to number of all-star appearances. Cap takes the all-time cake, having appeared in 18 different contests (selected in 19).
The 1976 All–Star Game marked the highest total turnover from the year before of all the contests. Twelve of the 24 rostered selections were playing in their first All-Star Game and 14 of the 24 had not been in the '75 game. Much of that had to do with the ABA/NBA merger just a year away and players jumping from one ship to the other – but not all of it.
Kevin McHale appeared in six All-Star Games without ever starting. Ray Allen never started in one either despite appearing in 10 of them. Both seem oddly fitting. Both were undeniable stars and among the best players ever to wear a Celtics NBA jersey, but neither were necessarily superstars. They were among the best second-options the game has ever seen, McHale moreso than Allen, who legitimately carried a few teams on his own.
Also, if you squint, you may notice that Anthony Mason, B.J. Armstrong and Jamaal Magloire were all all-stars at one point, which is cool until you start considering some of the players who never have been. Marcus Camby, for one, seems like he should have earned an all-star nod at some point in his career.
And speaking of B.J. (not, we're not going there with it), the Chicago Bulls rostered three players in an all-star game only once and Michael Jordan was not involved, marking one of the weirdest all-star starting lineups in 62 years.