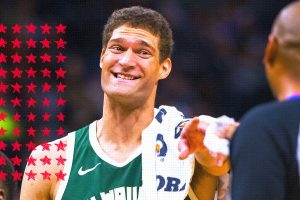 Who doesn't love a bargain? I do sincerely believe that the folks at Yahoo do some good work with their rankings, but every now and again they undervalue players.  This is when you swoop in and scoop up the bargains, since the pre-draft rankings will more or less determine the order in which players are drafted.
Here is my list of players that I am targeting this year, since they will undoubtedly outperform these rankings. Note that this list is geared towards 9-cat H2H leagues.
Rudy Gobert  (ranked 29):
What am I missing here? I recall while drafting last year, people were picking Rudy late in the first and early in the second. He's finished top 15 in total value two years in a row, so why are we expecting him to do significantly worse this year? Sure, Derrick Favors is in town now, but Rudy is still the main man in the middle and should still be worthy of a second round pick. I've seen him fall to the middle third round in mock drafts this year, which is one hell of a deal.
Nikola Vucevic (ranked 33):
Here's another guy who they dropped in their rankings for no apparent reason. He's also had two top 15 seasons in a row, and not much has changed in Orlando.  Jonathan Isaac is likely out for the year, so he might even get a slight bump. Vuc is the unchallenged starting big in Orlando, and he's just pure fantasy gold. He helps you everywhere and hurts you nowhere. Reach for him in the 2nd with confidence.
Christian Wood (ranked 62):
For those of you who love John Collins, might I suggest getting a much cheaper alternative a few rounds later. In 12 games as a starter, he averaged 21.9 points, 9.4 boards, 1.7 treys, and a steal and a block. Add in some stellar shooting percentages and you got yourself a bonafide stud. He's the unquestioned starting center in Houston and, with Westbrook out of the way, he's clearly the second star on the team. There's even talk that they will give him more playmaking responsibilities too. Everything is looking up for him, so don't be afraid to go completely out of your way to get yourself some Wood.
DeMar DeRozan (ranked 74):
Who do you think of when you're targeting FG%? Lebron? AD? Drummond? Vuc? Towns? I'm here to tell you that there's a guard who's better than all those guys for your FG%. It's none other than DeMar DeRozan and his ridiculous 53.1% FG on 15.4 shots. On top of that, he gives you 84.5% on FTs with 6.6 attempts. He's pretty much guaranteed to go 20-5-5 with a steal a game again this year and low TOs. He finished 16th overall last year, so having ranked at 74 is downright disrespectful. I'd consider it a bargain if you can get him around the 50 mark.
Gordon Hayward (ranked 87)
This has to be a mistake that Yahoo will promptly correct, so enjoy the value on him while you still can. He finished 74th overall last season in Boston, while serving as the 4th option on the team. He now steps into a situation in Charlotte where he's clearly their best player, and the expectations are sky high. Health is always a concern, but he's primed for a big year. I'd expect him to get similar stats to DeMar DeRozan, with less FG% and infinitely more treys. I've been able to get him in the 5th round in mocks, which is a steal of a deal.
Al Horford  (ranked 100)
Ok I get it…Horford sucked last year in Philly, and he is being paid more than the annual operating budget of Lithuania. Despite all that, he still managed to finish 43rd overall. He now steps into a situation where he can play at his natural position, and he pretty much has to produce since there's no one else on the team. Shai is good, but he can't possibly do it all (or can he??). Horford is another guy that helps everywhere and hurts nowhere, and I really can't see him finishing outside of the top 50. Sure he just turned 34, but he's always moved in slow motion throughout his entire career, so I don't see his age being as big of an issue. I'd be happy to get him any time after round 6 of a standard draft.
Colin Sexton  (ranked 109)
I, along with many other contributors last year, hated on Colin with a passion before the season started. He was like mini Wiggins. However, in the second half of the season, he really turned it up and did his best CJ McCollum impression. After the Allstar break, he averaged 25.5 points, 4.2 assists, 1.1 steals, with 2.3 treys. That's pretty much CJ McCollum, except that Sexton shot a blistering 52.8% from the field. Can he keep that up over the entire season? Probably not. But at pick 109 is an absolute no brainer. I recommend you pick him in the 8th round, which has been very realistic in mocks. Or you could just pick CJ McCollum at 46 if you prefer to overpay for the same stats…
Brook Lopez (ranked 126)
My love for Brolo knows no bound, and this ranking offends me deeply. He averaged 2.4 blocks last year, which is second only to Hassan Whiteside. That's like averaging 30 points a game! In today's modern NBA, where guys are routinely shooting from half court, blocks are as scarce as ever. Not only that, Brolo will get you almost 2 treys a game with some steals and non-existent turnovers. He's had two top 25 finishes in a row, and his role hasn't changed much so I really don't understand this ranking at all. Sure, the turnovers prop up his ranking quite a bit, but even if he finishes in the top 75 this would still be a bargain. Oh yeah, Jrue is in town too so expect him to get even more open looks from deep.