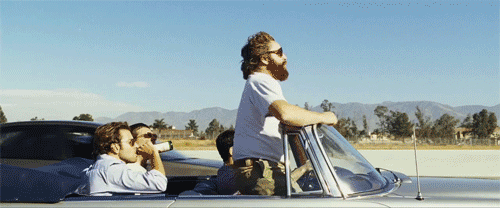 Who wants to go on a road trip?!? You know, the kind that lasts forever. The kind you start the new year with. The kind filled with adventure. The kind that freaking wears you out.
Well, for Week 11 of our NBA fantasy season that's exactly what the Utah Jazz are receiving to kick off 2017. But this no ordinary road slate of five games. No…it's 5 games in 7 days. In other words, that's death. Will they be tired by the end of it? Most certainly, but while they're on the ride I'll be riding their hot hands and bringing death to my opponents in the fantasy realm as much as possible. So, let's Go-bert on a road trip, because if you own Rudy Gobert you're in for a wonderful week. Listen to the ridiculousness that he's producing this year: 18 straight double digit rebound games, and only two games under that mark since November 9.
12.5 PPG
12.0 RPG
2.6 BPG
All on 70.1% shooting. See, it's not just the boards and blocks, his efficiency has been gold for owners this year. And it's showing in the box score as only seven times since that November 9 mark has he failed to score in double digits, either. He's a poor man's Hassan Whiteside offensively, with all the defensive stats on par. Enjoy these five games! Oh, and for the teams facing the Jazz this week: good luck to you, too. Utah's now 21-13, leading the Northwest division and allowing the fewest PPG in the NBA. Sheesh.
The 7 Ahead
5-game week: UTA

4-game weeks: BKN, CHA, CLE, DEN, GSW, HOU, LAC, LAL, MEM, MIA, MIL, NYK, OKC, ORL, PHO, SAC, TOR, WAS



2-game week: N/A
Overall Thoughts: Gotta start with a little note. Sorry for my tardiness in posting The 7 Ahead this week. The holidays got the best of me (and the travel coming back home). If you're in weekly leagues this may not be as helpful as if you were reading on Sunday, but hopefully you can still extract some wisdom for your weeks to come. Now, beyond my mistakes, there are plenty of games this week to make that sour note sweet. Utah's matchups take the prize due to the volume, but plenty of the top teams have four games to whet your appetite, especially since most of the top options in fantasy are a part of that group. Game of the Week: Chicago Bulls @ Cleveland Cavaliers on Wednesday. LeBron v. Wade in Chicago, Round 2.
Top Weekly Waiver Options (<40% owned in Y!/games this week):
And now a look at the daily rhythms of the NBA for this week!
Monday:  Would have been great to watch Gobert line up against Brook Lopez. Well, I'm sure it still is, but that's happening as I'm writing this. Monday had 16 teams take the court. Hope you had a great start to the week!

Tuesday: The double up for Utah should be an exciting watch as Al Horford does his best big man to stop Utah's Eiffel Tower. Beyond the Celts/Jazz, I'm intrigued by the Suns/Heat matchup to see how a lot of young players continue to fare. Devin Booker and Josh Richardson have been hot of late, but potentially th biggest gem of them all lies still mostly unearthed in Dragan Bender. His 11/13/2/3/2 line last week is a precursor to his potential, and at only 7% owned he's a great stash for deeper leagues. Or, if you listen to the Razzball Basketball Podcast, you could have already heard Slim drool over Dragan this past week. Me, too, Slim. He's my Gem of the Week, because there is zero reason why the Suns shouldn't play him 25+ minutes per game moving forward.
Wednesday: Hump Day usually means the best day for the NBA (there's a rap lyric in there somewhere), and this week is no exception. Our Game of the Week, Bulls/Cavs gets the spotlight, but don't sleep on Milwaukee/New York, either. Sure, there aren't any pickup options on either team now that the whole world is on the Malcolm Brogdon train (you're welcome), but two of the NBA's Unicorns (as Bill Simmons politely put it) face off in Kristaps Porzingis and Giannis Antetokounmpo. Not mad about this matchup. At all. And watching a poor man's Carmelo Anthony face off against Carmelo Anthony. Yep, here's looking at you, Jabari Parker.
Thursday: Oklahoma City and Houston. So much scoring. So many triple doubles. Well, two triples doubles. Seriously, can we just throw out the future scenario of figuring out how to get Russell Westbrook and James Harden back on the same team, the send them to the Western Conference Finals three straight years against Kevin Durant's Warriors in an epic rivalry that the NBA wants and needs? Just saying. It won't happen, but daaaayum if it did. That's the ultimate I'll go date your ex just to spite you move. Other than that game gimme more Utah when they travel to The 6 to face the Raptors. This, actually, will be a wonderful game to watch.
Friday: Houston in the back-to-back (just a heads up) against a week Orlando squad should leads to droves of points for the Rockets, but this may be a good opportunity to see what Matt Barnes can do against his former team in the Clippers. He's getting enough minutes and volume to produce in fantasy, so if he can shy away from the over-emotional Techs against the Clips we may have a good one here. Also on Friday is Giannis v. Kristaps V2 and Memphis visiting the Warriors in what smells incredibly delectable as a preview for the Western Conference Second Round.
Saturday: You'll notice I'm not talking much about how many games go each day. Well, that's because every day has at least 7 games on the docket. It's a balanced and full week that doesn't provide a ton of options for the stream, but plenty of shots at fantasy gold like the Nuggets/Thunder game. Is everyone watching Nikola Jokic? Last 10 games: 17.3/8.5/5.5 on 67% shooting in only 25.7 MPG! A) That's crazy. B) Denver is crazy for not playing him more. C) Where's Jusuf Nurkic? I just wanna see these Euros run in lock-step. Ain't gonna happen, tho…
Sunday: And to cap off the week we get a full run of NBA games fro 12:00pm ET through midnight with the Magic/Lakers game at 9:30pm ET. See, this post-Christmas NBA Sunday is a beautiful. Yes, the Association will be competing with playoff football on Sunday still for a few more weeks, but again, it's officially NBA season now. The 76ers get us going against the Nets in the race to the bottom game, while the Rockets at the Raptors probably features the best two teams facing off against each other. The closer we get into the heart of winter the more we'll see games like this take center stage of the national attention. But for fantasy, just give me 10 solid minutes of Bender while LeBron James is on he floor. I want to see if he's deer in headlights or chill af like Porzingis. Here's to hoping for the latter.
Now, DROP THOSE COMMENTS! And don't be afraid to send along any questions on trades, pickups or life! Good luck in Week 11 and here's to 2017!