I've always thought that Tyler, the Creator, was an interesting dude. Successful for reasons we may not understand. Funky styles, outlandish videos that only make sense while inebriated, using words and facial expressions that would get us all slapped by our mothers. The Tyler you should be picking up for you fantasy team is a little different, or a lot different, but the same in more ways than you may think… Actually, the more I think about it, the two of them really have nothing in common other than the fact that we don't understand their monetary successes, but Tyler Johnson is missing a ton of teeth and refuses to get them replaced, something Tyler, the Creator, would probably endorse.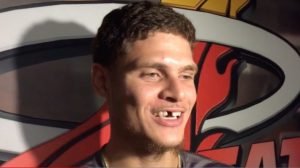 Want the best tools and projections to help dominate your league? Check out the Stocktonator, the byproduct of Rudy and machine making love. Click HERE for a FREE 3-day trial.
Tyler Johnson made his bank after a season in which he averaged merely 8.7 points per game over 35 games. Yet, in those 35 games, the impact Johnson had on the court went well beyond his stat line, and teams took notice. After receiving a massive offer sheet from the Nets, the Heat had no choice but to match the figure to keep their glue guy locked up for the next four years. $50 million is a lot of dough, but maybe Tyler Johnson is worth it. The Heat love him. He appeared in 73 games last year and did a little bit of everything. 13.7 points, 4 rebounds, 3.2 assists, 1.2 steals, 1.3 3PM, a nice hearty stat line for the soul. Playing both the 1 and 2 guard positions, Johnson would be on the floor a ton in the reserve role and would not start a single game, but when he was on the floor, he was earning every penny.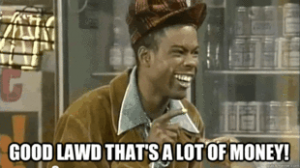 A lot of us know this story already, it was a feature in the ever insightful and readable, and oh so enjoyable, ESPN The Magazine (sarcasm intended). What we don't realize is how valuable Johnson is on the defensive end, which is keeping him on the floor night in and out, and has allowed him to hone his offensive skills over time. After two years in the league, most players don't warrant a $50 mil. contract, but when you're a lock-down defender with obvious offensive talent, it's only a matter of time before it all comes together. After a slow start to begin the season, The Heat continue to put the ball in Johnson's hands and allow him to facilitate the offense and prove his worth. The last month can give us insight into what we can expect from Johnson over the course of the season. 11.3 points, 3.7 rebounds, 2 assists, 0.5 steals, 0.8 blocks 2 3PM on 44% FG%, 90% FT% and, the kicker, 1.4 TOs over the course of 27 minutes per game. Wow!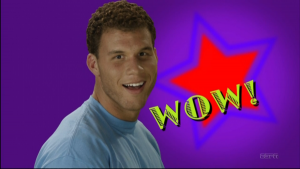 Efficient with counting stats and minimal turnovers. In 9-cats, that's extremely useful, and the multi-position eligibility is just an added plus. Johnson has found himself on the floor at the end of games because of his defense. He is slowly supplanting Dion Waiters, as they are now basically playing the same amount of minutes, although the stat line favors Johnson in a tremendous way. If you need some guard help that will not hurt you at all, by a player with the ball in his hands turning in productive stat lines, Tyler, the Facilitator, is your guy.