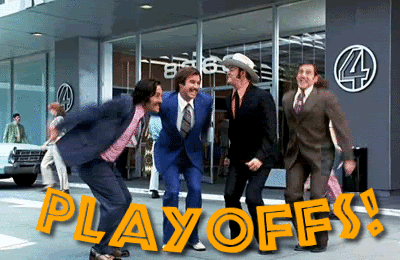 Why yes, Jim Mora. Playoffs. That's all we're talking about.
(Hangs head in shame for using the Jim Mora reference)
Alright, let's breathe new life into this whole post-season conversation. It's The 7 Ahead, dern it! Can't you hear my enthusiasm? Haha. We've just managed our way through 21 weeks of the basketball grind to reach this pinnacle. Or at least the foot of the mountain that we believe will provide a pinnacle. Chances are that if you're still reading this you're still in the mix for some fantasy basketball hardware, since this is, after all, Razzball, and it's the middle of March. In other words…no one's reading the basketball side of things during the site's heaviest month of the year: baseball draft season. Let those sabermetric nerds worry about preseason…let's focus on what they hope to get to.
PLAYOFFS!
Ok, it's still not Jim Mora, but just about everything is better. Oh, and yes…I'm one of those sabermetric nerds, too. Make sure to play some fantasy baseball this year, join an RCL, and watch me and JB be the Top 100 banner carriers for Hitters and Pitchers. But before that it's time for a Playoff Edition of…
The 7 Ahead
A little note on this one. Since I'm focusing on multiple weeks I'm only offering the teams that have a 5 or 2 game week. And, naturally, I'm bypassing the next week's games on the daily previews. It's the home stretch of the NBA, and no one will care much during the weekend until March Madness wraps up. So, yes, this will feel a little like a waiver wire post, but my desire is that it's helpful for those of you who play in weekly leagues. Good luck and go get them 'ships!
5-game week: LAC (week of 3/20)
4-game weeks: (Everybody except BOS, CHI, DEN, LAC, MIN, POR week of 3/27)
2-game week: N/A
Top Weekly Waiver Options (<40% owned in Y!/games this week):
Willy Hernangomez (39%) – He's been highlighted on here many times, and just barely qualifies for the playoff run. Be careful going after Willy, as the Knicks roster rotation in the front court might be the most frustrating thing in basketball not named DeMarcus Cousins and his inability to be on a winner despite hosting the best big man offensive skills in the league. Ok, that last part's arguable. Not up for debate? Next year Willy should be a monster.
Denzel Valentine (23%) – Buried in the Bulls catastrophe of a veteran roster for most of the season, the Dwyane Wade injury news was the sweet song of opportunity for Valentine. The rookie from Michigan State is raining 3's like he's playing in March Madness again, albeit with a poor FG%. That little wrinkly aside his line the past seven days reads: 11.0/7.0/2.8 with nary a TO and 2.8 3PG. In a pinch he's a hot shooter that can carry one stat.
Skal Labissiere (25%) – If you haven't picked up on the big trend of the week it's the 2016 rookie class making a huge splash come playoff time. This crop of youngsters was incredibly underwhelming this year, with a 2nd-round pick an arguable candidate for ROY (Malcolm Brogdon), but projects like Skal are showing their potential ceiling with games like last Wednesday going 32/11 in 20 minutes. He's super raw, but talented coming out of Kentucky with minimal significant minutes. The Kings poopfest is giving him a great chance to prove his worth, and he's followed up the 30/10 game with 13/4 and 14/7 in less minutes. FG% is top notch, just don't look for the defensive stats from this 7-footer.
Taurean Prince (3%) – Somebody's gotta play in Atlanta. That team's going nowhere faster than a gerbil on a wheel. Truly stuck in the middle, and in this Hawk fans opinion, it's time to start over. The team's a shell of its 60-win self from two years ago and aging fast. Turn the reins over to 3-and-D options like Prince, and let's see what he can do. The lottery pick is getting extended minutes now and proving he's worth it. He's not blowing anyone away, but providing little snippets of value with his 2.3 BPG, nearly 10 PPG and almost 5 RPG with great FT% over his past 7. If you're looking to maximize the lineup every day he's a sneaky addition.
Juancho Hernangomez (5%) – The brother of Willy above, Juancho is getting some decent run for the Nugs as they try to figure out what they're doing down the stretch. In his nearly 30 mpg over the past seven days he's putting up a line of 12.3/5.3/1.0 with 2+3PG. Who knew he could stretch the floor down the stretch!?! Well, if the minutes go up, or they decide to rest Nikola Jokic then he could be a boon for your playoff boom.
Jameer Nelson (27%) – So boring to include him week in and week out, but 12.0/4.0/7.3 with 23PG are too good to pass up. In the final few weeks it's the savvy vet like Nelson that could actually win you a 'ship. Just get him already. And that percentage should be over 40%, so get him while you can.
Now, DROP THOSE COMMENTS!
And don't be afraid to send along any questions on trades, pickups or life!
Good luck in THE PLAYOFFS!