A number of injuries to key players (at least fantasy wise) are starting to crop up again.  Hassan Whiteside is questionable for Friday vs CHI.  Deron Williams is the same for tonight's game (2nd half of a b2b game) vs OKC.  Anthony Davis is showing how his body is truly made of glass and it seems like if he's not a DNP, he's missing quarters due to injuries.  It appears like he re-aggravated that thigh bruise and he could be shut for a game or 2 to give it time to completely heal. Al Horford, although listed as probable for tomorrow's game vs ORL, seems to have some groin issues.
If any of these guys miss a game or two to end the week, it could open up some playing time for back ups and/or opposing players to produce above their averages.
So let's take a look at the matchup rankings: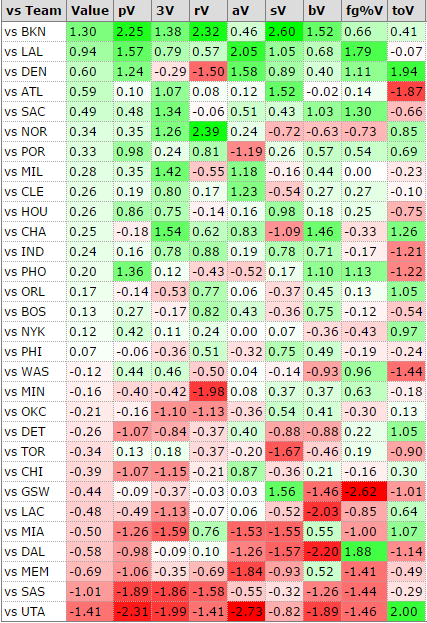 Let's get right to it.  If Whiteside misses time against either CHI on Friday or DET on Saturday, and you're looking for some additional Rebs, Cristiano Felicio and Aron Baynes could be potential targets.  Both are barely owned in Yahoo.  As for the Heat, James Johnson should see at least 30 mins and Derrick Williams could also be played enough to garner a 1-2 game stream.
A DNP for Deron Williams vs the SAS on Sunday definitely opens up more minutes for Seth Curry as J.J. Barea is injured. If you're feel like throwing the dice, Pierre Jackson is a guy to look at if looking for assists help going into the end of the week although SAS isn't the ideal opponent.
I doubt Terrence Jones is still available but if he is, grabbing him for 2 games or with the way things are going, at least 4 quarters of no AD.  Versus SAS on Friday isn't the best opponent to expect good stats from him but he should have better numbers against WAS on Sunday.  On the flip side, NOR vs SAS has blowout potential so if looking for REBs and/or BLKs, Dewayne Dedmon could be a decent pickup.
If Al Hor does end up missing time and you're looking for out position 3s help, Kelly Olynyk vs MIL could be a good grab from the fa wire.  Looking more for big man stats? Amir Johnson vs ORL should work out for some REBs and potential for some BLKs.
I did it a little different this week but we've done this drill before.  Target BKN and LAL for all around stats.  Target ATL if looking for some guard stats (ASTs, 3s, Pts, Stls).
Catch everyone next week!