The NBA All-Star Game is 2 weekends away, but this is usually the time when certain fantasy basketball teams start to face key decisions that could determine if they make the playoffs or not.  Moves via the waiver wire and choosing which players to play during jam packed nights become magnified.  OK OK, that makes it sound like it's THAT serious.  Well, for some highly competitive leagues or very competitive managers, that may apply.  This should be short and sweet.  Stream against BKN + LAL if you're looking for overall production, ATL + CHA for production from the guard position and PHI + POR for production from the big men.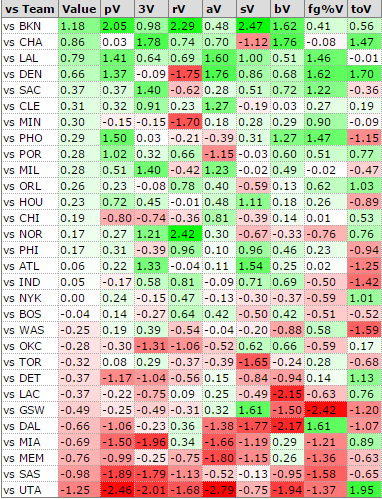 Some tasty matchups into the weekend that could possibly provide an opportunity or 2 for your team to steal/save at least 1 category.
If you're looking for some help with the 3s and scoring, Wayne Ellington could turn out to be a good pick up as MIA faces BKN and PHI on back to back games starting Friday.  Make sure to see if the INJ status for both Dion Waiters and Josh Richardson has been updated as either would reduce the playing time of Sir Ellington.  Tim Hardaway Jr. is another candidate for streaming some 3s and scoring when ATL faces SAC on Saturday.
The LAL play MIL on Saturday.  After what appears to be an injury that will cause Jabari Parker to miss at least a couple of games, Malcolm Brogdon (if he was dropped in your league once the news that Duchess Middleton is returning to action) and Michael Beasley can be targets for scoring, steals and 3s.
Earlier I noted that ATL and CHA are good targets for guards.  Here is the same grid when filtered for PGs (top) and SGs (bottom):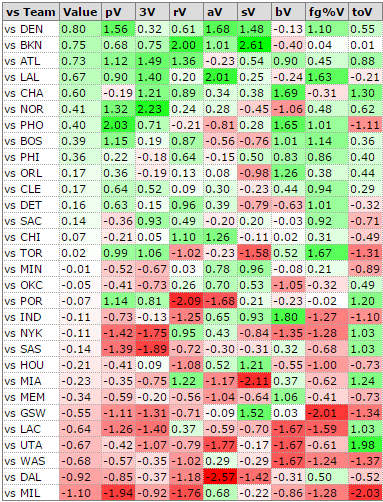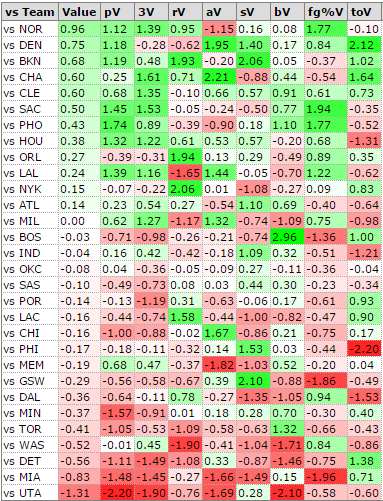 Well aside for those 2 teams, here are more options:
Ty Lawson and the SAC face ATL on Friday and NOR on Sunday (as of writing this, I see a note that he's not returning to the game due to a hamstring injury).  Judging from the chart above, there is a good probability he provides you with decent numbers.  Brandon Jennings played only 16 minutes last night but if some reports arise where Derrick Rose can't play, he'd be a great pickup for the NYK vs DEN game.  If you're looking for assists help from either guard position, CHA faces the LAC on Saturday so Raymond Felton and Austin Rivers become candidates for this category.
There aren't great options for big man stats as POR doesn't face anyone else this week after tonight.  Most leagues don't have same day changes.  For the MIL vs LAL matchup, Kidd's crazy center rotation is tricky (that's stating it lightly) but John Henson could be worth a shot for some BLKs and REBs against the rebuilding LAL. Similarly, Larry Nance Jr. and Ivica Zubac can be looked at for the same categories although the former can be relied on for steals better than blocks.
So there it is—some ideas to make your weekend NBA fantasy pickups more analytical.  Thanks for reading and as always, post comments and ideas below.