I was struggling to come up with a title to this week's post.  I thought the other four roster positions articles had decent and easy to understand title.  My initial thought went something like Big Men + Stretchies.  Being that this site already coined "EmBIIIIIIIIIIIID", I don't want to further go down that Phallic symbol route.
We'll end this Numbers Game-by-position series by looking at the PF position.  The game has evolved to the point that most teams now employ some sort of stretch four which is typically a PF (or a SF that plays the PF position on small ball lineups) that can consistently knock down the outside shot.  Some teams still employ the 2 Bigs lineup–think MEM, UTA, TOR sometimes (with JV and Bebe) and SAS, albeit both their bigs aren't really the traditional big men that likes to operate down low in the post.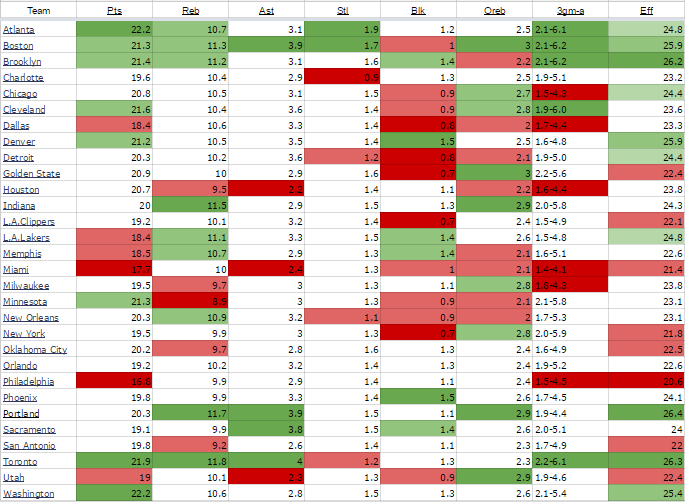 The analysis becomes a little tricky considering how teams play and how their rosters are structured.  So basically if you're team needs out of position 3s, assists and stls, you'd be targeting players that are different from traditional PFs that can supply you with rebs and blks.
So let's take a look at some juicy matchups for the remainder of the week.
As is with streaming, it can be very risky and oftentimes binary.  If you're looking for some 3s from the PF position, Patrick Patterson vs BKN could generate a nice return.  If you're looking for traditional PF stats, Montrezl Harrell (if available) and even Nene Hilario (for those who really like risk) on Sunday vs BKN could also be nice pick ups.
James Johnson has played really well lately but if you're expecting above 2 3s made for him which he's done a lot of the past 1-2 weeks, you might want a plan B if that category is close going into the weekend as MIL is one of the teams that allow below average 3 PTA for opposing PFs.  Same can be said about Jabari Parker although Jabari has the better ability to create his own shot.
The BOS front court rotations outside of Al Horford is gamble almost every game but against ATL on Friday, Kelly Olynyk and Amir Johnson (although I have to admit, I don't know if any of the 2 has even played any PF minutes with a healthy Horford and Jae Crowder) could be targets depending on needs of your team.  If you're knowledgeable and know if they slot Olynyk at PF with AlHor @ C then he could be a nice pickup for some rebs AND 3s.  As a corollary to this, AlHor could have a huge game vs his former team.
Not as many games this week so tad less opportunities to highlight.  This concludes the positional series.  Hope everyone has a injury free team coming into next week!