Hope everyone's week is going well.  No grid this week and instead I want to focus on the opposing bench players.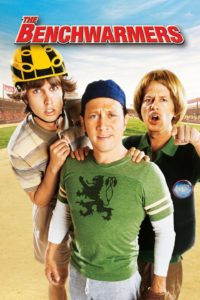 Let's face it, in a standard league, most of the available players in the FA pool are unlikely to be starters.  For fantasy purposes, that doesn't mean they can't contribute to categories that your team need to defend or categories that your team can unexpectedly win.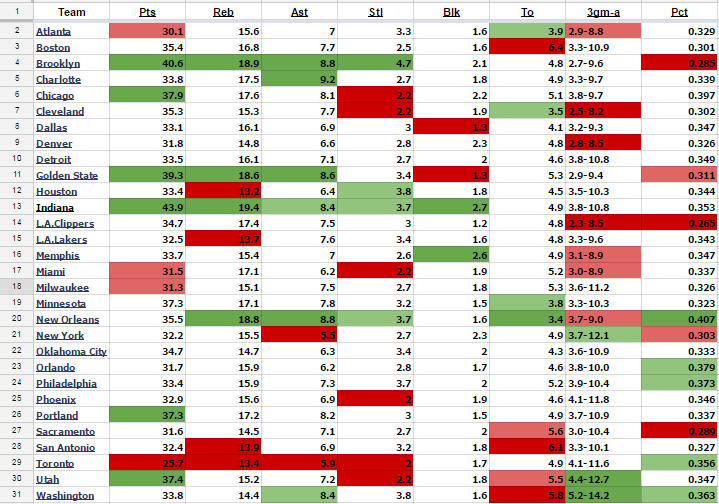 OK, OK it's still a grid.  Data is from Hoopstats.com and basically it shows how the opposing benches fair against the listed teams across multiple categories.  I'll jump right into the summary points:
If you watched the movie "The Benchwarmers", TOR is basically what the sun is for Howie when it comes to opposing bench players.
If you're looking at bench player towards the end of the week for some help and that player's team faces TOR at least once, you might be disappointed at the results.  The stats say you should avoid a player whose team plays TOR if you're looking for some help in PTS, REB, AST and STLs.  The opposing bench does shoot at a decent clip from beyond the arc so if needing some 3s, it's the not worst team to target.
For PTS:
Opposing teams to target: BKN, IND, GSW, POR, CHI, UTA
Opposing teams to avoid: TOR, ATL, MIA, MIL
For REB:
Opposing teams to target: BKN, IND, GSW, NOR
Opposing teams to avoid: SAS, TOR, LAL, HOU
I was surprised to see HOU on this list with the type of game that team does but I dug a little deeper and it turns out the the HOU bench is shooting 48% from the field, 2nd in the league.
If somehow Greg Monroe or John Henson is floating around the wire and you need REB help, BKN is @MIL on Saturday. P.J. Tucker is another potential target for REBs vs GSW on Saturday as well
For AST:
Opposing teams to target: BKN, CHA, GSW, IND
Opposing teams to avoid: NYK, TOR
For STL:
Opposing teams to target: BKN, IND, HOU, NOR, WAS
Opposing teams to avoid: CHI, CLE, MIA, PHX, TOR, UTA
If you're looking for an above average STLs total from Thabo Sefalosha, you might want to look for an alternative as ATL will be up against TOR on Saturday.
For BLK:
Opposing teams to target: IND, MEM
Opposing teams to avoid: GSW, DAL
IND plays the LAC on Sunday and while Marreese Speights isn't known as a blocking big man, he did have a 3 BLK night vs BKN earlier this season.  Since IND is also a team to target for REBs and PTs, Speights could be a nice multi cat stream.
For TOs:
Opposing teams to target: ATL, CLE, MIN, NOR
Opposing teams to avoid: SAC, SAC, UTA, WAS
I wanted to keep some uniformity in the format but in reality, no one targets (or at least no one should) an FA/Waiver wire pickup purely to minimize TO risk.  Basically, this is best used as a filter when choosing between more than 1 player to add and where TO is still up for grabs.
For 3s:
Opposing teams to target: WAS, UTA
Opposing teams to avoid: LAC, SAC, BKN
Ideally, I wanted to see low attempts and low 3PT% for teams to avoid and high attempts and good to high 3PT% for teams to target.  Only LAC and WAS fit that criteria respectively.
WAS plays @SAS on Friday and Patty Mills could have a big night for 3s with or without a Tony Parker DNP.
I've said it before but I wanted to mention it again, the sample size is still small.  In addition, there have been numerous key injuries that have affected rotations and in turn will affect the interpretation of the data above.  Lastly, there is always the qualitative aspect of data and statistics.  BKN and IND might be great targets for scoring and rebounds but if the only available players whose team is playing against those are players that play 10 minutes or worse will hurt you in another category or 2, then it doesn't make sense to add that player despite what that quantitative aspect says.
Good luck to choosing the player you think will be a difference maker for this week's matchups.  Catch everyone next week!