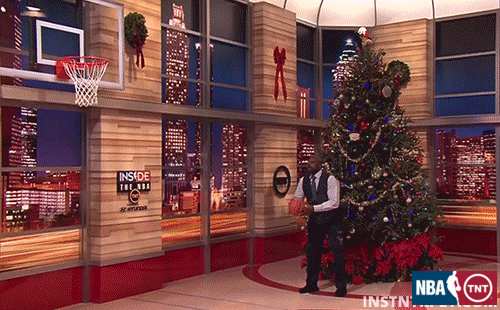 Ho! Ho! Ho! Hark the herald, Jerry Stackhouse sings! The NBA has never been in fuller effect across the years than at the culmination of this week every year: CHRISTMAS! It's unofficial start to the season (or the official start in the lockout-shortened 2011 season), and the first day since June owned by the NBA on the sports calendar. It's been football, football, football for the past six months, but even the King Kong NFL takes a back seat to basketball on Christmas (only 2 NFL games in Week 16 are actually on Sunday, December 25). Make way, because winter is no longer just coming…it's here! And with it comes all the basketball glory we can handle for the next 6 months.
From now on we'll see teams jockeying for playoff position. You know, those coveted spots that only the few get to have in calling themselves the next up to be humiliated by the Cavs or Warriors. But seriously, this is where we start to see what teams really are. And it's similar in other sports. Sure, you can start 5-0 Falcons in 2015, but you're finishing 8-8. Or in baseball, everyone knows that the record before Labor Day is all just feeling it out. And in the NBA the Hawks may begin 9-2, but are they really that great? My optimistic homerism is hopeful, but their record now shows the answer is no. How about the Raptors? They started sluggish; they must have taken a step back this year. Well, um…nope. They're a favorite to reach the Eastern Conference Finals again. See, Christmas brings out the best in us all, and acts as a litmus test for starting the year.
So, come one, come all. This Sunday we get a 5 game slate, 13 hours of basketball, something only rivaled by the opening weekend of March Madness and football in the fall.
Also, my apologies for no 7 Ahead in Week 8. Sick is an understatement for what I was. Something took out the whole house, starting with my kids and ending with us. Freakin' kids! But we're back, I'm not dying anymore, and can't wait to focus on basketball for the next few months. Starting with this week!
The 7 Ahead
5-game week: N/A

4-game weeks: BOS, CHI, CLE, GSW, LAC, LAL, MIN, OKC, SAS




2-game week: CHA, PHI, TOR



Weekly League Streamers (by Y! ownership percent on Sat/games this week): Austin Rivers (5%/4), Luol Deng (46%/4), Nick Young (41%/4), John Henson (41%/3), Tony Allen (29%/3), Tim Hardaway Jr. (10%/3)
Stream Days: Monday, Thursday, Sunday
Overall Thoughts: For fantasy purposes Christmas week levels the playing field a bit. Where two weeks ago almost 20 teams played 4 games in the schedule, this week finds only nine with a nice setup. Basketball takes a back seat to football on Christmas Eve, but really it's just to build the anticipation for Christmas Day. Before that Friday is stuffed full, while you can find some streamer options for your roster on Monday and Thursday.
Finding those waiver wire gems is becoming more difficult, though. Along with knowing how great or awful teams truly are come Christmas Day, the potential pool of impactful players becomes more limited. Injuries provide the main catalyst for players increasing their appeal at this point in the season since trades aren't flying off the board before the new year. Take Tony Allen, for instance. Did you ever really want Tony Allen on your squad before the season started? Or hell, before December? Well, a Mike Conley injury, along with basically the entire Grizzlies backcourt, elevated Allen's usage to valuable levels. And he's producing. Same can be said about Tim Hardaway Jr. with Kent Bazemore's injury (and poor shooting). The other guys to target can either bring you special value with certain stats (i.e. Henson with blocks) or found an uptick in minutes due to scheme change (Deng with Brandon Ingram having his minutes cut in half). Basically, you're filling out your roster more than finding a hidden gem. Counting stats. Keep 'em counting.
Monday: Five games on the tilt to start the holiday week, and good gracious if we don't get a gift right away with Russell Westbrook tipping off against the Hawks. Atlanta's a good defensive team, but with suspect defense on the perimeter between Dennis Schröder and ol' Hardaway Jr. we're likely looking at another triple double. That doesn't matter much unless you own him, but when the games are few his performances stand out even further. If Tim Hardaway Jr. continues seeing 30+ mpg, like he has in his past four, you can expect his stats from that period to continue being impressive: 16.5/3/3/1. Be careful in grabbing him, though, as he's shooting under 40%. That's not rising with further usage. The other four games are on the yawning side of things, with Chicago hosting Detroit as the next best. Should be interesting to watch the minutes dilemma play out in Denver. Wilson Chandler and Will Barton have cooled considerably, not to mention their Nurkic/Jokic problem.

Tuesday: Full slate of 11 games for Tuesday, highlighted by Utah visiting Golden State. I'm such a fanboy of the young Jazz squad. I don't think they're there quite yet, but they're definitely creeping. Winning at Golden State could be a statement game, and with the way this roster is structured it could be a possibility. They have incredible length, solid guard play, and a blossoming star (on a B-level team) in Gordon Hayward. If only George Hill could finally get healthy. On the other side, the Warriors juggernaut has slowed some offensively the past two weeks. Watch for the turnaround to happen after Tuesday; the Jazz allow the lowest mpg (95.4 mpg) and the worst FG% in the league (42.9%). The Lakers visit the Hornets in what could be a good opportunity to see what Deng and Young can do. The Hornets are 10th in ppg allowed, but give up the 4th most 3PM per game (10.4). Luke Walton seems to have revitalized Luol Deng in the offense, and y'all know what Nick Young does. Shoot. And then shoot again. Then shoot some more. Then steal teammates shots, and shoot at the buzzer. Spurs/Rockets in the battle for Texas and Cleveland visiting Milwaukee for LeBron James v. Giannis Antetokounmpo 2.0 are definitely worth the watch, as well.

Wednesday: But wait…there's more! Let's make it version 3.0! Flipping arenas, the Cavs now visit the Bucks for the LBJ v. Greek Freak equalizer. I don't think the Bucks are anywhere close to the level of the Cavs, but the fantasy matchup is so sexy. The Cavs have their other stars, but a surprising one highlighted above for the Bucks is John Henson. He may not be able to give all the stats vs. the Cavs, but he's one Greg Monroe trade away from being a borderline top 10 PF. Over the past two weeks he's only averaging 23 mpg, but is giving you 2.1 bpg in that limited time. His FG% isn't wonderful for a PF, but he doesn't take enough shots to affect you that negatively. I'm a huge fan of the UNC product, especially if you're in need of some defensive help. He's top 10 in blocks over the past two weeks, while playing significantly less than the other name around him. Oklahoma City vs. New Orleans isn't a wonderful game, but it gives us the top two fantasy scorers in Russ and Anthony Davis. Who will get more?!?
Thursday: It feels like a rest for most squads before what comes tomorrow, but you have some great streams available in the five games on the docket. The Lakers visiting the Heat gives you some great choices, including Josh Richardson, who I almost included above, but the Spurs and Clippers matchup should be an interesting one. The Clippers seem to have cooled slightly, even though their record remains strong (20-7). However, their +/- has decreased from +13.1 in three October games to +6.1 in 8 December contests. Some of that may have to due with injury, but their minutes desperation amongst their backcourt is something to watch. Austin Rivers is averaging over 32 mpg in his past four, up almost 10 mpg from his season numbers. Yes, an injury to Luc Richard Mbah a Moute may add to the minutes, but with Rivers scoring 16 ppg in those games, he may have earned his increase in minutes. He's as volatile as they come, though, so tread softly if you want to dance with him.
Friday: 28 teams take the floor Friday night, so not a lot of opportunity to stream anyone. Top games of the day? OKC @ BOS, HOU @ MEM, and TOR @ UTA. That Rockets/Grizzlies matchup should be great. Two opposite sides of the spectrum.
Saturday: No basketball today as Shaqa Claus prepares to bring us all the Christmas goodness of basketball in the morn.
Sunday: 5 games. 5 times. Back-t0-back-to-back-t0-back-to-back. C'mon! The Clippers/Lakers game to end the night should bring some great drama at Staples, and likely some high scoring with some streamable options, but all eyes should be on the Finals rematch as the Cavs visit the Warriors at 2:30pm. One of the greatest Finals in history finally gets to see the revamped Warriors piss off LeBron James at adding Kevin Durant. Goodness, I can't wait. Here are my picks for the day, since I know that's why you're all here:
BOSTON, GOLDEN STATE, SAN ANTONIO, OKLAHOMA CITY, LA LAKERS. Watch it happen. Seriously, watch it all day.
Now, DROP THOSE COMMENTS! And don't be afraid to send along any questions on trades, pickups or life! Good luck in Week 9 and MERRY CHRISTMAS!