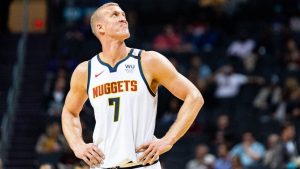 So I did a nice value picks list last week, and it was good for about a day until Yahoo decided to update their rankings and pretty much took away all the value on my list. Well played Yahoo, well played. I actually do think the Yahoo list is solid now that they tightened up their rankings, so I will be focusing on the value that you can find later on in the draft. Here is a list of guys I'm targeting after pick 100 in 9 cat H2H leagues.
Evan Fournier (rank 101): Boring ho-hum player who is consistently helpful every year, and often gets overlooked. He finished inside the top 60 in total value last year, and I don't see any reason for a big drop off. He's coming back to the same role with the same group of teammates, so getting him outside of the top 100 is a nice value pick.
Nerlens Noel (rank 116): Remember when Nerlens Noel was ranked inside the top 25 by Yahoo to start the season? I sure do! I picked him on several teams that year, and needless to say, it did not pan out. However, looks like Noel may have a new lease on life in New York, as Thibs seems to have a lot of love for him. We all know that if you make the rotation with Thibs, you're getting some nice minutes. Noel only needs about 20 minutes to beat this ranking, so it's a no brainer pick here. Best case scenario is he takes his rightful place as the Knicks starter and gets you top 50 value. Worst case is that he gets goes into a time share with Mitch Rob and still finishes in the top 100.
Will Barton (rank 125): Like Fournier, Barton doesn't get any respect even though he finished in the top 75 last year in total value. There are definitely concerns with Michael Porter Jr. breaking out this year and taking up a lot of the touches, but Barton has always proven himself to be useful when healthy. He's definitely well worth a pick here since I am confident he will turn in at least top 100 value again.
Killian Hayes (rank 129): My favorite rookie this year, and for good reason. He's a polished professional who landed in the perfect spot to produce. He can pass, shoot, get steals, and has tremendous size for a PG. His height allows him to play multiple positions, which will keep him on the floor longer. Like most rookies, his shooting will probably be brutal. However, he did make 90% of his FTs and shot 39% from long range last year as a pro, so at least he won't hurt you there. I'd be happy to get him in the top 100.
Chris Boucher (rank 132): Everybody's favorite sleeper pick, so no need to say too much here. He is a per-minute monster who can get you boards, blocks, steals, and 3s. He only needs about 20 minutes are so to hit value, and it's almost a sure thing that he will get at least that this year. I wouldn't overreach for him, but he's definitely on my list of targets.
Demarcus Cousins (rank 139): It may seem like Cousins has been in the league forever, but he only just turned 30 this year. He's definitely a risky pick, but so far he's looked good in the preseason. In 25 minutes a game with the Warriors last time he played, he was multi-cat goodness with 16/8/3.6/1.3/1.5 along with a 3 a game. It's not unreasonable to think he could repeat that on a Rockets team that may not have Harden for the season. His buddy John Wall has been looking pretty good too, so perhaps together they can form the Achilles super duo! Give him a shot around the 100-pick range.
Tyrese Haliburton (rank 149): I wasn't high on him in redraft to start the season, but he's been looking terrific in preseason play. It looks like he can get you across the board production, and he may be able to get locked into a nice role with the Kings. He's worth a flier with your last pick, just don't overpay for him.
Darius Bazley (rank 158): Another guy who is everyone's favorite sleeper, and it's fully justified. He did very well in the bubble when he got the opportunity, and it looks like he will get all the opportunities he can handle this year. Someone's gotta play next to Shai, so I might even think that Bazley will be the second scoring option. Looks like people are reaching for him in drafts more than I'd like, but he's still a good pick outside of the top 100.
Gary Harris (rank 173): I feel like an old dinosaur, always reminiscing about the good ol' days of fantasy. Remember when Gary Harris was a sure-fire top 50 pick? At his best, he was a 3 and D steals specialist who shot 50% from the field and rarely turned the ball over. Unfortunately, the injuries have not been kind to him, and he hasn't been able to replicate his 2017 performance. He's looking good in the preseason so far, and I am cautiously optimistic about his comeback to fantasy relevance. He's worth a waiver wire pick up, or a flier pick in the final rounds to see if he can stay healthy and get back to his 2017 form.
Aaron Baynes (rank 175): I love Baynes, and the fact that Nick Nurse has 99% confirmed that he's starting makes him even more of a nice sleeper. He was putting up top 50 value last year over a stretch of games that Ayton was gone, and people were selling him like hotcakes. He may not do that again this year, but given the playing time, he will most definitely produce. His only competition is Boucher and Len, so there's plenty of reason to be excited about getting Baynes with a late pick.
Luguentz Dort (rank 215): Bort had some nice moments in the Bubble, and there's some optimism that he will be a nice late-round steal this year. He will almost certainly get the opportunity to play in OKC, and projects as a nice steals, blocks, and 3s kind of guy. His 3 point shooting is suspect, but he's certainly not shy to take them. I'm hoping he can be somewhat similar to Roco, but that's very optimistic. Still worth a pick very late in your draft.
Mason Plumlee (rank 227): If I told you that there was a guy who gets you 11/8/4/1/1 while shooting 53%, you'd be pretty keen on picking him with a late pick. Well, look no further than Mason Plumlee! The above stats are from when he played 28 minutes a game in Portland, and I'd imagine he will get a similar workload this year in Detroit as their starting center. Blake Griffin will inevitably get hurt or punch someone in the face, or both, so that will open up even more playing time and usage for Plums. The bigs dry up pretty quickly outside of the top 100, so he makes sense if you need to round out your frontcourt.
Well, that's about it! Hopefully, Yahoo doesn't screw me over this time and change their rankings again. I'm sure I missed a bunch of potential sleepers, so be sure to comment and let me know what you think. I'm heading into a bunch of big money drafts this week, so I'm always looking for additional insights!