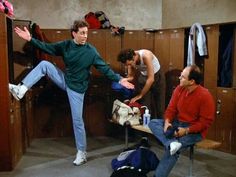 KRAMER: Wide open, I was wide open underneath! I had three inches on that guy. You two were hogging the ball.
GEORGE: Me? It wasn't me. I never even saw the ball. All you do is dribble.
JERRY: I have to dribble, if I give it to you, you just shoot. You're a chucker.
GEORGE: Oh, I'm a chucker.
JERRY: That's right, every time you get the ball you shoot.
GEORGE: I can't believe you called me a chucker. No way I'm a chucker, I do not chuck, never chucked, never have chucked, never will chuck, no chuck!
JERRY: You chuck.
GEROGE: Kramer, am I a chucker?
KRAMER: You're a chucker.
GEORGE: All these years I've been chuckin' and you've never told me?
JERRY: Well it's not an easy thing to bring up.
You're a punter. It's not an easy thing to bring up. But you are. The good news is that your opponents are, too, but they may not know it yet. No, you probably didn't plan to punt a category. But, at this point in the season? Yes, you should be punting at least one category. It might be because you're out of the running in assists in your roto league. Maybe you're just stuck in the middle, 300 rebounds behind the team ahead of you, and 300 ahead of the team behind you. Or, in head-to-head, you've seen your playoff opponent's team, and you know you'll double that team's threes easily, while it's even clearer that you have no chance to compete in FG%. You are now punting those categories that can't help or hurt you. You can use the word ignoring instead, if that helps. You're not trying to get players that are bad at the categories that no longer matter. You just don't care about them anymore. So, it's going to take a bit more work to figure out who's worth more to your team now. That's where today's Run The Numbers comes in.
Please, blog, may I have some more?