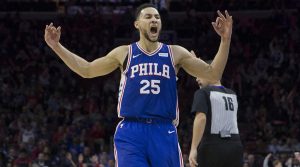 Bullshitting is bad. Or is it? There are four reasons why people lie. 1) To hide or protect something. Good if you were harboring a Jew in Nazi Germany. Bad if you have a mistress. 2) Fear. Of getting caught. I guess that ties into protecting oneself. 3) To elevate one's self-perception. You went to which school? You're how tall? You slept with how many women? 4) It is the wise thing to do. Do I look fat in these jeans? BS'ing is often annoying or straight up lame, but it is an integral part of life. There are many situations in which being brutally honest serves no purpose other than to hurt the other person, which is lame. Damn it, is everything in life lame then? Last night, we had another example of BS'ing being bad….the good bad, though….as in dope. Now that I think about it, sometimes we just BS to mess around, which is what Ben Simmons did last night against the Bulls. Ironic, huh?
| | | | | | | | | |
| --- | --- | --- | --- | --- | --- | --- | --- | --- |
| PTS | REB | AST | STL | BLK | TOV | 3PT | FG | FT |
|  19 | 17 | 14 | 0 | 2 | 6 | 0 | 6/15 | 7/10 |
Simmons has now messed around five times on the season. He had been in a slump lately, looking disinterested and lacking aggression. It's mindblowing to think that he can dominate a game without being able to shoot from the perimeter. He's that good. Anyways, BS is a nightly triple-dub threat and will contribute with the D stats. As we established above, there's good and bad with BS. The bad? Literally no 3s, like he hasn't made one the entire year. The turnovers are plentiful. As I always say, good if you are high in a pastry shop. Not so good for fantasy. The free throw shooting is abysmal, like 55% bad. DeAndre Jordan, with his 60% on the year, is like, "Yo, Ben. You really need to practice bro." Simmons is the 75th player for fantasy on the year. For the last month? The 110th. There are just too many holes in his game to approach Top 50 territory, but for punt FT% and 3 teams, BS is lovely.
Here's what else I saw last night:
Please, blog, may I have some more?