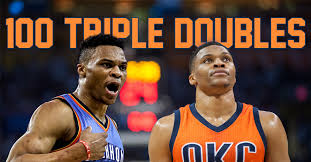 Russell Westbrook gets triple-doubles so often that I think most fans take for granted the greatness that we are witnessing. Like NBA history making greatness. Last night, Russ picked up the 100th triple-double of his career, as he led the Oklahoma City Thunder to a 16-0 run late in the fourth quarter to seal the victory over the lowly Atlanta Hawks in a game they were supposed to win.
Westy scored 32 points, dropped 12 dimes, and pulled down 12 rebounds to become the third-fastest player to reach the 100 trip-dub mark. Only Oscar Robertson (277 games) and Magic Johnson (656 games) got to number 100 quicker than Russ, who accomplished the feat in just his 736th game. These stats tell me two things: 1) Russell Westbrook is really awesome and we are lucky to be able to witness his greatness and 2) The Big O was friggin' unbelievable! 277 games? I mean, what? Nikola Jokic better hurry if he wants to even come close to sniffing that kind of epic-ness.
LeBron James, the so called "King," has played in over 1,000 NBA games and he is not really even that close to 100 triple-doubles (ok, he's pretty close, but still). I am saying (typing) all of this in an effort to put Westbrook's greatness in perspective (because I am sensing that he is not getting the kind of love he deserves, most likely because ya'll jealous of the man's killer threads and overall sense of style). But anyway, yeah he's good. Russell Westbrook also only trails Robertson (181), Johnson (138), and Jason Kidd (107) on the career triple-double list and trails only Kidd on the my head's shaped like a basketball list.
However, since we are a fantasy basketball website I will stop boring you with general NBA history and give you Russ' final line from last night: 0/32/12/12/1/1. I know, zero threes, what a bum.
Here is what else I saw last night:
Please, blog, may I have some more?