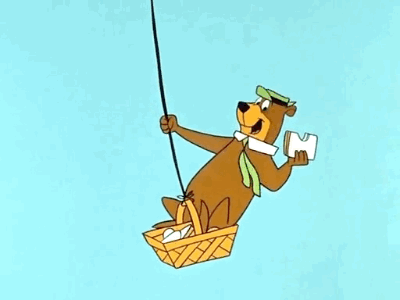 "Hey hey, Boo Boo!" I still know the exact tone of the voice from the cartoon saying that phrase. I'd imagine we all do. Yogi Bear wasn't just a cartoon. No, he was an icon. He was the answer to Jim Halpert's question: 'What kind of bear is best?' How could you miss that Dwight!?! Or is it JimDwight that missed it?
He's 'smarter than the average bear!' And the Mavs have clearly outplayed the rest of league, most notably the Cleveland LeBron's, but bringing Indiana product Yogi Ferrell up from the D-League to help their depleted roster. And in a flurry not seen since perhaps Linsanity, Yogi's taken off since joining the senior circuit. In his four game stint he's posting a 17.8/3.0/5.0/1.8 line with 3.3 3PG and only 1.5 TO per game, while shooting 44.4% from the field in his 38 mpg. He's revitalized the geriatric Mavericks and is helping push them towards the 8 seed. What did he get for his 32 point outburst with 9 threes on Friday? A 2 year deal at the league minimum. What do we get out of it? A legit waiver wire pickup that has averaged top 25 numbers in his four games. He should be swinging onto your roster faster than that gif up there…minus the sandwich.
Onto the 7 Ahead!
Please, blog, may I have some more?