When I was a kid, I could tell the difference between a name brand and an off-brand cereal instantly.
I knew when my parents tried to cheap out and pass off Puffy Choco-Balls as Coco Puffs or Fruity Dino Bites as Fruity Pebbles. I didn't even need to put the spoon in my mouth to realize that it was Tasty Silly Trinkets, not Lucky Charms, sitting before me in a sea of milk.
So if I plugged Kevin Martin in where Klay Thompson sat on your fantasy roster, would you know the difference?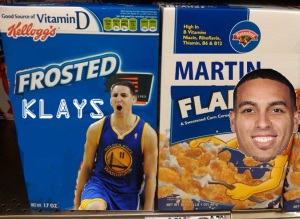 If you were in a keeper league, yes, of course. You'd be pissed because I swapped a 24-year-old young buck with a 31-year-old injury risk. But in a normal league, you might notice a slight drop-off in quality, but you'd probably just keep plowing ahead like I do now when I eat the Smack Yo Mamas I bought for my kids instead of Sugar Smacks.
This argument looked a lot better before both guys put up absolute duds on Saturday night, but Thompson's hand injury sort of balances it out. So bear with me.
Please, blog, may I have some more?