I was a big subscriber of superstitions and curses in my younger days. Sports team I root for wasn't playing well? Had to move to another seat, like I was some antenna made out of aluminum foil. Never drafted a player in fantasy football if he graced the cover of Madden. I mean, come on. Without fail, either a player got injured or production fell off hard the following year. We have grown as a society, though. I have grown as well. We now utilize our brains to explain things that were previously unexplainable. For the Madden Curse, a logical explanation was that players are celebrated by being on the cover of the videogame because they have reached the pinnacle of their careers.
noun
              "he had reached the pinnacle of his career"
There's literally no place to go but down. Add in the age factor and number of games played, and the "curse" doesn't seem so mysterious after all. How things have gone down the past couple of weeks in the NBA, I'm beginning to reevaluate my stance on the issue. In late January, LeBron James and Steph Curry particiated in the All-Star Draft.
As drafted by #NBAAllStar team captains #LeBronJames and #StephenCurry….

The 2018 @NBAAllStar Rosters! pic.twitter.com/TbZtvitP4f

— NBA (@NBA) January 26, 2018
First, DeMarcus Cousins went down with injury. Then, Kevin Love. John Wall. The latest victim? Kristaps Porzingis. Last night, he tore the ACL in his left knee after this. I will think of you everytime my 2-year-old daughter puts on My Little Pony. Michael Beasley is the obvious get, but he's probably been rostered already. Kyle O'Quinn is also an interesting pickup, as he would be the big off the bench to give either a break. Yo, LeBron. Whatever you're doing? STOP!!!
Here's what else I saw last night:
Please, blog, may I have some more?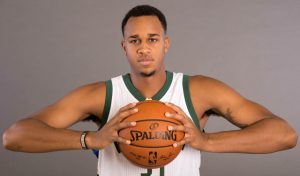 Most are familiar with chapter 3, verse 16 of the Gospel of John: For God so loved the world that he gave his one and only Son <Hey! That's me!!!>, that whoever believes in him shall not perish but have eternal life. Before storm clouds gather up above and lightning fries my plump physique into a mush of cooking oil, I was just joking God. Ha ha. I'm probably fine because I'm sure he/she/it was overloaded yesterday, but….out of respect and….juuuuust in case. Anyways, because we go next level here at Razzball, I want to mention chapter 3, verses 18-19 of the Gospel of John: Whoever believes in him is not condemned, but whoever does not believe stands condemned already because they have not believed in the name of God's one and only Son. <Hey! It's me again!!!!> This is the verdict: Light has come into the world, but people loved darkness instead of light because their deeds were evil. Yesterday, the fervent followers and believers of the NBA were graced with a sermon from the Book of John Henson, chapter 3, verses 18-19.
| | | | | | | | | |
| --- | --- | --- | --- | --- | --- | --- | --- | --- |
| PTS | REB | AST | STL | BLK | TOV | 3PT | FG | FT |
| 19 | 18 | 3 | 0 | 2 | 0 | 0 | 8/14 | 3/5 |
Granted, it was against the Brooklyn Nets, a team that is atrocious against the center position. With that said, since Jason Kidd was fired as coach of the Bucks (seven games), Henson has averaged 29.4 minutes, 12 points, 7.57 boards, 2.42 dimes, 0.8 steals, and 1.1 blocks. As long as the Bucks do not trade for a center at the deadline, have faith in the Henson. Is it any coincidence that I am Son and John is a Henson? I thinks not. See the light and come out of the darkness. If the Bucks trade for DeAndre Jordan or any other big man, then you can tear the Book of Henson out, get on your knees, and scream to the heavens: Why have you forsaken me?
Here's what else I saw last night:
Please, blog, may I have some more?