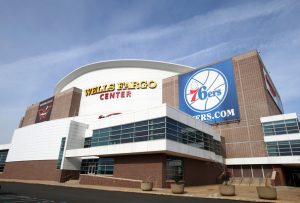 I try not to use the same player twice as the lede for this post. You'd think with over 300 players in the NBA, that wouldn't be a problem. Unfortunately, teams do not play every day and most of the players are not worthy. Sure, I could write up Nik Stauskas and how he didn't score, rebound, assist, steal, or block in eight minutes of run. I could go into detail how he turned the ball over twice and picked up a personal foul, but even Momma Stauskas would be like, "I had to pause the curling match for this crap?" So, as much as I try not to use the same player for the lede, sometimes a performance is just too good. Last Wednesday, Devin Booker was The Razzballer after he dropped 33 points on the hapless Bulls. That was nothing compared to what he did to the Philadelphia 76ers:
| | | | | | | | | |
| --- | --- | --- | --- | --- | --- | --- | --- | --- |
| PTS | REB | AST | STL | BLK | TOV | 3PT | FG | FT |
|  46 | 8 | 1 | 2 | 1 | 3 | 5/8 | 17/32 | 7/8 |
Booker started the game shooting 1-for-8. So, according to my handy dandy desktop abacus, he shot .666 the rest of the way. Ahhhh, the Devil lives!
The Wells Fargo Center used to be located at 3601 Broad St, Philadelphia, PA 19148. You can now just input 46 Booker St, Philadelphia, PA 00100 into your GPS from now on.
Please, blog, may I have some more?
Hey y'all. We're back again, like we never left, with another Saturday Special. Today we're kicking it off with none other than the Tall Baller From the G himself, Dirk Nowitzki. He had a nice little vintage performance, as he led the Mavericks to a win over the Thunder, going for 19/5/4/2 on 7-for-10 shooting with four threes. Dirk's no longer a fantasy stud, but it's nice to be able to show love to one of the greats when they deserve it. Dirk might get sporadic rest days as the season goes on, but he'll generally be given free reign to do as he pleases while the Mavericks happily tank for a pick. Anyway, here's what else I saw last night in fantasy basketball:
Please, blog, may I have some more?