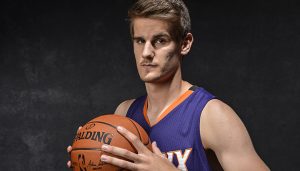 I no longer drink or partake in the drugs, but I used to. The number of benders I went on were so numerous that they all blended into one big bender. Most of the time, they were enjoyable experiences. Or at least I thought they were. I'd party or play video games or do whatever silly things my friends and I would conjure up. But….bender's are usually undertaken to escape the realities of life. As a result, the short-term high is usually replaced with the low of wanting to go on a bender in the first place. Which brings me to Dragan Bender of the Phoenix Suns. Last night, he played a team-high 39 minutes and went:
| | | | | | | | | |
| --- | --- | --- | --- | --- | --- | --- | --- | --- |
| PTS | REB | AST | STL | BLK | TOV | 3PT | FG | FT |
|  20 | 6 | 4 | 1 | 3 | 2 | 6/8 | 7/9 | 0 |
Now, Marquese Chriss left last night's game in the second quarter, so Bender was the guy to replace him. Before we start ejaculating all over the table, let's keep in mind that Bender is a career 36% shooter from the field and has a career line of 4.4 points, 2.7 boards, 0.8 assists, 0.2 steals, and 0.5 blocks. With that said, Chriss could be out for an extended period of time and Bender could be the primary beneficiary. So, what kind of Bender are we getting? As a 7′ 1″ 225 pound player, he does shoot the three-ball well (36% on the season so far). And he's only 20 years old, playing in his second year in the league. There's obvious potential. With that said, I have a feeling that the experience of owning Bender will be similar to the one of owning Chriss, but without the massive upside. Bender may literally induce his owners to go on a bender.
Here's what else I saw last night:
Please, blog, may I have some more?