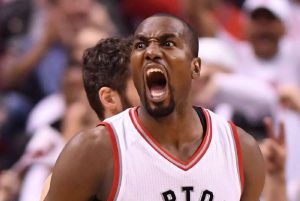 I often reminisce about the 2011 Oklahoma City Thunder squad: Kevin Durant, Russell Westbrook, James Harden, and…..Cole Aldrich. I kid, I kid. Serge Ibaka aka I-block-a…aka Air Congo….aka Serge Protector was a freaking animal, blocking over 3.7 shots a game and grabbing 7.5 rebounds. Man, that team. One of the greatest video game teams of all time? Anyways, Ibaka was raw from an offensive stand point, but was a maven on the glass and defensive end of the floor. If he could hone his offensive game, we were looking at the next superstar. The athleticism was that profound. Well, he did ascertain an offensive game and extended his range out to beyond the arc. Unfortunately, the rebounds went down and the block numbers cratered to the 1.3 mark set last season. He lost a lot of that dog, as he preferred to just chill on the perimeter and shoot jumpers all night. Well, it looks like Bow Wow made a visit because, so far, Ibaka is grabbing more rebounds (over 7 for the first time since 2014) and the blocks have ticked back up. We will never see the 3.7 level again, but any increase is a good increase. We are not here to talk about the blocks and boards, though. We are here to talk about the scoring Serge Ibaka exhibited last night:
| | | | | | | | | |
| --- | --- | --- | --- | --- | --- | --- | --- | --- |
| PTS | REB | AST | STL | BLK | TOV | 3PT | FG | FT |
| 34 | 10 | 2 | 2 | 0 | 1 | 1/1 | 15/17 | 3/3 |
A career-high!!! And he wasn't just camped out outside. He was running in transition and making hard cuts to the basket in the half court. Ferocious dunk after ferocious dunk. Now, he may not start every game, as Jonas Valanciunas will likely go up against bruisers, but he should consistently get around 28 minutes regardless, as Coach Nurse does like play small-ball with Ibaka at the 5. I think a huge change for Ibaka this season is the fewer attempts from downtown. It's allowed him to shoot a higher percentage from the field and gets him more involved for rebounds, as he's not just spectating on the perimeter. Don't ever expect any assists from him, but points, rebounds, and blocks with good percentages are on the menu. Ibaka is currently the #36 player according to Basketball Monster.
Here's what else I saw last night:
Please, blog, may I have some more?