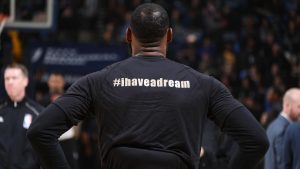 Yesterday was Martin Luther King day. It's a day that many take for granted. Many focus on the fact that there's basketball all day or that there's no school or work or something about someone having a dream. MLK day is about celebrating the greatness of a man. Who called out the establishment. Who stood up for the rights of the oppressed. Who wanted to "transform the jangling discords of our nation into a beautiful symphony of brotherhood." The King was truly a great man, which brings me to the King of the NBA, LeBron James. Last night, the LeBrons faced off against the Warriors and lost 118-108. In defeat, James went:
| | | | | | | | | |
| --- | --- | --- | --- | --- | --- | --- | --- | --- |
| PTS | REB | AST | STL | BLK | TOV | 3PT | FG | FT |
|  32 | 8 | 6 | 3 | 4 | 8 | 0/2 | 12/18 | 8/13 |
I almost did not make him the lede for this post. There were players that scored more points. There were players that collected double-dubs. There were multiple players who almost messed around. There were players that led their team to victory. I almost overlooked LeBron, but then I came to my senses. Look at that line! It's freaking amazing. Ok, the turnovers aren't great but I said he's a King, not God. Anyways, sometimes we don't truly appreciate the greatness of LeBron. We hold him to such a high standard that we expect more. The crazy thing is that "more" is usually attainable. Think about that. Anyways, it's only appropriate that I made the King of the NBA the lede for a post on the day after Martin Luther King day. Both are great, yet both are underappreciated at times. Let's never forget either.
Here's what else I saw yesterday:
Please, blog, may I have some more?