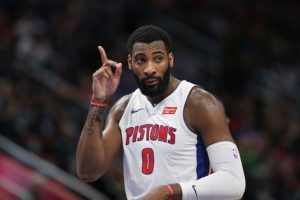 My first introduction to hip hip was The D.O.C. Then came N.W.A., 2Pac, Too Short, and Cypress Hill. I was strictly Westside. I then moved out to the east coast for college, which is when the Notorious B.I.G, Nas, Mobb Deep, KRS-One, Wu-Tang, and Tribe Called Quest all started making noise. It was a glorious time. In addition, I was exposed to the Beastie Boys, De La Soul, and the OGs like Grandmaster Flash and Run D.M.C. West coast boy and east coast music melded together beautifully, even with all that stupid drama back then. Anyways, the world was all about West Coast vs East Coast, but then Andre 3000 came onto the scene with his southern funk and swag. It was fantabulous. I always admired Andre 3000 because he adapted, changed, and was diverse, as he was not just a music star, but became an actor and fashion entrepreneur. That's how I think about Andre Drummond. When he started get full run in the NBA, he was a straight beast. Accumulating double-dubs (points and rebounds) and provding those D stats. But the free throw shooting was worse than atrocious and dimes? Fuhgeddaboudit. He improved in both categories, though, last season. Upping his free throw shooting to 60%, after languishing in the 38% range, and the assist number vaulted up to 3, after being around the 1 mark. Outlier? Possibly, but at least he's shown that it's within the range of outcomes. As for last night…..
| | | | | | | | | |
| --- | --- | --- | --- | --- | --- | --- | --- | --- |
| PTS | REB | AST | STL | BLK | TOV | 3PT | FG | FT |
| 26 | 22 | 0 | 0 | 1 | 5 | 0 | 11/17 | 4/6 |
Andre 2622.
Beep….Boop….Bop. By the way, the Stocktonator loved him last night, as it had Dre as the fifth best play on the slate.
Here's what else I saw last night:
Please, blog, may I have some more?