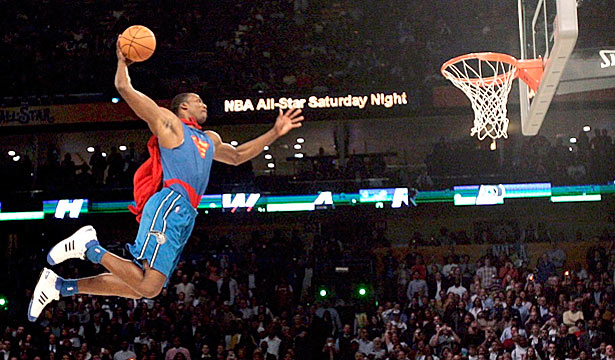 Superman is here!  Superman is back in the building!  Dwight Howard got his revenge in Houston with an absolutely monster game.  I'm just here to remind everyone that Howard is still an elite big man, especially on defense.  Sure, he isn't the man, but he is a game changer.  Capela had a good game, but he didn't stand a chance against Howard's physicality.  Dwight's efficiency destroyed them (11-13 for 24 points).
D'Angelo Russell – If you looked at the 17 points and 11 assists, you'd think that Russell had a good game… However, the 7 TOs would definitely change that opinion…
Jordan Clarkson – Had a crazy efficient scoring day, with little else to show for it.  20 points on 9-13 from the field with 2 boards and 1 assist.  He didn't turn the ball over though, so he's basically the anti-D'Angelo tonight.
Tarik Black – Had a dub dub in a spot start tonight.  13 points, 11 boards, with no blocks or steals.  Yawn.
John Wall – Led his Wizards to the W with a massive 33/3/11/3/1 line.  He also had 3 treys and 3 TOs… I just noticed, but a hell of a lot of threes in this line.
Marcin Gortat – 21/14/3/1/0 – Marcin went HAM on this sad Lakers front-court…  Nothing to see here..
Markieff Morris – He shot 3-14 from the field, but his line had all the goodies.  12/11/2/3/2 – Not bad for an off night.
Dwight Howard – 24/23/3/1/2 – Again, 11-13 from the field, and he managed 2-3 from the line as well.  He went beast mode in this revenge game.
Tim Hardaway Jr. – 33/6/3/0/1 – 4 treys, 12-18 from the field.  I've been pushing this guy for a wire in my waiver wire column.  It's too late at this point.
James Harden – 41/8/8/4/0 – A ho hum game for Harden, as crazy as that is.  He only turned the ball over 4 times, so I don't see how he could do any more.
Clint Capela – Had it clicking tonight, and put up 22 points and 9 boards on 9-11 shooting and a surprising 4-5 at the line.
Eric Gordon –  And here we come to the reason why the Rockets lost.  He jacks up a lot of shots, and the Rockets don't do well when they don't make it. 4-14 from the field with only 13 points.
Ersan Ilyasova – Ersan decided to put up a big game against the Spurs with 25/10/2/4/1.  He turned the ball over 4 times though, and TOs were part of what did the Sixers in.
Dario Saric – Surprisingly, this was an interesting and competitive game through the first half.  However, things quickly spiraled after that… 14 points and 9 boards for Saric, but he had 7 of the Sixers 23 turnovers.
All the Spurs – Didn't have their A-game going, but they didn't need it.  Frankly they spread the scoring around so damn well, that I can't really pick highlight players.  7 players made it to double digits, and none of the Spurs topped 20 points.
Warriors vs Clippers – Even without Draymond Green, it looks like this game will be a cake walk for the Dubs.  Kevin Durant has 12 with 7 minutes left in the 2nd quarter, and Patrick McCaw is actually showing up well in the starting lineup with 2 treys. Blake Griffin is doing his job, but frankly, the Clippers just can't compete on the same level with no Chris Paul.
That's it for last night, lady and gents!  Hit me up in the comments below!
Stay Razzy