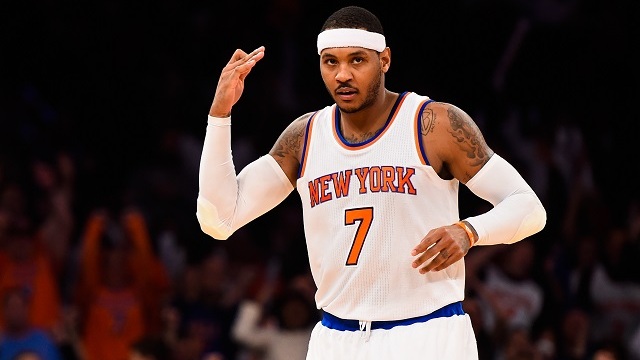 The Knickerbockers continue to stink it up, with a heartbreaking loss to Wizards.  Melo put up an incredible 25 points in the second quarter, but only managed to finish the game with 34.  The Knicks made a valiant comeback effort at the end, but the hustle and determination of John Wall stymied their efforts.  This game was quite depressing because it really hammered the point home that Melo is not who he used to be.  Sure, the flashes of brilliance are there, but a younger Anthony would've pushed 50 points without a problem.  On that somber note, let's get into the rest of the evening!
Devin Booker – I don't know what to make of him.  He had a 21/7/8/0/0 line with 4 TOs.  On top of that he only made 4-12 from the field wtih 13/14 at the line.  I'm not a fan, but he puts up stats of a sort.
Tyson Chandler – The Suns MVP for the game.  22 points, 16 boards, and a block.  Tyson is the god of boards, but not much else typically.
TJ Warren – Back to his high efficiency ways with meh stat lines.  18/3/1/2/1 on 8-12 shooting.  He is great for slashing and shooting from mid range, but he seems like a better real life guy than fantasy play.
Lebron James – Did Lebron things with 21/9/15/1/2 on only 12 shots.  It's hard to argue that there's a better all around player in the league, despite the gaudy lines of those who live in the land of Rockets, and those who were snubbed… * cough cough *
James Jones – Started with Kevin Love out and put up an efficient 14 points with 4 treys.  Ho hum.
Channing Frye – The main beneficiary of Love out.  18 points, 10 boards, also with 4 three balls.  If Love is out for longer than they think, Frye would be a must add.  I don't think that's likely though.
 Goran Dragic – Balled out this game with 32 points on 11-15 shooting.  In an unspectacular game, Dragic was one of the bright spots.  He will continue to dominate touches with the Miami backcourt being so depleted.
Hassan Whiteside – The Mavs did a good job of keeping him in check with only 13/8/2/1/0.  He'll bounce back, but this may be his highest assist total in his career… So there's that!
Tyler Johnson – Lit it up with 23 points, and not a whole lot else (23/1/2/1/0) – It's worrying that he didn't touch 30 minutes, even with Josh Richardson down.
All Dallas Players – Perhaps it's just laziness, but I don't think any of the Dallas players deserve a mention.  They majority of the starters scored in the mid teens on mediocre percentages, with very little in the peripheral department.  Frankly this team irks me.  If they're going to lose, they should at least play their future talent, but nope!  Dallas management is delusional.  End of rant.
Bradley Beal – It was an off game for him, but he'll bounce back.  Only 8 points tonight on 4-13 and 0-7 from deep.  I'm not worried.
John Wall – He was magnificent. 29/4/13/3/0 on 11-21 shooting, and some huge plays down the stretch.
Otto Porter – A great day at the office for Porter.  6 treys on the night for a final line of 23/6/2/1/1 – that's not bad on only 13 shots.
Derrick Rose – He had some vintage plays, but the final line was underwhelming.  20/5/2/0/0.  Meh.
Carmelo Anthony – See lead in paragraph.  Final line of 34/10/2/1/0.
Kristaps Porzingis – Played 29 minutes off the bench and finished with 15 points on 6-11 shooting.  Solid, but nothing to write home about.  He didn't seem too involved.
Kyle O'Quinn – Put his stamp on the game with 14 points, 8 boards, 3 assists, a steal, and 3 blocks.  Oh yeah, he only played 21 minutes… His per 36s are fantastic!
Will Barton – Started and managed a pretty nice line: 18/3/7/0/2 – The two blocks were a sweet throw in, but not much to see here, since Denver is so beat up right now.
Nikola Jokic – Finally playing like his early drafters hoped!  35/12/4/0/2.  That's a pretty damn good line.  It's nice to see him asserting himself now.
Dejounte Murray – On the Spurs side, their young PG started for Tony Parker, and put on an unexpected show!  24 points, 3 treys for Murray.  He sprinkled in some other stats, but the scoring was the great part.
David Lee – In a spot start he put up 10/16/2/1/1.  The Spurs officially have too much depth.
Kawhi Leonard – Kawhi did what Kawhi do.  34/5/4/2/1 – This was almost an off night for him.
That's all for today folks.  I didn't stay up for the Clippers/Wolves game, but through the first quarter it didn't seem too intriguing.  Perhaps it'll look different in the morning, but yeah.  Raymond Felton had 5 assists in the first quarter, so maybe he tops 10 on the game…   DeAndre also looks poised for a big game, but nothing new there.
For questions, make sure to include your league size and format!
At any rate, have a great day everyone and stay razzy!