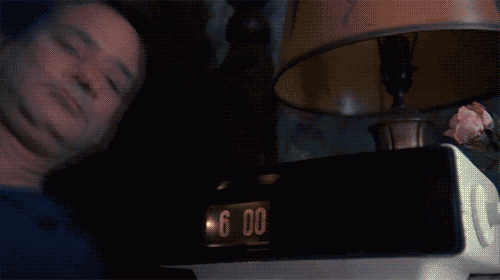 I hate Daylight Savings Time. I mean, I'm really not a fan. However, my love for this archaic nuance of our calendar shifted during seasons of my life. Growing up through college and early married years? Loved Fall Back and loathed Spring Forward. Now? Well, my three little kids that run on a body clock and not a real one don't care that you just gained an hour. Wake the eff up and play with me! Don't worry…I say that to my wife sometimes in the mornings, just with less aggressive language. It's much more enticing. And you don't care.
So, my point is…now that Spring Forward is here the responsible professional in me is still loathing losing an hour of sleep. But the parent in me…haha, oh the parent. They sleep an extra hour now?!? Done. Give me this thing all day long. I look forward to 'losing an hour.'
And now that I'm ~200 words in to something that no one cares about, let's just call that a test to see if you're with me. Many have dropped out to this point, and only the truly great still remain. It's officially playoff time in fantasy basketball (at least for the RCL's), so we trim the fat and only discuss that which matters. As a result, this week is a little thinner in depth. So, let's Spring Forward not just into a warmer season (and baseball!), but into the playoffs!
Oh, and into the 7 Ahead!
The 7 Ahead
5-game week: N/A
4-game weeks: BKN, CHI, CLE, DAL, DET, LAC, LAL, MEM, MIL, MIN, NO, POR, SAC, SAS, TOR, UTA, WAS
2-game week: NYK
Top Weekly Waiver Options (<40% owned in Y!/games this week):
Cory Joseph (33%/4) – I get why he's only owned in 1/3 of the leagues (I feel like I said that previously this year), but Joseph's been spectacular in the stead of Kyle Lowry. You can't ask for much more from a waiver stream giving you 12.3/3.6/5.0 with almost 1 3pg, over a steal and great % in 33+ mpg. As long as Lowry's out, and he is this week, plug Joseph in. He's the Gem of the Week.
Sean Kilpatrick (40%/4) – If you need a scoring boost to start the playoff run, look no further than Kilpatrick. Sure, he followed up three straight 20+ pt games with a big 9 spot, but what do you think he is? Steph Curry? Well, he may be hotter than Steph lately. If you need a SG spot, he's a great stream.
Kosta Koufos (22%/4) – He's a great shot at a double-double each night with the current Kings construction. I wouldn't be hopeful to snag more than the points and boards, but those can really add up in a 4-game week.
Yep, just the three. It's the playoffs…you didn't get here because you need more than one of these guys each week, and no one is reading this that doesn't have a team like that. So, snag one of those three if needed, make sure your clocks moved forward (they did, btw. It's 2017. phones do it by themselves…), and now a look at the daily rhythms of the NBA for this week!
Monday: 8 GAMES – Hopefully Kawhi Leonard (my preseason pick for MVP, btw) returns to action as the Spurs host the wannabe Spurs of the East, Atlanta Hawks on national TV. But if not, I'm equally as hopefully that Gordon Hayward posterizes Blake Griffin in LA to start the week. Aren't you?!?

Tuesday: 5 GAMES – Alright, let's set the Over/Under: How many dunks will LeBron James throw down when the Cavs host the Pistons on Tuesday? Some of His Greatness' greatest highlights came against the Pistons…why not a few more?
Wednesday: 10 GAMES – The prized night of the week for the Association gets one last game in that matters in the national spotlight until March Madness ends, and after beating the Warriors I'm intrigued to see if the Timberwolves can travel to Boston and dethrone another top contender for the second time in less than a week. Next year Minnesota is primed for a big step forward. I guess they were this year, too, though. Hmm…
Thursday: 6 GAMES – Hopefully are Warriors can remember how to win when the Magic visit the Bay on Thursday, but the  first two games of the night deserve the attention. Utah @ Cleveland is an alternate universe's NBA Final Preview, and then OKC @ TOR could be the other. Dueling universes? Who needs a piano…
Friday: 8 GAMES – So is Dallas trusting the Process now, too, after showing a strong improvement since their Nerlens Noel trade? Should be interesting to see how the fans react to Noel when Dallas travels to Philly to start the weekend. In my opinion, 76ers GM Bryan Colangelo made a mistake not working out a way to keep Noel around before this season ever started.
Saturday: 8 GAMES – Cleveland against the Clips will get the eyes of the nation (those that aren't watching everything wonderful about basketball in the NCAA Tourney), but San Antonio @ Memphis and Houston @ Denver will compete for the best game of the night in the NBA. Parallel styles between the two matchups.
Sunday: 8 GAMES – The state of the NBA is so top heavy I want to say, 'Who cares?' for Sunday since there aren't any great games happening, but I can't do that. That would be lazy. And the only thing lazy on a Sunday is Chris Parnell and Andy Samburg. Sooooo…Indiana @ Toronto? Haha, see…told you. At least we can watch Cory Joseph look like the next Jeff Teague story!
Now, DROP THOSE COMMENTS!
And don't be afraid to send along any questions on trades, pickups or life!
Good luck in Week 21!