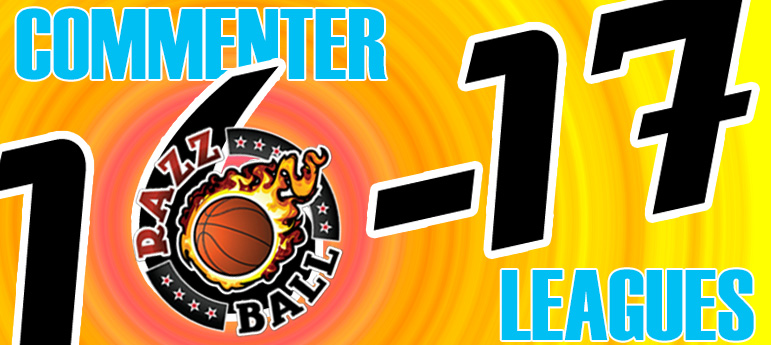 It's the most.  Wonderful.  Time.  Of the year!  Yeah, some legit winter wonderland going on up north, sheesh you guys must be excited to be snowed in and watch nothing but basketball the next few nights!
With the playoffs abreast, it's time to start thinking about those payouts and get paid that money!
Hah, I can't stop laughing at that silly GIF!  Effin hilarious.  And by money, I mean some Amazon gift cards and another YouTube shaming video, but you can't really put a price on the latter!
With the regular season now in the books, the 2016-17 RCL Master Standings Table table is now locked in place as we play out the postseason.  Despite a hell of a final push from The Doc is In – going 22-5 over the final 3 weeks – Big Baby's Lovechild secured the #1 spot through the regular season by a mere half point.  What a close race!  But it's of course anyone's game, as the top teams still need to secure their league championship to win the overall title.  So check out where your squads stacked up in the master standings, and here's some highlights across our 23 RCL Leagues:
JB vs. Slim Year 3 – All bow down to Big Baby's Lovechild!  Finishing 117-51-3, 237 RCL points were just enough to edge out the top spot through the regular season, and now it's in the hands of Slim and co. to oust Big Baby Jr. from the title.  Ugh, this was the only stupid league where I didn't make the playoffs, finishing 7th, and with a winning record!  I hate everything!
WE-GOT-A-TROPHY! – We almost got a redonk comeback is what we got!  The Doc is In went ham over the final 3 weeks, but came up just 1 RCL point – 0.5 games – short of Big Baby Jr. for the #1 spot.  But of course, the RCL title could easily go to the Doc if Big Baby can be knocked out of the playoffs.  Do it Slim!  Do it!
EmasculatingThroatLozenges RCL – Our only other RCL team to finish north of 230 points, Brad's Awkward Team wrapped up a strong season going 115-55-1 for 231 RCL pts.  Way to be so awkward!  Being as awkward as Andris Biedrins at the FT line!
Kap vs. Razzball Round 2 – Falling to 9th overall, The Handsome Lads have turned ugly during the stretch run!  We can entirely chalk it up to losing Kyle Lowry and week from Vucevic, but there's still a chance, you devilishly good looking lads, you!
JB's RCL 3: "RCL Harder" – One of the closest chances I've had at contending for an overall RCL title, my JB Harder! Weird… squad comes in at 10th, but seems like I'm way outside looking in.  Ya never know, maybe I can be hard enough!  Damn, losing the final week 3-5-1 really hurt…  If I put together a big performance, and I coulda been right in the 5-6 range!  Who screwed this up for me?!  Ugh, one game from George Hill, a slippery court taking a game from The Omen, and stupid Wizards benching Gortat and the Ten Foot Pole shooting 40% from the stripe last week.  Stupid Gortat!  Never touching you with a ten foot pole ever again!
Let me know how you did/are doing in your RCL leagues, and if you didn't make the postseason, hopefully you enjoyed the 16-17 RCLs!  As always, if you have any feedback for next season, lemme know!  Good luck in Round 1, Razzball Nation!