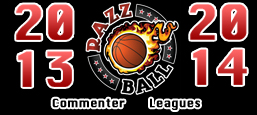 Three weeks in, and we are beginning to see who are the contenders, and who are the pretenders. Who are the members, and who are the weekenders. Who are the dependers, and who are the trenders! Wait what? I mean that we can see some squads are proving to be reliable producers, and others who need a lot to go right to be in the mix. It is still early in the season, so nobody can be counted out, but if you're at the bottom of the barrel, you may want to consider those high risk/high reward sorta trades. Just sayin. Let's take a look:
JB's Random Commenter League.  Handsome Lads took week 3, beating the commish, JB Gilpin, in a 7-2 rout. He now (Handsome Lads, not JB) has a commanding lead in this league with a dominant record of 22-5. And the lads best individual player is Kevin Love! He's doing it the right way, like my high school coach always said, the team way. Everyone is producing. Not only Handsome, but smart too!
All Country Ball Club. The race is heating up in this here league. The current overall leader is High as Greg Kite, with a record of 19-7-1, but last week was taken in dominant fashion, by Moskow Spartakers, who spanked the Brooklyn Ballers 8-1, who, just like the Brooklyn Nets, and most definitely not ballin'. More like the Brookly Nyets!!? Amirite?? Sorry. Moving on…
JB's Random Commenter League 2. Now this is a more competitive league, with first and ninth only separated by 4 points. Week 3 was taken by Slippery Squirrels 7-2 over Royal Flush, and I don't know if I'm more bothered by the odd sexual deviance that is implied by that name, or that my dirty mind automatically assumes "slippery squirrels" has a deviant undertone. Best bury that thought in scotch.
Razzball League 3 the Ringers. The Ringers league's third week was taken by Beeeenga!, with a 7-2 win over Sin City (Pops) Sidenote: Does this imply that Sin City is the team chosen by Pops, or that it Pops in Sin City? Confusing. The overall championship belt thus far belongs to the Akron Chosen Ones. who sit 19-8, currently.
Razzball Hardwood Classic.The Classics had a 2 victorious victors tying for, ehm, victory. Both Mayo Clinic, and Smooth Like Butter won their week 3 with a score of 7-2. The supreme victory currently is held by Foot's Flight Crew, with a glorious 21-6. Those Feet smell like Victory! Writes itself, really.
The Double Bonus Fan League.  There is gonna be a lot of finger wagging, because DIKEMBE SAY NO smacked his opponent into the 6th row, with a 8-1 victory. They say defense wins championships, but Dikembe is down in the rankings. The glory hole is being occupied by Draft Dodgers a 19-7-1, but Knicks Bricks and High Upsiders, 19-8, are breathing on the back of Dodger's neck.
Ok Sports Fans, maybe this week we can discuss potential trades in the comment section, hmm?? There are 20 weeks left, so don't fret if you're at the bottom. Lots of time left, and the only way to go is up! Or sideways, along the bottom. But not down at least, right, fella?