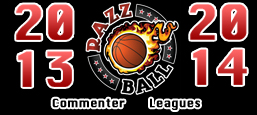 So you took the red pill, and followed Morpheus down the rabbit hole. Or St. Nick up the Chimney hole. You know what I mean. We look back at week 9. What happened to week 8, you say? Red pill, son, it never happened. Or, if you're a conspiracy theory/shut-in/don't-trust-the-government type (my strongest demographic!), it was because of the illusion of Christmas. Whatever floats yer boat. And speaking of boat-floating, lets take a look at which teams are riding the waves, and which are floundering:
JB's Random Commenter League. Baby Got Back smacked dat ass with an 8-1 pounding of Hamilton Hobos. Baby is firmly in the lead, with a commanding 51-28-2. Little in the middle, but he got much back!
All Country Ball Club. The league may be called All Country, but the king this week was straight street, son! Brooklyn Ballers threw down with a score of 8-1, beating the Mountain Dew kid, who sounds more country, or, at the very least, a suburban cat. High as Greg Kite leads overall with a score of 56-24-1. That is bong induced dominance if I ever heard of it.
JB's Random Commenter League 2. 8-1 is the flavour of the week, and the Deuce is no different. Cronos' Crazy Team dropped Thor's hammer on the guy who's team name is a picture of the double birds. Sweet, sweet victory, Cronos. For the first time in recent memory, there is a new overall leader, with the Slippery Squirrels being knocked off the throne by Durant's World, with an overall score of 49-30-2.
Razzball League 3 the Ringers. I tell you, I may be reaching here, but I do believe a number of you asked Santa for some Razzball league dominance, and the fat Elf was all like: Okaaaay, one week. (Chinese Symbol) Legendary Team won over Larry Moses with a score of 8-1. team Tough Guy Town is still on top with an overall score of 52-27-2.
Razzball Hardwood Classic. You Classic guys are real sticks in the mud, you know? It would have been epic if all leagues had won with a score of 8-1, but not you guys. You play by your own rules. Fott's Flight Crew and Murder Castle beat Hyper Saltinel Force and Bret's not Brown with a score of 7-2. With this win, Foot stays in the league lead with a score of 58-22-1.
The Double Bonus Fan League. Not to be outdone, the Bonus Fans decided that they were going to let half the league win. It was Christmas, after all, and so TDB Doug, High Upsiders, DIKEMBE SAY NO, and Under Protest beat Kahwi Five-Oh, Draft Dodgers, Havana Raftriders, and Spencer's Super Team by a score of 7-2. In the end, it's the giving, not the getting, right?
That's all we got, kids. Play safe!