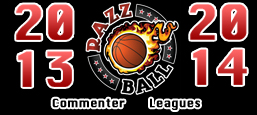 So, I can safely say that we all are feeling a little over indulged this week.
At times like theses, I simultaneously applaud the invention of jogging/sweat wear, and it's practical comfort, while also making note of the most ironic departure from a genre of garment's original intended use. Who ever sweats while joggging in this stuff anymore? Maybe everyone, but seeing as I'm not out jogging, in these garments, or anything else, I guess I can't really be so smug about it. And this applies to some of our early leaders in the Razzball RCLs, you shouldn't be so damn smug either, after last week 5. Are you true contenders, or sweat wear? Let's take a look:
**The master standings are now up!  Check out how you're stacking up against all RCL teams here, or hover over "Leagues" to check in with the standings updated weekly**
JB's Random Commenter League.  Smackdown. Bitchslap. Whuppin. Ass Kicking. Grandma. I don't know how to say it more creatively. Donna's Mate laid the boots to his opponent, Dunking Donuts, with a 9-0 shellacking. Even the name, Donna's Mate, strikes fear into his opponent. While Donna's mate was able to climb the leader ladder, the top spot belongs to Baby Got Back. And thanks to 3 separate trades, involving 7 players, GP Gilpin was able to squeak out a win, 5-4.
All Country Ball Club. The rich get richer, as High as Greg Kite, and Wrong Side of 30 both win their week with a score of 7-2, beating Polskie Murarze, and Mountain Dew Kid, respectively. With the win, High as Greg Kite retains the overall pole position. While the team names are creative, this does not trickle down to transaction creativity, as there is none thus far in this league.
JB's Random Commenter League 2. In a League identified as #2, there is one #2 that reigns supreme. And that man is RazzleDazzle2, winning his week with a score of 6-3. There were other winners, who beat out their opponents but 6-2, but nothing so conclusive as RazzleDazzle2. And it doesn't work for my description. Although when I think about it, I guess technically a tie in a category would equate a better week than RD2. Sorry, Dazzle, even when you win, you're number 2. So the true winners are: Dan's Dandy Team and Hobo Head Lice. All of the winners are down on the leaderboard, with Slippery Squirrels in top spot.
Razzball League 3 the Ringers.  The New Day Co-Op won the week with a decisive 8-1, pushing Green Street Elite. Sin City Sinners hold top spot overall with a score of 30-15, and while Drunk on Homebrew also holds the same overall score, he must settle for second, as the Sinners hold the tie-breaker.
Razzball Hardwood Classic.  Just like in Last Tango in Paris, The Mayo Clinic slipped it to Smooth like Butter, roughly taking last week by a score of 8-1. Foot's Flight Crew is on top with a score 33-12. Sexy Sex is the subtext here, people.
The Double Bonus Fan League.  SlickPunn was the weekly winner, beating Kawhi Five-Oh by 7-2. The overall supreme leader title belongs to Draft Dodgers who boast a 31-13-1 record.
I hope everyone had a great Thanksgiving. See you next week!