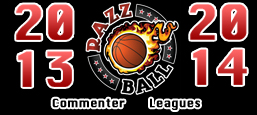 This is it. It's go time. Play your angry music, and paint that Mike Singletary look of intensity on your mug. I suggest you give yourself the "This is what we play for" football speech. We are lining the last few weeks of NBA fantasy, and those of you on the bubble, you have precious little time to make it in. And to you just mentioned, I hope the NBA gods are smiling on you. Let's see what action played out in the Random Commenter Leagues. And don't forget, you can always check where you are in the master standings.
JB's Random Commenter League.  The JB's were a flurry of action. As pointed out in last week's comments, Punk Rock Gods knocked off the first place and second place teams the past two weeks, and were up against the 4th ranked team, taking the week. At this point, I'm afraid it will take a combination of Gods winning, and Hamilton Hobos losing for a shot at the 6th place, in addition to leapfrogging Donna's Mate, who is a half game ahead of the Gods. 12th place Razzle Dazzle took the week, in a Herm Edwards professional "we play to win the game" score of 7-2.
All Country Ball Club.  Now this is a race to the finish! Moscow Bears, WrongSideOf30, Mountain Dew Kid, and Barking Bassethounds are all 5 1/2 games apart, from 5th to 8th. Polskie Muraze may not make the playoffs, but still made a statement, by winning their week 8-1!  In addition to that, the 2nd place bye is not wrapped up, with Moscow Spartakers a half game behind 2nd place Brooklyn Ballers, and Pete Nice has an outside shot at 2nd as well, only 5 games back from tha Ballers as well. This will be a photo finish, folks!
JB's Random Commenter League 2.  The Deuce is living up to it's name. The 6 playoff spots are already set, and the 2 bye weeks are also locked up. In a completely meaningless game, Mamba Juice won his week 7-2, showing  that Kobe-esque professionalism we all love. Sorry folks, can't polish a turd, it is what it is.
Razzball League 3 the Ringers.  The Ringers have a final week race in the mix, with 5th and 6th up for grabs, currently being held by Drunk on Homebrew, and Beeeenga! currently holding 5th and 6th, respectively, with the Akron Chosen Ones 3 games off Beeenga!'s tail. For Bragging rights only (chinese characters) Legendary Team, won the week with a convincing 8-1.
Razzball Hardwood Classic.  The Classic has the tightest race for playoff ranking I think I've ever seen, with 4th, 5th and 6th separated by a mere single game! Smooth like Butter, Chump Change, and Murder Castle hold those seeds, with an outside shot at infiltrating going to Pippen ain't Easy 5 1/2 games off Murder's tail. Pippen helped his cause by winning 7-2, and Big C also won their week by the same score.
The Double Bonus Fan League.  The final week will also be set up for some tension. Kawhi Five-Oh has a tenuous hold on the 6th spot just a game and a half up on Under Protest, and only 2 up on BryanT's Bold Team. Last place Spencer's Super Team wasn't going to just lay down, and dominated last week with a score of 8-1.
Ok, Nascar fans, keep your eye on the finish line, it's going to be a Lou-Lou of a race!
See you next week!