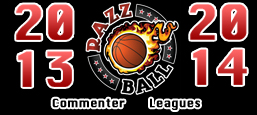 With the fantasy playoffs so close, I always start to worry about the health of my players.  And, I must admit, I have to resist the urge to tinker with my squad. If you learn anything from my mistakes, gentle readers, I do hope it is the following: do NOT mess with your line up while intoxicated! I woke up this morning to discover I had dropped 2 players to pick up 2 additional Bucks, adding Ersan Ilyasova, and Khris Middleton. I already had John Henson. That's a lot of venison. Yeesh. Some of the RCL league players may be feeling like their roster is a bit gamey as well. Let's see how everyone fared this past week, and be sure to see where you rank in the master standings:
JB's Random Commenter League.  The JB's had two weekly champs, with Baby got Back. and Donna's Mate both going 7-2. I'm a little confused: is the team name for Donna implying that you are in some modern "life partner" arrangement, or does it imply you're simply good buddies with Donna? I suppose we'll never know, but for the record, I support alternative lifestyles. King James is still in the lead with an overall score of 100-62-0.
All Country Ball Club.  There are those who see what they want in life, and go take it. High as Greg Kite wanted to ensure his overall lead was solidified, and beat down his opponent 8-1, to stay 114-46-2. Nasty. But hold on, race fans, that was not the only whoopin in the country this past week, because Barking Bassethounds also kicked some tail, winning 8-1 as well, making a charge for the final playoff spot. Woof.
JB's Random Commenter League 2.  The deuce did not eff around last week either, with another 8-1 punch up at the hands of Slippery Squirrels. Float like a butterfly, sting like a squirrel! Overall leader is Durant's World, with a score of 107-51-4, but the Squirrels are a mere 3 games back. Watch yo back DW, the slippery one is on your tail!
Razzball League 3 the Ringers.  The Ringers are like lemmings, they do everything together. (chinese characters) Legendary Team, New Day Co-Op, The Appalachians, Sin City Sinners, and Green Street Elite all won their week by a score of 6-3. Drunk on Homebrew was the only Lemming who saw through the madness, and won by a gentlemanly score of 5-4. At the end of the week, New Day separated themselves, coming out on top with an overall score of 108-52-2.
Razzball Hardwood Classic.  I've finally figured it out. Foot's Flight Crew are the airplane stewardesses for the fabled foot ninja's airline. And they do not tolerate people walking around the cabin when the seatbelt sign is on.  Obe Wan Kobe did not heed the "return to your seat" request, and promptly took a 8-1 whupping. Where is a Teenage Mutant Ninja Turtle when you need One? Big C, not to be outdone, got in on the stomp, also laying down an 8-1 stomping, for being called a "lower case".  The Foot is still on top of the Classic, with a score of 109-51-2.
The Double Bonus Fan League.  True to this league's mantra of being double, there were 2 weekly winners in the Bonus this last week. Under Protest and Apollo's Team were 7-2 winners. The Draft Dodgers hold the overall lead, with a score of 103-56-3.
That's all that happened in the world of sports, folks. See you next week!