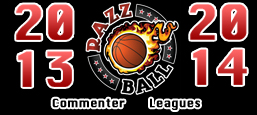 Bigs going down all over the place! Favors, Bogut, Varejao, Millsap, Nene, Sullinger, Amir Johnson, Pekovic, and many more.
So what can you do to topple a titan? You may be falling out of the race for top spot in the Razzball Random Commenter Leagues, but like Belgium in the first world war vs. Germany, you can be instrumental at slowing down a juggernaut just enough to stop world domination for 6 more weeks (please tell me our education system hasn't failed to the point that you don't understand my reference).
What I'm saying is you should keep fighting the good fight, don't give up on your team just because you sit tenth out of twelve! You can still win a week or two! For motivation, check where you rank in  the master standings. And for some inspiration, let's see who won last week:
JB's Random Commenter League.  The JB's are a perfect example of how to keep fighting the good fight! Razzle Dazzle,who sits in 12th place, beat 5th place Your Mom Says Hi by a score of 7-2. Razzle was heard to be screaming: "You may take our lives, but you will never take our FREEDOM!!!" and something about owning Malibu to a State Trooper by the name of "Sugar-tits", but that's less important. Oh, and King James is on top with an overall score of 96-57-0.
All Country Ball Club.  In a slightly less inspiring story, Pete Nice, in 4th place, beat Brooklyn Ballers, who currently sit in 3rd, by a score of 7-2. Way to stick it to the man, there Pete! High as Greg Kite is the real man of this league, sitting 106-45-2.
JB's Random Commenter League 2.  In the world of the deuce, RazzleDazzle2 and Hobo Head Lice both won by a score of 7-2. But they're beating the folks they're supposed to, so there's nothing newsworthy here. Durant's World leads all players with 101-48-4.
Razzball League 3 the Ringers.  In the Ringers League Beeeenga! took down The Appalachians by a score of 7-2, proving that sometimes the good guy does finish last. Or at least 5th. New Day Co-Op is currently in first with a score of 102-49-2.
Razzball Hardwood Classic.   We all have to fight the good fight, but there are days when you get smacked in the mouth. And last week, Chump change's Pimp Hand was strong, beating BKcantHANDL theTRUTH 8-1, for having a silly ass name. Foot's Flight Crew, the league leader, sits at 101-50-2.
The Double Bonus Fan League.  The Double Bonus don't play around. You have to have skills to get next on this here court. And BryanT'sBoldTeam laid the smack down on Havana Raftriders, beating him 8-1. Draft Dodgers rules the roost, 98-54-3.
See you all next week, and keep fighting the good fight.