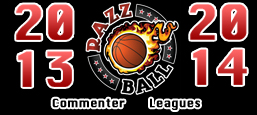 Ok, That title is not exactly true. It was basically just short. I for one welcomed not having to check my lineups for a few days. It's exhausting. For all that effort, I may as well lace up my chucks and join the lay-up line, amirite?
The Basketball doldrums: We have reached them. One must only plow bravely onward, and trust that the stretch run will ramp up the intensity. To get yourself psyched up, why not check the master standings? You can find where the following weekly winners stack up:
JB's Random Commenter League.  The Punk Rock Gods rocked the Deuce, for one night only! Well, technically 4 nights of the shortened week, but you get the gist. The Gods may not be winning the year, but this is a league of professionals, and Punk came to ball, beating Baby Got Back by a score of 7-2. King James is still on top, with an overall score 90-54-0.

All Country Ball Club.  It's ironic that the word "club" is in the league title, because Pete Nice and Mountain Dew Kid both beat their opponents with a cudgel of some sort, winning their week by a "where's my money" score of 8-1. The real kingpin is still High as Greg Kite with a score of 100-43-1.
JB's Random Commenter League 2.  The Deuce! When you have a shortened week, some teams pull a Iron Mike Tyson, and don't save any energy for the stretch, and lead with haymakers. Any you know what? It can work! Slippery Squirrels, and Carmelo Me Maybe? both knocked sukkas out with a score of 8-1. Durant's World is above the fray with an overall score of 95-45-4.
Razzball League 3 the Ringers.  Enough of this violent confrontations, cry the Ringers! They are more civilized than that. The Appalachians and Drunk on Homebrew both politely supped on a bowl of 7-2 stew. Overall, the New Day Co-Op are the democratically appointed overall leader, with a score of 96-46-2.
Razzball Hardwood Classic.  The Ringers may be calling for peace, but out on the streets, Sh*t is real! We all know, you gotta knock a sukka out to get some street cred, and Chump Change runs the block this week, with a score of 8-1. Foot's Flight Crew is letting the kids fight for the scraps, and is still on top with an overall score of 94-48-2.
The Double Bonus Fan League.  The Double Bonus is also a war zone this past week. Tired of carrying protest signs, Draft Dodgers used said sign to whoop ass with a score of  8-1. Slickpunn is narrowly in first with a score of 93-49-2.
Well, back to the grind, people. May all your shots be nothing but net.