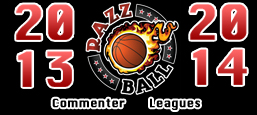 I love the second half of the season, because, let's face it, while the first half is enjoyable, it's too damn long. The games mean something, we all know this, but the real drama, the anticipation, is building now. And in the NBA, the races start to really amp up the drama, like adding hot sauce to your wings. Much like the drama in the Random Commenter Leagues, it's starting to get spicy. What remains to be seen, is whether your team is the Philly Sixers (waa-waaaanh) or the Indy Pacers (who-hooo!) in the relative landscape of fantasy. To see where you fit in the global landscape, check out the master standings . Shall we take a looksy right now?
JB's Random Commenter League.  The JB's are predictable. Nice. Like ten minutes of nice once-a-week sex after watching the new episode of COPS. King James and Donna's Mate enjoyed a nice bowl of 7-2 stew, beating Dunkin Donuts and Your Mom Says Hi. Nice and familiar. Baby Got Back is still on top, with curvy 77-46-3.
All Country Ball Club.  When I was young, there were always the kids who would blaze before stepping onto the court, or on the ice. I thought it was madness. Not because I'm anti-buddha; quite the opposite. But I never considered it a performance enhancing drug. But some of those cats back in the day were straight ballers, and so is my man High as Greg Kite he dominated in a cloudy haze, beating the Moscow Bears 8-1, and bringing his overall total to a blistering 90-35-1. This cat ain't slinging dimebags, he's burning trees.
JB's Random Commenter League 2.  The deuce is a family. They do everything together, and last week was no exception, with JB Gilpin – Human, Carmelo Me Maybe, Slippery Squirrels, and Cronos' Crazy Team all deciding to head on out to the local pub, and get a bowl of 7-2 stew, beating a bunch of teams. The overall leader is Durant's World with a score of 81-42-3.
Razzball League 3 the Ringers.  A cage-match-double-team-royal-rumble-ladder-bout! Any WWF fans out there? And yes, I said WWF, not WWE. The ringers had two 7-2 stew head-butts off the turnbuckle last week, with Sin City Sinners, and The New Day Co-Op smacking a folding chair over the backs of Whatup Whoadie and Team Tough Guy Town. The New Day still wears the Championship Belt, with a score of 83-41-2.
Razzball Hardwood Classic.  Bloodthirsty. That was the best way to describe last week for the Classic. Mayo Clinic put on a beat-down clinic on Obi Wan Kobe winning 8-1. Foot's Flight Crew is still airborne, atop the heap with a score of 84-41-1.
The Double Bonus Fan League.  The Double Bonus doesn't like to hurt anyone's feelings. They are always the first to say: "good game!" to their opponents. In a similar fashion, Havana Raftriders, Draft Dodgers, Kahwi Five-O, and Slickpunn all won their week by a score of 6-3, and let their opponents catch up at the end. Currently, everyone is trying to catch up to High Upsiders who has a score of 82-42-2.
Ok cool cats, have a great week, the countdown to All Star Weekend has begun, may all your shots be true.