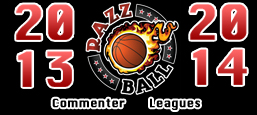 So, you may have heard, gentle readers, that Terrence Ross had a pretty good night on Saturday, dropping 51. Many would say that that would qualify as a career night, if you will. Well, I too had a career night, when I recommended that he should be dropped in my Friday article. Boy, did that make me some friends! What am I getting at? Redemption, first and foremost, but timing more specifically. Timing is key in life, and I have seemed to have misplaced mine.
But in the game of fantasy basketball, it is time to go for the gusto! Lets see who shall rise, and who shall fall in the Razzball Random Commenter Leagues! And to grasp the true glory of it all, why not check out the master standings to see where you rank in global domination:
JB's Random Commenter League. The Jb's know what keeps you strong: A bowl of 7-2 stew, and Baby Got Back and Handsome Lads ate a healthy dose, beating Serbian Stud and Razzle Dazzle last week. Not content to be languishing in the middle of the pack, Punk Rock Gods has grasped that the bold become heroes or the defeated, but are never remembered as craven, pulling off two separate trades, netting Jared Sullinger and DeMarre Carroll, giving David West To JB Gilpin and Robin Lopez to Hamilton Hobos. Baby still sits astride the pole position, with a score of 71-43-3.
All Country Ball Club. This league is called all country, but to that I say, in the immortal words of sir Biggie Smalls: "Where Brooklyn At? Where Brooklyn At?" Hoosiers may have become great at the jump shot, but Brooklyn Ballers understand that street ball was perfected in the citay… Ballers smacked the top of the backboard after dunking out an 8-1 victory over #Hastags are Dumb. High as Greg Kite still leads the league, with an effervescent overall score of 82-34-1.
JB's Random Commenter League 2.  I just talked to a deuce beat reporter. He gave me this scoop: "7-2 stew? Mmmm, don't mind if I do!" was heard in the locker room of Dan's Dandy team, just before he went out and beat Hobo Head Lice. Durant's World is still the only world that matters, as he sits alone at the top with a score of 75-39-3.
Razzball League 3 the Ringers.  The land of the Ringers is no country for old men! You either Ring, or you are Rung! And last week, New Day Co-Op rung the pants off of (Chinese Characters) Legendary Team, with an 8-1 whuppin. That gong has been donged! New Day took sole command of first overall this week, with a score of  76-39-2.
Razzball Hardwood Classic.   There was a beating in the classic sense last week, in the Classic. Slim Reaper put his bony foot to Bret's not Brown's ass, and beat 8 out of 9 shekels out of Not Brown's pockets. Ouch. Bret isn't Brown, but his face sure is Red! Foot's Flight Crew is still soaring with a score of 79-37-1.
The Double Bonus Fan League.  Never has a team name been so appropriate. Knicks Bricks won last week (wow, you almost never hear those words in a sentence together these days, amirite?) with a sufficient score of 7-1. The double bonus is still being ruled by High Upsiders, with an overall score of 78-37-2.
That's all for this article, Ladies and Gents. If you're in the mix, but not too close, you may want to mix up a few more trades, see where it gets you. Just sayin.
Holla!