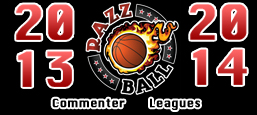 You guessed it. We are halfway through the Fantasy season. Week 12 of 23. The mid-point. 50% done. I gather you get it, so I won't continue to belabour the point. If you're in a keeper league, now's the time to figure out if you're going for it this year, and if so, you might think about the risk/reward trades a little more. Will Marc Gasol get back to form, is he a buy low(er) candidate? Or, if you find yourself hopelessly buried from a Felton/Nash/Kobe/Tyson early gut-punch, you may want to sell for draft picks. Decisions, decisions. Alas, the Razzball Commenter Leagues are of the redraft variety, so the only motivator is GLORY! And to see the most Glorious of them all, Check out the master standings.
Shall we take a look at how these Inglorious Bastards are fairing at the halfway point?
JB's Random Commenter League. This was a hard fought week for the JB 1. Nobody ran away with their week, but like in Sean Connery reminded us in the Highlander, there can be only one. This week that one was Baby Got Back, beating Dunkin' Donuts by a score of 6-2. As Of Week 12, King James still sits atop the overall throne, with a 67-41-0 score. And yes, I know, there can be more than one in Fantasy basketball, but I defy you to not think of Sean Connery's impeccable Spanish accent he donned.
All Country Ball Club.  My man, Greg Kite, he be high, knowhutimsayn? But High as Greg Kite isn't a mellow, "let's order a pie, bro" kinda kush-er. Last week his elevation was at a Biggies Smalls anger level, laying the smack down on poor Moskow Spartakers 8-1. All Spartaker asked him was if he was gonna eat that last twinkie, and Greg went off. High as Greg Kite's twitchy trigger finger has him sitting in first overall, with a score of 75-32-1. King Kong has nothing on him, Greg asked me to inform you all.
JB's Random Commenter League 2.  The deuce never fails to entertain. This week was no different, and I do believe this league has set a precedent: 5 of the 6 matches were won 6-3, with the last one just missing, finishing 5-4. If Cronos' Crazy Team had just put up 20 more points for the week, all 6 matches would have been won 6-3. Way to screw it up Cronos. The winners last week were: JB Gilpin-Human, Carmelo Me Maybe, Slippery Squirrels, and Durant's World. The last winner was the goofball who put up the emoji of a dude flipping the double bird as his team name. The overall leader for the deuce is Durant's World, with an overall score of 69-36-3.
Razzball League 3 the Ringers.  The ringers league has two ringers this week. Beeeenga, and Team Tough Guy Town beat Whatup Whoadie, and Champagnezees, respectively, by a score of 7-2. This keeps Team Tough in a tie for  the overall lead with The New Day Co-Op, both boasting a score of 68-38-2. Good parody in this league, only 9 points separate first and seventh. Ringers indeed.
Razzball Hardwood Classic.  Ahh, another 7-1 victory for Smooth Like Butter, beating Chump Change. If you read my reviews on the RCL – and there should be no compelling reason at all to – you would know that I have in the past compared a 7-1 win to a vegan Tofurkey soup. I can think of nothing to add to that tasty dish, other than to point out that Foot's Flight Crew is the classic's supreme leader, by a dominating 74-33-1.
The Double Bonus Fan League.  SlickPunn did his best American History X boot-stomp impression on tragic, simple Spencer's Super Team, cracking out an 8-1 win. Nasty. With his show of intimidating show of force, Slick stays atop the Double Bonus, with an overall score of 72-34-2. Just remember Slick, rulers never retire, they are taken out. watch your back, son.
Ok, good to be back, I hope all your wishes come true. See you all in the second half!