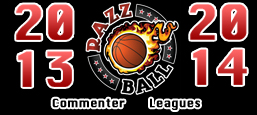 This crazy winter weather man… We've got polar vortexes, then heat waves – I drove home last night in a thick fog that would make a pothead Coloradan's living room proud.  And while the weather is fierce and unpredictable, our volatile standings also has yet another leader with the High Upsiders atop the Master Standings.  Tough to have more upside than first place!  How's the weather up there?!  Man, if I have to shave "High Upsiders" in my head, I'm gonna look like a huge 6'7 tool.  Sigh… Here's how the action went down in RCL land:
JB's Random Commenter League. Another 5-4 win has me on the W side of 4 straight.  Unfortunately I was so bad on the L side earlier in the season, that the HBO series The L Word might actually have been about this team.  I'm up against Pete's Punk Rock Gods this week and I streamed Courtney Lee last night.  Huzzah for that move!  King James moved into the throne last week winning 6-3 and sits at 10th overall in the standings.
All Country Ball Club. Another 7-2 win for High as Greg Kite keeps them rockin' and rollin' in first place.  Greg currently sits in 3rd place overall, but you'd have to be High not to be intimidated by his core of AD, D Lee, IT2, Dragic, Teague and Ibaka.  Man, redonk lineup!  Moscow Spartakers and Brooklyn Ballers also notched 7-2 wins from the #2 and #3 spots in the league.  The rich get richer!
JB's Random Commenter League 2. I cannot be stopped!  Big 7-2 win as the team I actually drafted and went off my rankings moves into 8th overall in the RCL standings.  I'm still 2.5 games behind Durant's World, but closing the gap.  Shoot the gap!  Durant had an even better 7-1-1 win last week and sits at 5th overall.  About to be JB's World!  We have a big week 18 matchup coming up, will be a dandy.
Razzball League 3 the Ringers. After a tough 2-7 loss for Team Tough Guy Town, The New Day Co-Op takes over the top spot in the league at 63-34-2.  Sliding into 6th place overall, New Day got great production from his studs Batum and Curry.  Week 14 is looking like a huge matchup between Tough Guy and New Day to settle up who reigns supreme amongst the Ringers.
Razzball Hardwood Classic. It's a long uphill climb for Tasty Chip Ola-dipo, but the only team to win 7-2 is gonna help!  But juggernaut Foot's Flight Crew also had a 5-4 win, keeping their advantage to 9.5 games.  By half a game, Foot moves into 2nd place in the standings after a…
The Double Bonus Fan League. … 6-3 win from now #1 High Upsiders.  A big week from MCW helped propel Upside into the #1 spot, but is looking at a 2-7 deficit against Under Protest so far this week.  Battle of High vs. Under!
Good luck in week 12!